Editor's Note: When Connor Wilson published "So You Want To Play Lacrosse In College…" the post got a ton of attention; over 2,700 page views and counting, and 12 great comments that have really kept the conversation going.  One of those comments was from Richard Roy, the Head Coach at Harney-Nadzitsaga HS in Oregon, and he had a lot to say!  So much, in fact, that we asked Rick to write a separate post on the subject!
Coach Roy covers how parents AND kids can make the biggest decision of their lives TOGETHER to get the best possible results.  Choosing the right college is so important!  Lacrosse is really a small component of the decision of which college to attend.  It's a must read for players, and it's a MUST READ for parents!  Take it away, Coach Roy!
___________________________________________________________________________
Lacrosse is expanding by leaps and bounds at the collegiate level. Every year new programs are started at the recreational club, MCLA, NAIA, and NCAA DI-III levels. High school lacrosse players that want to play lacrosse in college at any of these levels have an incredible amount of choice. However, there are some realities that prospective college players and their parents need to understand and consider. This is my perspective as a former college player, parent of multiple lacrosse players, and as a high school varsity coach.  And I hope it can help future college players, and their parents, make an educated decision.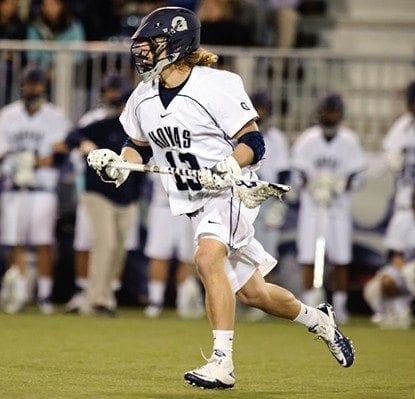 For those that don't know how college lacrosse is organized, I'll provide a quick breakdown:
There are four major lacrosse "leagues" in college lacrosse: the NCAA, the MCLA, , the NCLL, and the NJCAA.  The NCAA has three divisions of varsity teams; the MCLA is made up of non-varsity club teams and varsity NAIA teams (For now.  The NAIA could sponsor lacrosse soon), and has two divisions. The NJCAA is made up of junior colleges located primarily in the northeast.
The NCLL is made up of non-varsity club teams as well, many of which are club teams at schools with varsity NCAA programs.  There are several other college club leagues, like the GLLL, CUFLA, and others, which are smaller players on the national scale. The important thing to remember is that even with all this diversity, there is still quality lacrosse to be had in all leagues.
So now that you know a little bit about how college lacrosse is set up, I'll get back to the BIG Picture:
The level at which you play college lacrosse really makes no difference . The way you play and approach the game should define you, NOT what teams you play for, or what league you are in. If your primary concern with playing college lacrosse is about bragging about playing for a DI program and getting an athletic scholarship, then you are most likely going about things the wrong way, and with the wrong spirit.
Mom and dad, if your primary concerns are "bragging" rights around the water cooler at work or one-upmanship among other lacrosse parents, then you too are looking at this with the wrong set of lenses. There is NOTHING wrong with playing club, MCLA-club, NCLL, NAIA, junior college or DIII lacrosse. In my opinion, one of the primary goals of a lacrosse player is "to play as many games as possible before you die!"  So the important thing is to "throw the ball on the ground and play the game."
Stop worrying about who is watching or what others will think. Just play because someday you will no longer be physically able to do so, and that will indeed be a sad day.
Of course it's not always that simple, so here are some more defined concepts regarding the Big Decision:
A major goal for many players is to see significant playing time. "Are you satisfied with wearing the jacket, standing on the sideline, and rotting on the bench?  Or do you actually want to get on the field and play?"
If the goal is to get significant playing time as soon as possible, then one should really look at smaller programs and especially new programs. I started as a freshman and started all four years at a very small private New England college. I loved it and never ever considered playing for anyone else.  I recommend finding a place where you can actually PLAY!
Of course, finding a place to even play can be hard, and coaches can make it harder during the recruiting process.  There is a lot of information out there, and a lot of promises being made.  What Should A Recruit Expect From Coaches?
Some college coaches would make pretty decent living selling used cars! They will tell a potential recruit, and the parents, almost anything ("You are my number 1 recruit") in order to land the player at their school.  Just like buying a used car, college recruiting is "buyer beware".  In reality, you are the number the #1 recruit at that point in time at that hour of the day, but at the end of the call, the coach could be prepping to talk to his next #1 recruit.
Some coaches recruit far more players than he will ever need or use. The coaches basically "overbook" their programs just like some airlines overbook flights. If an airline "bumps" passengers off of the overbooked flight, the affected passengers are offered free tickets, money, lodging or some other perk through federal airline regulation. If you get "bumped" off an overbooked college lacrosse team, it is "sucks to be you" and you have no recourse.
The coach that "overbooks" knows he will cut a significant number of recruits after the kids arrive on campus, and that this will happen every year. He will not tell the recruit that, but he will leave the recruit believing he is on the team all the while having no intention or belief that the recruit will make the team!  Why?  Simple, the student-athlete is bringing significant money in the form of tuition, fees, room/board, books, etc. into the school.  This is very unethical and disingenuous in my opinion. I personally know of one DIII team that is known by the school administration as the "million dollar team". Each year, the tuition, room/board and fees generated just from this lacrosse team exceeds well over 1 million dollars!
Those are just some examples, and not every team is like that.  So a prospective college player, and his parents, really need to do their research when looking at EACH school.  Talk to former players if you can, and learn as much as possible.  The facts you find out might surprise you!  And you might also bust some college lacrosse myths:
There is really no such thing as a "full ride" scholarship in college lacrosse. Lacrosse scholarships are still very limited. Only NCAA DI, DII and NAIA programs have athletic scholarships for lacrosse. NCAA DIII, MCLA-club and other club programs do not have athletic scholarships. A fully funded NCAA DI program only has 12.5 scholarships. DII programs offer only 4 or 5 scholarships.  The reality is that there is very little true scholarship money out there.  The average NCAA DI program has over 40 players on the roster. Many coaches spread out the scholarship money among many of his recruits giving many players a piece of the scholarship pie.
The scholarship money is nice, but only pays a tiny fraction of the college bill. The average tuition, room/board, associated fees and other expenses of a four year private liberal arts college easily exceeds $35,000 a year. State colleges and universities are typically less expensive (for in-state students) but can be just as expensive as a private college for non-resident students. I am not suggesting that one turn down an athletic scholarship, but to plan on athletic scholarships as a means to finance one's college education is like planning on winning the lottery to finance one's retirement.
So how can I get into school and make it all work if I'm not as good as Mikey Powell?
Great question!  As a sport, men's lacrosse has one of the highest GPAs and graduation rates of any college sports. As such, lacrosse coaches typically want good student-athletes. A potential college lacrosse player should have above a 3.0 GPA. In addition, many admission departments, especially private colleges, want to see well-rounded and responsible student-citizens. Players should be heavily involved in their school and their community.
The admissions departments want to know what kind of person they are admitting, and how the student will contribute to the institution beyond just lacrosse.  So be socially responsible! High school lacrosse players should be spending a significant amount of their time volunteering to work for various service organizations (senior centers, Boys and Girls clubs, Habitat for Humanity to name a few).
Potential college lacrosse players with an exceptional academic record and that are deeply involved in their community will in many cases be rewarded with significant academic and merit scholarships and awards. This is certainly the case at many private colleges. This can be an important and significant part of financing one's college education and is much more reliable than scholarship money for most players.
The other great thing about academic and merit-based scholarships is that to maintain these scholarships all four years it is up to you and your ability to maintain grades, and they are not subject to the "whim" of some administrator or coach.  With athletic scholarships, they are subject to the whim of the coach.  The coach can reduce, increase or totally eliminate your scholarship each year.
In essence, the coach has you where he wants you, he "owns" you. If you do not "play his game" or if you get injured he could reduce or eliminate the athletic scholarship. Your athletic scholarship could also be reduced in order to lure a new recruit by adding more money to the new recruits offer.
Are there any other options to finance school out there?
Some schools in the MCLA have other financial programs that may be very attractive and should be considered. In the western United States, where the MCLA is so strong, there is the Western Undergraduate Exchange program. Essentially, 15 western states have created a compact to provide affordable education to residents of member states. For example, a student from Oregon could attend a state college or university in Arizona for a tuition rate far below a non-resident student from a non-WUE state but only slightly above a resident tuition rate. In addition, some MCLA schools have very strong club sport programs with top notch facilities. Some of these institutions provide "in state" tuition rates for non-resident club sport athletes that academically qualify!
Junior colleges typically have tuition rates well below those of four year schools (public and private). If you are not sure what you want to major in, or need to get your GPA up to get into your school of choice, this is a good option. Many of those college players you see playing on television spent time at a junior college. There is quality lacrosse to be had in junior college and you could potentially save a lot of money. Why pay hundreds of dollars per semester hour to take College Algebra at a four year school when you can take the same class for half the cost at a junior college?
So is it just about grades and lacrosse?
As I stated previously, college lacrosse has one of the highest average GPAs and graduation rates of any NCAA sport. Unfortunately, college lacrosse is also known for having the highest overall use of drugs and alcohol compared to other college sports. This is a "dirty little secret" of the sport.  Unfortunately, this dirty little secret has become an epidemic; an expectation in lacrosse "culture", and addressing this aspect of the game is long overdue.  Parents and players need to be aware of this.
There can be a large amount of peer pressure to "join the crowd" and be "part of the team."  Some coaches run a very tight ship, while others do not, at least when it comes to dealing with drugs, alcohol, partying, etc. Some coaches only deal with the consequences and they are not proactive. I think we are all aware of several very unfortunate events involving lacrosse players the last few years where alcohol was a major contributing factor. This to me is a major red flag and parents must be on guard.
Cultural and belief traditions are a big factor. If you are a western or West Coast kid looking to play college lacrosse back east or in the northeast (aka hotbeds) there are some things to consider.  I am an "East Coast" transplant (New Hampshire), my wife is from Arizona. She views ALL New Englanders as cold, rude, impatient, vulgar, and disagreeable. I tell her we are just misunderstood. My kids were raised in the intermountain west, and they think the same. They are westerners.
They all have a difficult time relating to my own family in New Hampshire and the vast majority of people from the northeast. I think it is easier for an east coaster to adjust to the more laid back ways of the west than a "left" coaster to adjust to the east. I do believe that it is healthy for kids to expand their horizons and get out of their comfort zones. I encourage our players to at least look at schools in the east, midwest and southeast and I try to help them in the process.
Just realize that although we live in one country, there are some very distinct regional differences that could be an issue.
Lacrosse is often still quite parochial and pretentious in my opinion. How open is the college team to diversity? I am not only talking about the color of one's skin here either.  Diversity is far more than that; it is not just about race. What economic background you come from could be a factor with how you interact and get along with your team.  Does the coach heavily recruit players from private prep schools that come with significant financial means?  Do you come from a "blue collar" family and public school with very limited means? Do you come from a more rural and conservative part of the country? If you do and the team is made up of players from major urban centers there could be some major culture shock!
There are still those players and coaches out there that are quite "uninformed' about this nation. My oldest son went back east to play college lacrosse. He was shocked that his team mates and even some coaches and school administrators did not know that Oregon has a coast, that the State of New Mexico, where my son was born, is in the United States or that not all west coast players look and talk like the stereotypical California surfer dude! His team mates could not find Oregon on a U.S. map!
If your Faith tradition is important to you and you would prefer that "Junior" not become a pagan then you should really look hard at the school, the coach and the team. Is the school secular? Is its religious affiliation consistent with yours? Is it truly an institution that "practices what it preaches?" Is the coach a "believer" or at least supportive of your beliefs?
If not, then you may need to keep looking. Talk with the coach, talk with admissions, and talk with students, faculty, and obviously pray to help you discern if your faith and the school are compatible.  Maybe you want a challenge and you'll seek one by immersing yourself in a culture of people who think totally different from you.  The important thing is to know what you're getting into, and that it matches up with your goals.
Here's the Bottom Line…
Find the school that offers what you want to study, a school you and your parents can afford (not all schools are"need" blind), has the social and cultural environment that suits you, and has the learning support services you may need. Find a coach that wants you, appreciates you, is interested in you as a person, and is interested in your growth both on and off the field. Find the school you want to be at so badly that if you stop playing lacrosse for some reason you would still remain enrolled and continue with your academic endeavors.
Don't get hung up on what Level of college lacrosse you're playing.  Focus on finding the right school, because the biggest decision of your life so far shouldn't be dictated by lacrosse.