Editor's note: Hey LaxAllStars family, let's welcome Will Jordan to the gang. Will is a high school sophomore, ballin' out of central Massachusetts. He will be letting you know what's cool, you can trust him.
With college football now in full swing, it's a great time to make some custom lacrosse gear for the top teams in country! Teams like Oregon, Alabama, and a ton of others are known partially for their flashy attire. Gloves are the recent trend in customized gear for college football, but it's nothing new to us in the lax world. Imagine if teams like the Ducks had the same dedication to swag in lacrosse as they do football.
Photo Credit: The Hollywood Reporter
Using the STX customizer, I designed Shadow gloves for the top 10 teams in the BCS standings, and they really came out great. My personal favorites were Clemson, Stanford, OSU, and Alabama. Thanks to STX's top notch customizer, these gloves were a breeze to make and could easily fit with the given teams colors.
Up to date rankings are always on ESPN, let's get to the gloves!
10. Oklahoma:
9. Missouri:
8. Clemson:
7. Miami: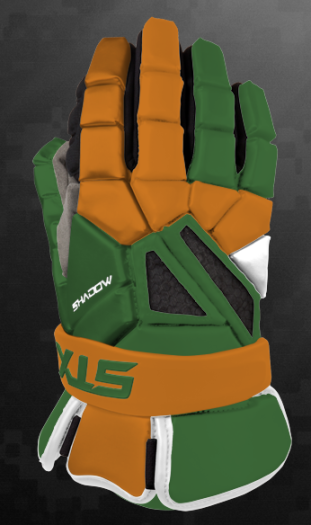 6. Baylor:
5. Stanford:
4. Ohio State:
3. Florida State:
2. Oregon:
1. Alabama:
LaxAllStars:
Photo Credit: SB Nation
Customizer Review:
Zones — 3.5/5
Zone 1: Purple
Zone 2: Blue
Zone 3: Yellow
Zone 4: Green
Piping: White
STX logo: Red
Shadow logo: Grey
Although there were seven color zones in total, only zones 1-3 had any major effect on the look of the glove. I would have liked to see another major zone added on the glove, offering more areas to add secondary colors like grey.
Color Options — 4/5
Every major and minor team color is covered on this glove, making it easy to match any team. Zones 1-4 and the STX logo had 18 colors available! However, the piping and shadow logo only had two colors available each, which I would have liked to see improved.
Ease of Use — 5/5
This was a very easy website to use, with no lag. A nice touch was the buttons on the side with load, save, reset, trash, and view buttons, making it easy to make quick changes to your glove
Overall — 12.5/15
Overall, this was a great customizer to use, and I would highly recommend for any high school or club teams looking for gloves this year. The link to make your own is below.
Next week, I will be back with a tribute to the NFL. In the meantime, check out the STX customizer for yourself!