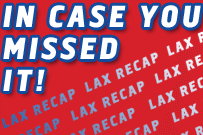 Big weekend of college lax coming up!  It's almost as big as March Madness.  Connor can't pick basketball games to save his life, so he made his bracket selections based solely on who was a better lacrosse team.  We'll see how that pans out.  Plenty of hot picks in the Lacrosse Shop.  That's always true.  And don't miss the Top Posts of February either!
We preview all the college weekend action, and let you know what's on TV.  SUPER useful page right there.  Also useful, the chance to win a shaft from 1 Lacrosse.  Check out our Caption Contestto get in on that.
Now we'll break down ALL the week's must read lacrosse content into a couple of easy to parse sections.  Super Service is our only goal.
Big Time Stories
Peyton Manning can't throw footballs in Denver because lacrosse was taking up all the fields.  Grow The Game.
We asked who was the BEST Face-Off Mid of all-time?  More people said Chris Cercy than was previously anticipated!
Thailand is using giant cards to call in plays.  These guys sure are pushing the boundaries for a relatively young international program! We also get to learn more about the TLA's founder in this post, "Sticking To His Goals".  Great stuff!  And the TLA beat Singapore!  It just keeps coming.
24SevenLax fills you in on the single greatest secret on youtube.  Know it, and keep it safe!
We posted The Story Of Justin, and it's a must watch video.  Justin almost threw his life away with drugs and alcohol, but turned it around, and is now sharing his story with anyone who will listen.  Well worth checking out.
Jeff Matheson wants to watch the NLL.  He really does, but they just make it so HARD.  Expect more classic arguments between Mathy and Chris Fox soon.
Connor Wilson promotes shooting overhand under pressure, but the true draw here is the video of Connor getting JACKED UP.  Fun Stuff.
Gear Galore
Old School gear is GREAT gear.  And this Brown lacrosse ball from 1926 is no exception.  Talk about a greaser/slippery rock!  New School gear ain't too shabby either!  2012 Grow The Game Invitational uniforms by Enigma are looking snazzy!  Skidmore's HeadWrapz are pretty unique.  And metallic.  Brown goes back to Cascade helmets. Hofstra has special St. Paddy's day gear.  It is is… something!  We'd love a little more info on the WHY… no way they did this just for luck.  That's crazy.
Are Women going to be wearing helmets soon?  It's a HUGE question.  The Helmet Hat could be the first step.  412 gives LAS the credit for big helmet buzz.  Scallywags gear on 412.  Some college team stores.  It's fancy feast for Lindenwood.  We especially like their helmets. More Gear mock ups. UConn Riots.  Bellevue HS's shorts are LOUD.  Did you think Stevenson's gloves were the most over the top gloves ever?  These may top those.
College Lacrosse
Salisbury CRUSHES OWU, good effort by the Battling Bishops.  There was a Monday Lacrosse Video Explosion.  We saw what might be the Weirdest College Lacrosse Goal Ever.  So much arguing.  Then Nike came out with a new spot, and the Shot Clock debate was given a new life.  Guess we'll see how it all plays out this weekend with Hop – Cuse! UVA scoots by Cornell.  We see what they did there.  The Scooter.  Game photos: Elon, Tennessee Wesleyan & Stonehill. Thanks to Kim Black!  Minnesota still enjoying their stay in California.  UNC – Princeton gets revisited.  Hofstra – ND highlights.
24SevenLax drops their weekly Friday Quick Hits on us and as usual, it's superb!  Chapman – Minnesota-Duluth Highlights. Simon Fraser Midseason Report.  Clemson lacrosse heads WEST to play Colorado and others.  SELC D1 Games of Interest.  SELC D2 Games of Interest. Georgia – South Carolina Highlights.  More Highlights.  Colorado wins. More Colorado. SELC D1 Power Rankings.  SELC D2 Power Rankings. PNCLL Report.  Wed games to watch.  RMLC Report.  Lehigh says they are good, so they're good.
Random Fun Stuff
Ryan Powell sits down with Liam Banks and talks life and lacrosse.  Liam is the first Cuse player to NOT name Dinosaur BBQ as his top restaurant.  A little Cali HS ball.
MCLAFan Photo of the Week!  These are always great.  LaxAllStars.com Photo of the Week!  A cool shot and a pretty shot.  Double trouble in Washington state.
China WILL be a lax superpower someday.  When?  MLL will expand.  But not next year. LXM plans an event.
Shiny Objects is fun.  Great sense of humor on that Tom fellow.
The Iowa Lacrosse update is always refreshing.  Breathe it in. Can you smell?  That's the game growing.
Live in San Francisco?  Check out Lorne and the Way Highs!
EVERY goalie has dreamed of scoring from 50 yards out.