Editor's Note: We recently got the chance to ask Peter Mulally, Coordinator for ESPNU Marketing, some questions about the 2011 ESPNU Lacrosse Tour.  These guys are all over the place, pushing lacrosse on TV.  As people who love watching lax on TV, we were obviously curious to see what they had to say!  Peter shot back some interesting answers and it really seems like these guys love their lax.
__________________________________________________________________________________________________
How is the 2011 ESPNU Lacrosse Tour different from last year's experiential tour featuring Mike Powell?
The addition of the ESPNU Minibus is definitely the most exciting new part of the tour. It's a fully customized minibus that includes a DJ booth, as well as a college-themed body and face painting station, aptly named the ESPNU "Spray Fan" booth. Students and fans can pick their school colors to display their allegiance during games.
Which portion of the 2011 ESPN Lacrosse Tour are you most excited about and why?
Having Mike Powell back with us again this year has to be the best part.
The guy just epitomizes cool. Arguably one of the best athletes of the last decade, Mike showcases his skills with ease and is truly a site to be seen.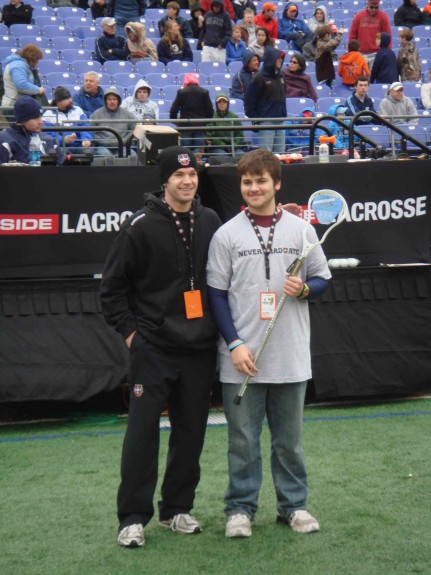 Is the face-painting station something you specifically designed with lacrosse fans, and Mike Powell in mind? Powell certainly had a way with his eye black when he was at Syracuse!
The face-painting station was designed with the "Never Graduate" fan in mind, so to answer your question, an astounding yes. The best part of the ESPNU Lacrosse tour is connecting with fans one-on-one, because they're what makes these events so fun and let's be honest, the best fan is the body-sprayed fan.
Is there any chance of the ESPNU Lacrosse Tour stopping by the NCAA Final Four in May?
While we are stopping in New York for the Big-City Classic on April 3rd, and in East Hartford for the ESPNU Warrior Classic on April 23rd, we are unfortunately not able to attend the NCAA Final Four in May.
Is there anything else you would like LaxAllStars.com readers to know about ESPNU and/or the Tour?
What would the 2011 ESPNU Lacrosse Tour be without free swag? We've got t-shirts, lanyards, eye-black and Mike Powell posters for everyone who comes out and shows ESPNU some love. In 2011, ESPNU has once again shown its commitment to elite college lacrosse by showcasing a total of 53 games, including 31 regular-season and eight NCAA Men's Championship games. The conversation doesn't stop when the whistle blows either.  Like us on Facebook and follow us on Twitter to talk all things lacrosse. NEVER GRADUATE.