Editor's Note: Mike Synek has been blogging with LAS for 2 weeks now and he has been detailing his experience in the Midwest Indoor Lacrosse Association for us.  Now he's sitting down with the Commissioner of the MILA, Chip Rosetti, to get the full scoop on where the league stands right now, and where they're headed in the future.
_____________________________________________________________________________________________________
How did this league come to fruition, and where did the idea of putting together a Midwest box lacrosse league begin?
Chip Rosetti: I was contacted and asked if I would be interested in putting together a semi-pro indoor league, and I did a little research to see what derailed and what worked.  In the Midwest there are more facilities than players, which is the complete opposite in the east coast.  In the east coast there are more players than facilities.  With the amount of facilities it was clear that the only factor would be finding the players that would be interested in participating in this league.
I contacted various areas in the Midwest to see if there was interest, and originally there were about 12 groups that were interested in starting teams, but were unaware of the amount of work it took to run a fully functional team.  It ended up that there were four teams that were able to join and we started from there.
What does it take each week, from an administrative standpoint, to run the league?
Chip Rosetti: Setting games times that work for each team as well as generating a schedule that worked for everyone.  With four teams in the league, road games were just a part of the deal, but creating a travel schedule that worked with each team was very important.  There is a lot of promotional work involved getting the word out about the league through social media outlets, as well as creating a website for fans.Y you can check us out at midwestlacrosseassociation.com.
On top of that there is always the task of recruiting new teams for the expansion of the league. If we do get some sponsors to commit, the teams will still be individually owned. The sponsors will just help to offset some of the costs of uniforms, hotels, gas, etc.
Does the league have any sponsors yet or even lined up, or is this a strictly team funded league right now?
Chip Rosetti: Currently each team is funded internally.  We are working on a league wide sponsor for next year and we do have a good jump on the process. The 2011 season ends the first week of October and the 2012 season does not begin until August of next year.  That gives us eleven months to really find legitimate sponsors for the league.  That is why it was difficult for some areas to generate teams, because the operating budgets fall on the laps of the individuals players.
With the regular season coming to an end, what are some positive and negatives you have seen from a commissioner's standpoint?
Chip Rosetti: One of the positives that can be taken away from this year is that realistically we do have three teams that could finish first come playoff weekend (Grand Rapids, Columbus and Chicago). The competition has been great throughout the league. The most important upside to this league is that games were played and we will be crowing a champion at the end of the season. We will also be announcing that many of our players that participated in the league this year will be attending NLL training camps coming up.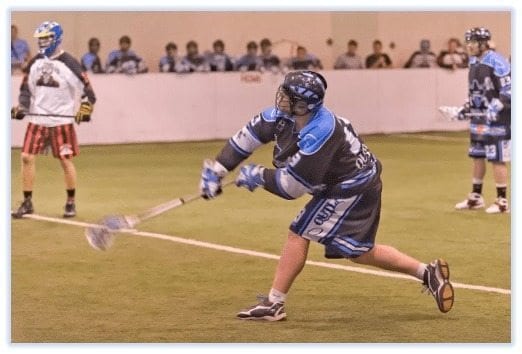 This league has been about Growing The Game and giving players the opportunity to hone their skills, and also an opportunity for players to play that may not otherwise be given the chance to play, while also giving players the exposure to be noticed and eventually play at the higher levels.
With any start up league there are always hurdles to get over. We want to improve the public perception by showing that we are truly professional in all aspects of operation for the league. One way of doing this is by little things, such as having teams wear the same gear (jerseys, helmets, gloves) and by also making sure teams have functional websites that fans can go on and get updates about each team. It's definitely a work in progress but everyone involved is committed to improving the overall quality of the league.
What do you feel this league means for the lacrosse community, especially with box lacrosse generating more interest in the United States?
Chip Rosetti: This league is something new for the United States; there has never been a competitive, high level semi-professional box league before this. We are growing the sport in an area that may otherwise not have the opportunity to do that.  We are bringing this game to the fans here in the Midwest where they have not had that opportunity before. The Midwest Indoor Lacrosse Association is growing the game, giving exposure to a newer form of lacrosse that many may not have had the opportunity to experience. Back in June we had 1,000 views on our website before we really came out with the logistics, but here were are in the middle of September and we have around 8,000 views.  People are definitely keeping an eye on what we're doing and getting more and more interested.  We are accomplishing what we want by generating a buzz about the sport.
What if any correlation is there between the MILA and the NALL (North American Lacrosse League)?
Chip Rosetti: There is no correlation; we are definitely interested in terms of getting our guys a look at higher leagues that could potentially pay substantial salaries. We have had some discussions with the NLL and we will continue to pursue that.  It comes down to getting out there and playing and showing people we exist, and hopefully building some credibility before anybody in the mainstream community or lacrosse community would take us seriously. The NALL would be considered one step above the MILA.
What is the future direction for this league? Any plans to add more teams or even split into two divisions?
Chip Rosetti: Ultimately we are talking with a number of teams; we are going to grow sustainably. At the same rate we are trying to do it intelligently. There have been teams as far out as Utah and Nevada that have expressed interest, and as much as we would like to create a division in the west, it doesn't make sense until we can make this league self-sustaining.
The league is focused on growing the league in a smart manner. St. Louis and Pittsburgh are the two newest teams that have joined the MILA and there will be more teams to come. This will allow for the expansion of two leagues, and make travel a lot more manageable for every team.
Similar to what the AILA has instilled, are there plans to implement specific qualifications for teams to be able to join the league? (Proper goal dimensions, shot clocks, two doors, etc.)
Chip Rosetti: When we are in Chicago for the championship game next week, we are going to have a league meeting to sit down and see what worked and what didn't work. In terms of qualifications for this year, we were put in a situation where we wanted to get the games going, we wanted to give our teams the opportunity to play; we had to be flexible with certain aspects of the game. We will sit down as an established league this winter and see what the best direction to go is.  There may be certain things to come in to play, such as making sure that each facility has access to shot clocks.