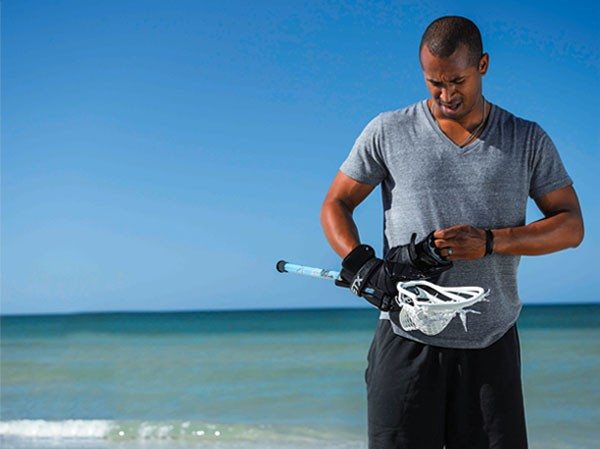 With the release of the third K18 lacrosse equipment line imminent, STX, LLC, has launched a new K18 microsite to provide an inside look at both the gear and the professional lacrosse player behind it – Kyle Harrison.
While many sporting goods companies have launched microsites to promote their most prominent endorsed athletes, it is not always often that you see them in the sport of lacrosse. The K18 microsite features interactive buttons, clean and simple style, and above all else, it includes real information about Kyle Harrison the professional lacrosse player. Suddenly, it's not just about the gear.
The microsite provides a simple way to sign-up to receive the K18 newsletter, and at first glance, I especially like the photos that slide by on the screen because I feel like they represent the real Kyle Harrison. Whether he's pictured going for a jog in Los Angeles or listening to some tunes while hanging out by the beach, each photo shines a subtle light on the real K18.
Truthfully, these photos provide a view not often seen of professional athletes, let alone lacrosse players. Sure, they were taken at staged photo shoots, but the fact that the focal point of the website isn't shown in full gear makes K18 seem very accessible and simply human. I get the feeling that this may be the overall message that Kyle and his long-time sponsor were going after in this new line, which is priced at an intermediate level.
Still, there are a few kinks in the website I couldn't help to notice. One such kink are the social media links at the top of the page. While the page header is consistent across STX's website in providing links to STX social media accounts, the links should lead to Kyle Harrison's Twitter and Facebook, not to the STX marketing manager's accounts. The only other oddity I found was the large text beneath the photo slideshow. The tweet being featured, about his quad treatment at Hopkins, is fifteen days old, and Kyle has tweeted an impressive number of times since then.
Quad treatment up at Hopkins done. Now out to the field to loosen up the legs after the cross country trip.

— Kyle Harrison (@KyleHarrison18) August 27, 2013
The best part of this microsite may be what comes below the Twitter feed, so don't let the out-dated Twitter feed get under your skin. Fifty-five interactive "buttons," reminiscent of Pogs, appear with each containing specs for the new gear, more lifestyle photos, or informative product videos hosted by Kyle. Intermixed amongst all that are symbols that represent important milestones, qualities, and characteristics of the man himself.
From facts about his playing career to the phrases that give him motivation, they provide a deeper insight into not only the player Kyle Harrison is, but also the person he is as well. I think that's one thing that leads me to believe that when it comes to growing the game, Kyle Harrison knows what it's all about.
This week, Kyle Harrison visited Boise, Idaho, which happens to be home of Lacrosse All Stars HQ. He was brought to Boise by a longtime game grower in the City of Trees to run 4 youth and high school level clinics, and he also put some quality time in collaborating with our Boise-based guys on the LAS Team.
I'm looking forward to checking out the film! In the meantime, I'll just continue to get to know him here:
For more content related to this news, be sure to check out our Technology and Gear sections. If you have a lacrosse website you would like us to check out, please feel free to drop us a line.