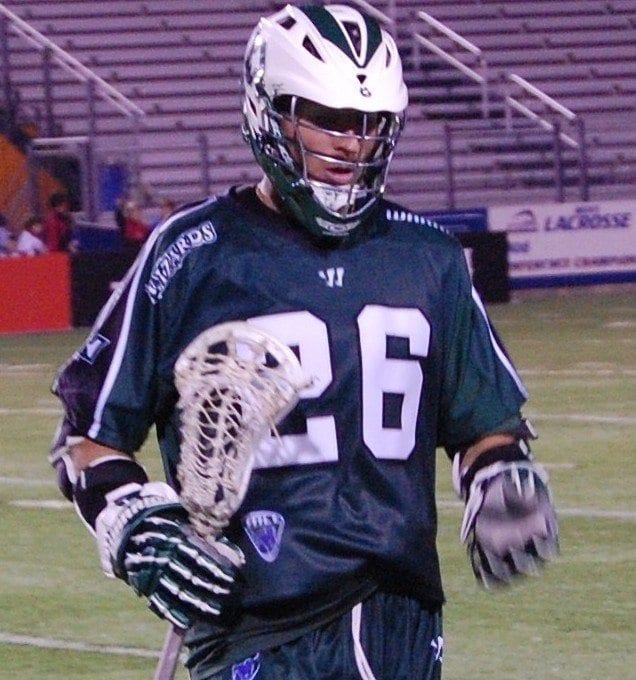 Editor's Note: Kacy Small is back on LAS with another great article. Last time, Kacy talked about the differences between FIL and NCAA lacrosse rules, and now he's back with a fantastic Friday post on his Lacrosse Dream Team, culling athletes from the NBA, NFL, and professional boxing. He makes a strong argument for why his chosen athletes would see success. What do you think… could we get some of these guys to pick up a stick and give the greatest game in the world a shot?
_________________________________________________________________________________________________________
The video at the top of this post shows Lebron James unveiling new football uniforms for his former High School, St Vincent-St Mary's. The video shows Lebron walking onto a (green) smoke filled stage wearing the new uniform, and kids at his former high school start going crazy!!!
The video got me thinking, and not just about new uniforms and marketing campaigns… What if Lebron "3 peated" (third consecutive NBA Championship), won a 3rd consecutive NBA Finals MVP, and won his 5th NBA MVP award, all in 6 years? These accomplishments would put him in talks with the greatest ever that would be hard to deny, but what if Lebron felt he wasn't challenged in the NBA anymore and took his talents to the NFL?  I'll call it "pulling a Jordan".
In case you did not know, Lebron was a very skilled High School wide receiver. As a sophomore he was named first team All-State and as a Junior he led St Vincent-St Marys to the state semi-finals. Some people say a Lebron crossover to the NFL is impossible, but I ask WHY? Lebron has NFL speed, he's a freakish athlete, and he stands tall at 6′ 8". Calvin Johnson, the best Wide Receiver in the NFL is 6′ 5″. I personally think Lebron would be the greatest Wide Receiver of all time if he entered the NFL after high school. Maybe I'm crazy, but I believe it.
After dreaming of Lebron James in a Philadelphia Eagles uniform (My favorite team) I started thinking about Lebron playing Lacrosse, and… WOW.Get that guy some stick skills and WATCH OUT. Then, I started thinking about other well known athletes making the transition to the sport of lacrosse…
Below I created my "All World Non-Laxers Lacrosse Team". Let me know what you think of my list, and who would make your DREAM TEAM?
Attack
Allen Iverson – Im taking A.I. as my X attack. A.I. has the sickest crossover of all time and is lightning quick. There is no question that A.I. is a pure scorer so he will find the cage. His size is no issue, just look at Joey Sankey (UNC), Bitter, and Powell.
Shaquille O'neal – Im putting Shaq as my righty attack but I want Shaq trained in the ways of Box Lacrosse. Could you imagine Shaq posted up on the island throwing box fakes and pulling a nasty drop step to inside role? Dip and Dunking? Might be completely unstoppable. Talk about stick protection. Hack-a-Shaq would have to make a comeback.
Steve Young – I have A.I. dodging at X and Shaq posted up at righty attack, so now I need that inside/outside threat. When I think of a lefty with range I immediately think of Steve Young. Great footwork and great arm strength.
Midfield
Lebron James – I'm putting Lebron on my Midfield. He can score, he can play D, He is FAST and he knows the transition game. Lebron's size, speed, quickness, first step, and wing span make him ideal for dodging from the point and being able to shoot from the alley.
Steve Nash – I'm using Steve Nash to be the QB of my Offense. He can draw slides all day and obviously has a gift at seeing the field and getting assists, as well as getting others involved. He may be a liability on D though, but I'll make up for that in my next player. Nash is also another player who knows transition and likes to push the ball up field. Nash would be a great option for inverting mids and initiating from X.
Deion Sander – I'm picking "Neon Deion" to play mid because he is a shut down defender, and because of his speed and quickness. I also like Deion on my team because he is a two way middie, O and D. Remember when he was playing WR and Corner for Dallas? I also like his kick return and punt return game in transition with Steve Nash and Lebron.
FOGO – For my fogo Im looking at two athletes, either Flloyd Mayweather or Gary Payton. Flloyd would be an interesting fogo. There is no doubt he has quick hands. He is also aggressive and extremely technical. I also like the fact that he is arrogant because I feel that great fogos have a certainly attitude about them when it comes to winning that draw in that split second of chaos.
I like Gary Payton as a fogo because again he has fast hands (he is #4 all time in the NBA for steels). He also has a bit of an attitude. He was a point guard so I like his ability to run the break off a pinch and pop or if he loses he will play great D…they called him "The Glove" for a reason.
Defense
Rob Gronkowski – I'm choosing Gronk to anchor my D. Gronk has good speed, great footwork, and great hands which will translate in his ability to shut down attackers and throw some great checks. I also like his ability to play physical on defense given his back round in blocking, and a hunger for GBs.
Darrell Revis – Revis's press coverage ability should translate well to the lax game. His speed and agility are unmatched and I'm thinking about putting him on the other teams lefty and calling that area on the field "Revis Island"??? He has a nose for the ball too, and picked off passes could be his go-to move.
Dennis Rodman – Im adding "The Worm" to my defense. He played great D in the NBA and was a gritty, grimy, blue collar type player. Loose balls and GB's will be "The Worms" specialty, and he will give my team a mean streak. I love that!
LSM – Troy Polamalu is going to be my LSM. Freak athlete, fast, aggressive, nose for the ball and he will be a GB monster if its anything like the way he goes after fumbles. Also, could you imagine the flow he would have hanging out the back of a new R helmet?
Goalie– My team's goalie is going to be Ray Lewis!!! He is a leader with an attitude and clearly has a screw loose. He is the perfect person to direct my Defense. He'll give up his body to stop the ball, and when he comes out of the cage, everyone will shudder with fear.
This was a fun process picking my team and Im interested what other athletes you guys think would make great lacrosse players. Whats your "All World Non-Laxers Lacrosse Team" Look like?