7:30AM – Wake up call from the hotel, the alarm sounds. Ok, I'm up.
8:00AM – Breakfast next door to the hotel with Rory, Dave, Glenn, Dan and Phil. Fried rice, waffle, scrambled eggs, ham and SQUARE bread.
8:30AM – Relax at the hotel with some coffee and gear talk.
9:00AM – Bags are packed because we're moving to a new hotel today, one next door to the stadium. We'll leave our bags with the hotel for a few hours because we're going sightseeing.
9:20AM – A van picks us up to go to the Grand Palace and other tourist attractions. This is the start of a journey.
10:30AM – Arrive at the Grand Palace but it's closed until noon, so we jump in tuk-tuks (taxis).
10:45AM – Tuk-tuk drivers are taking us for a joy ride.
Video evidence:
11:00AM – Checking out the giant standing Buddha and other things.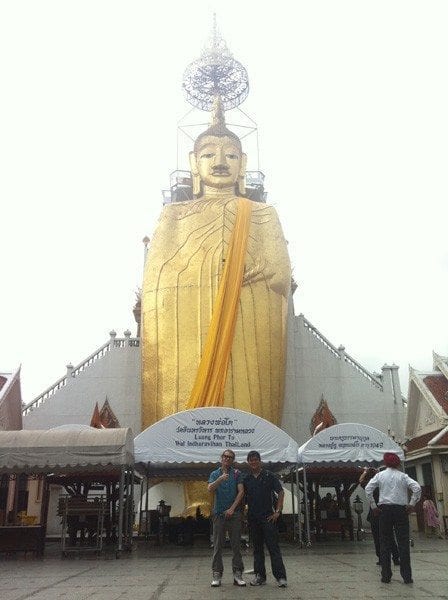 11:30AM – Tuk-Tuk ride to a tailor shop! Tourist trap anyone?
12:15PM – Walking the streets.
12:30PM – Taking tuk-tuks back to the Grand Palace. All-in-all we spent 3 hours touring with the tuk-tuks (3 people per tuk-tuk). Total cost: 20 bahts each, 60 bahts total. That's 2 bucks in the States.
12:45-2:30PM – 350 bahts and we're in. Touring the Grand Palace. The attention to detail in this place is phenomenal. No shortcuts here, just inspiration.
2:30-3:30PM – Touring the street markets: food, coconut water, and souvenirs.
3:30PM – Van picks us up outside the Grand Palace to take us to the new hotel: Novotel at the Impact Complex.
4:00PM – Arrive at hotel. This place is awesome. Incredible entrance and luxury rooms. As we check in, the hostess serves us "Blue Butterfly."
4:30PM – Meet downstairs to head over to Yamaha Stadium.
4:32PM – Arrive at Stadium. This place is unreal. We take the player entrance through the tunnel to the field. The professional soccer team is just finishing up practice, so we watch for a bit. A couple of the players stop by to check out our gear.
4:45PM – Tour of the facility begins, and our crew spots a few surprises along the way…
5:00PM – Stop at the soccer team's gift shop and pick up a replica jersey. Got to!
5:15PM – We're on the field throwing around and shooting. Connor shoots one high right and it dings the  glass window on the VIP Suite. No big deal, Payu says, those rooms have 10mm glass.
6:00PM – Leaving the field for dinner, but first we have to have our press conference.
6:05PM – Okay, maybe that wasn't a real press conference, but could you imagine?
6:20PM – We arrive at a Chinese restaurant for dinner.
8:30PM – Leaving dinner for the hotel across the street.
8:45-9:15PM – Quick stretch and flex in the hotel gym. They have quite the swimming pool here.
9:30PM – Showering up, then heading down to the lobby bar for drinks. For Ogle and I, that means more happiness in a glass.
11:30PM – Lights out. Big day tomorrow.