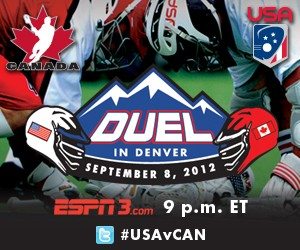 LaxAllStars.com will be in Denver all day on Saturday. We'll be checking out the USLacrosse Clinic, the Recycle Lax Tournament, and of course we'll be taking in the Duel in Denver USA – Canada game at Dick's Sporting Goods Park.
We're actually most excited for the Grow The Game Tour, which kicks off in Denver, and the free clinic we're running with Denver City Lax and Easton Lacrosse is going to be something special!
In order to keep you 100% up to date on what's going down out in Colorado, we'll be live tweeting all day long using the #USAvCAN hashtag. Join us for the weekend via the internet if you're not in Denver! If you want to watch the game live online, you can do so on ESPN3.
It's going to an epic day of lacrosse! Click the link above and scroll through the tweets for photos, updates and so much more. Grow The Game!