Last week we took an in-depth look at The Rise of Connor Martin. Today, we sit down with Con to talk lacrosse and hear about Con Bro Chill from his own perspective.
What's your greatest lacrosse memory?
The first game I got to play in for the Denver Outlaws was probably my greatest lacrosse memory as an individual. There were great team moments from high school and college but I don't think they really compare to the hilarious circumstances of my first MLL game. I was unbelievably lucky to get a shot to play in that game and in all honesty if I didn't play well that day I probably would've never gotten another chance to play in the MLL. It's hilarious that it worked out so well. I still get to play high level lax because of that game.
How did Con Bro Chill go from a character to a band?
I've always wanted to be in a band and make music so when CBC took off with the videos we slowly transitioned it to being all about music. It was bound to happen, we were just taking advantage of the platform CBC had built on the internet and are now keeping this fun thing rolling. We like making skits and goofing around still but Con Bro Chill is all about music now.
What's your brother's connection to the music industry and how has that helped the band?
SAMM [EN: SAMM is his brother Sam's stage name] has been a big part in our transition into music. He's a killer song writer, singer, and musician and lives in LA writing for all the pop bands down there. His first hit was with Maroon 5 called "Daylight" and it's brought him all the street cred he could ask for. We're really starting to feel a groundswell in the whole music scene so we are hoping we can take this thing for a good ride the next couple years.
Do you have a favorite song that the band has done?
I'm excited about some of our new songs we got coming out on the next EP, but I think I'm a big fan of "Partied Out' and "Dance Thief."
With your characters you're going out and just having fun, being a total goof. How different are Connor Martin and Con Bro Chill?
Ya I hope it's obvious by now we're goofing around on camera. People have been asking that for a few years now and I'm still surprised some folks wouldn't understand that those are characters.
If you don't like the jokes that's fine, but no one ever asks Jim Carrey, "Hey are you really that dumb? Because in Dumb and Dumber you were like super dumb." My job is entertanment. So when we play pro Lacrosse, or perform, or interact with kids, or coach a camp you're job is to entertain people, obviously you put out escalated versions of yourself to entertain and do your job.
Do you ever worry kids miss your message of just going out and having a blast living life? Do you worry that your fans attach too much to the "bro" part of CBC? Would you even associate CBC with the "swag" and "bro" culture, or do you just see it as a parody?
Ya, I do worry some people miss the point. We don't associate ourselves at all with those cultures and sometimes i get bummed out when kids come up to me cracking jokes that completely miss the point. I try to not to even acknowledge it because our focus is to encourage people to love life, have fun, all while being a good person.
I'm trying to lead by example in my real life and hoping people understand the parody we put on the internet and see it as entertainment. Even the character "Con Bro Chill" is a happy go lucky idiot who probably wishes he was better at surfing. I don't think anyone respects a guy who's arrogant, unkind to people, and is obsessed with material things so it's amazing these kids acting up even have clout in our community.
What about Flow Society appeals to you? Tell me about your partnership with them.
Flow Society has been unbelievable in supporting my life. They are a huge reason I have time to do camps, interact with kids all over the country, do Con Bro Chill, and even volunteer to help coach my wife's high school girl's lacrosse team in Oregon. They even recently funded us to make 30 instructional videos that we'll be releasing to all the laxers in the coming months.
Say what you will about the style of their clothes, but they've let me do my thing for 2 years and helped me avoid getting a real job. You see a lot of great guys out there who literally can't afford to be an active part of the lacrosse community and have to get real jobs. I think I'd be the same way but because of them I've got plenty of time to do camps, lessons, clinics, etc. I've been very happy being their brand ambassador.
In 2009 at the first ever LXM Pro event, I saw you score 7 goals in a scrimmage against UCSB. What's your take on LXM and what they're doing for lacrosse?
Ahh that was a fun game. That was the first time I ever played in front of pro dudes. I loved that opportunity. And that's what I see LXM as, a great opportunity for more guys to play, more guys to be involved in pro Lacrosse, to get Lacrosse in front of more kids. It's a bummer the MLL and LXM couldn't partner in any way because it'd be better for the pro game to be unified but you have to understand that this is the real world and at the end of the day there are competing brands funding the 2 leagues for their own product placement and they're trying to make their investments profitable. It's not like everyone is some lacrosse missionary, real missionaries don't get paid…But the competition is great, because competition creates excellence and we want these big companies competing with each other to create great products and great exposure for the game.
Tell me about your work with Boom Town lacrosse.
Boom Town Lacrosse is Dillon Roy (Denver Outlaws) and my lacrosse camp, clinic, and tournament company. I am very proud of the lacrosse events we hold for kids. I absolutely love coaching the kids that come to our events and teaching them about life and the game I love. Right now we do 2 camps in Denver, CO, and a camp in Lake Oswego, OR, a bunch of clinics all over the country, and a lacrosse tournament with a shot clock and 2 point line called the 'Boom Town Classic' in Boulder, CO.
We first and foremost try to create fun environment for kids to play the game we love. If you're not having fun, you're playing the wrong sport. We believe working hard and getting better should be fun. After that we teach the game as best we know how, forcing the fundamentals and teaching advanced skills we use in the pros. We're hoping to continue to grow our brand of lacrosse events and spread our style of coaching around the country.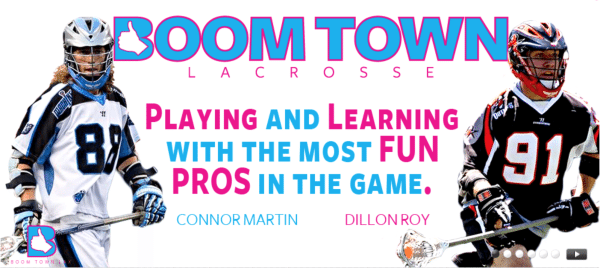 On a scale of 1 to 10, how cool is it to hear your own songs playing in sports stadiums?
It's up there man. I think it's like a 9. A 10 would be having your band play stadiums.
If you could impart one message to your fans, what would it be?
Love Life. It's about being grateful, doing what you love, and loving on all the people around you.