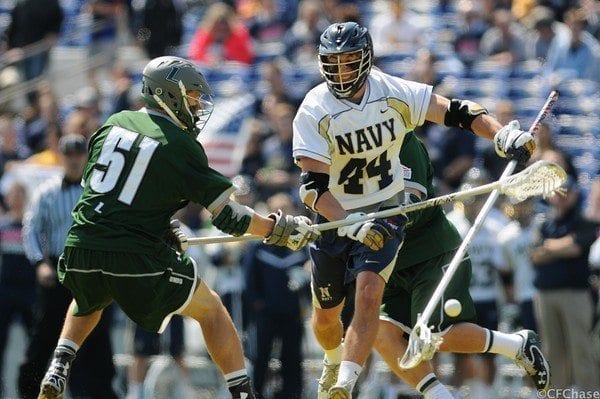 Loyola travelled to Annapolis to take on the Navy Midshipmen on Saturday, and the Hounds emerged with a hard tough 7-6 Patriot League win, but it took two overtime periods to decide the winner. Justin Ward took a pass from Brian Sherlock, and fed the ball to Brian Schultz for the OT winner. It was Ward's 4th point of the day (3rd assist) and Schultz' only point of the day. Sherlock proved instrumental in the game for Loyola, scoring two goals (a team high!), and setting up the game winner.
Photo Credit: Craig Chase
Loyola's offense generated more shots and good opportunities than Navy did, but 14 saves from John Connors gave Navy a fighting chance. Jack Runkel was also a tough keeper to beat this weekend, and he made 9 saves while allowing six goals. Both keepers saw some serious heat, and we're rewarding them in GIF format for their excellent efforts.
High to high… very nice! How about those low rips though?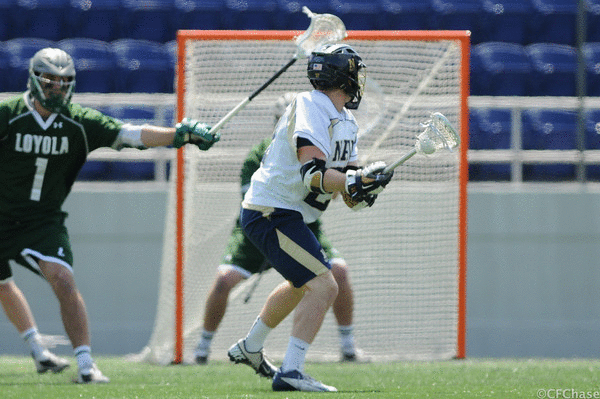 That's a tough save to make! Runkel was up to the task though! And don't think we're leaving Connors out of the action either:
Definitely thought that one was going in! Keepers staying big, using good form, and making big impacts. I love lacrosse! Here are a couple more top notch shots from the one and only Craig Chase!