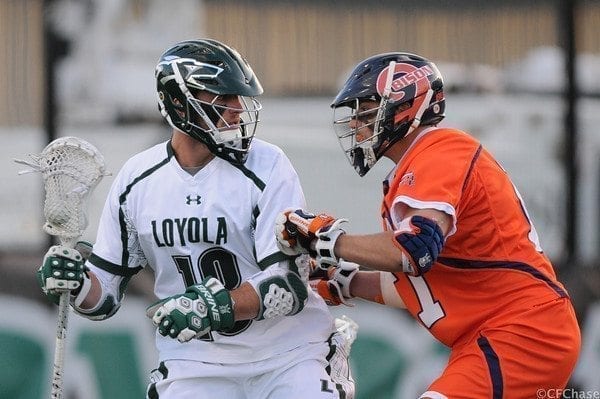 Loyola entered the Patriot League this year, and in their first season of conference play, they finished with a perfect 8-0 regular season record. They now get a bye to the semifinals, which they will also get to host next weekend at the Ridley Athletic Complex in Baltimore.
Photo Credit: Craig Chase
Loyola's final hurdle to an 8-0 Patriot League record was Bucknell, who entered the game at 7-6 overall, and 4-3 in conference play. The Hounds took down the Bison in convincing fashion, 13-6, after starting the game on a 6-1 run. Loyola didn't totally dominate the play, as Bucknell got some good looks, but the Hounds were better on the little things, and this was the real difference maker. Passes were slightly more accurate, shots came off hard dodges or feeds a little more, and the Loyola defense put pressure on consistently.
Brian Schultz had an incredible day of shooting as he had 6 goals on 10 shots. He took some punishment at times, but was focused on scoring before anything else, and it showed in his stats and game play.
On the other end of the field, Joe Fletcher held David Dickson pointless, and that hasn't happened in 41 games. Jack Runkel was beyond solid in cage and looked a step ahead all night.
Here is a great gallery of game photos from Craig Chase. Enjoy!
And in case you missed the game, here is a little video from Loyola:
Hounds are looking tough! No doubt about it.