Editor's Note: When Connor was in the Czech Republic for the 2012 Ales Hrebesky Memorial, he met Luke Parker, a box player from Nova Scotia. Luke was also playing in the tourney, but unlike Connor, Luke was staying in Europe for a full month of lacrosse.
Now Luke Parker takes us along with him on a recap of his amazing trip. If you've ever thought of playing lax in Europe, this is a must read post!
_________________________________________________________________________
I've been playing lacrosse since I was 12, so for about 16 years. I grew up playing minor lacrosse in Halifax, Nova Scotia (Canada) and played senior in the local mens league. I played my collegiate ball at Briarcliffe College in Long Island from 2004-2006.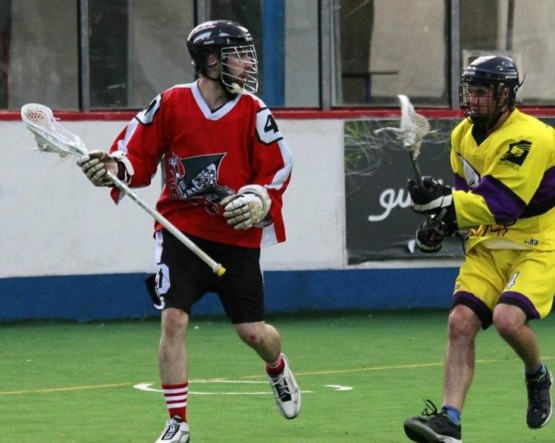 Other than that, I've just played at a few random tournaments, the Founders Cup (Jr. B nationals), the Ross Victory Cup (Canadian field nationals), Bermuda King of the Rock Tournament in 2009, and the Ales Hrebesky in 2008 and 2009.
This year I played in the Ales Hrebesky again, and for the first time, I also played in the Dresden (Germany) Lax in the Box Tourney.
So like I said above, this wasn't my first time playing lacrosse in Europe. The prior years at the Ales Hrebesy is how I made contact with the LCC Radotin organization (the host club), and I basically reached out to them this year, prior to the Memorial, and expressed some interest in playing for them, and they were all for it.
The Lax in the Box tournament kind of came up when I was already in Radotin, as I didn't know about the tournament, but the guys asked me to come and play, and of course I was up for it! All said and done, I spent 24 days in Europe, but it might as well have been a month.
In total, I played 3 games with Radotin in their final series against LC ForFun after the Memorial was over. I also played in 6 games for Radotin at the Lax in the Box tournament in Dresden. The final series was interesting, although it was a 3 game sweep in our favour, and the games were closer than what were expected.
Game 1 was an 8-3 win, Game 2 was a 16-9 win, and game 3 was the closest, as we snuck by LC ForFun 9-7, to win the series, and the championship. As far as the Lax in the Box tourny, it wasn't very close, all games were pretty much 1 sided in our favour, except the semi final, where we beat the Bratislava Bats 3-2, to play Slavia Praha in the final, where we won 5-0. (EN: The BATS!)
From the sounds of things, it may have seemed easy, but it was a hard adjustment to make it in European Lacrosse. This was mostly due to the language barrier (only 1 of the coaches spoke English, and only a handful of the players spoke English) and the coaches asking me to play a role that I wasn't very used to. But I was up to the challenge, and it was a good learning experience.
The Radotin coaches asked me to play a defense/transition role on the team, which is very new to me, being a purely offensive player for the Nova Scotia Privateers. The guys on the team were awesome, I buddied up with a couple of the guys who spoke English a little bit, and they showed me around and translated for me, etc. But I felt like a part of the team from the first time I stepped into the dressing room, and I couldn't say anything bad about the Radotin guys if I tried.
While I had a great time, I also noticed some big differences. The biggest difference I see between the Canadian box game, and the European box game, is the physical part. Canadian box lacrosse is much more physical, and it seems like in European box lacrosse, contact off the ball is pretty much non-existent, and there is no fighting etc. I think it would greatly benefit European players who are serious about box lacrosse, to try and play on summer teams in Canada.
Now back to the fighting thing for a minute… but only because Connor asked me to talk about it! (EN: true.)
It seems like fighting isn't as near as necessary in the European game, as it would be in the North American game, and some (like you, Connor) might even argue its not necessary at all. In my experience in European box lacrosse, it's not as physical, and the players play a cleaner, more honest game.
Although in Game 1 of the Czech league finals, a Radotin player, and a ForFun player got into a "fight", and I was pretty surprised, for 2 reasons: 1) that there was even a fight to start with, and 2) the fact that they didn't drop their gloves, they just punched each other in the helmet, until it got broken up, and the players just both received 2 minute roughing penalties. So maybe it's on its way?
Overall, I am a firm believer that fighting, when done the right way, has a place in box lacrosse.
Another interesting difference to note was totally off the field. When the Memorial tournament ended, I got the chance to see what Radotin was like for the rest of the year. I didn't hear a whole lot of English, and my two main eating spots, the clubhouse and the steakhouse, didn't have English menus anymore. It really kind of hit me, and bummed me out a little, when I walked to the clubhouse the day after the tournament ended, and it was pretty bare at the rink, with no tents, no signs, no bbq, and no people.
But other than that it was a good experience, I got to see some familiar faces around town, and I got to see people in their day to day routines etc. It was cool to get a feel of the real Radotin, and I'd assume it's not unlike any other small town in the Czech Republic.  Culturally, it was great to experience.
And my trip to Germany wasn't bad either; I liked it, although I will admit to feeling more at home in the Czech Republic. Unfortunately the 2 weekends I spent in Germany, the weather wasn't very good. There was a little bit of rain, and it was just gloomy in general. The first weekend I spent in Germany was in Berlin, running with the BHC team for a couple days.
I played 2 games with their B team, on a Saturday, and then practiced with them all day on Sunday. The games were ok, and took a pretty hard loss to BLax(?), and put a pretty good beating on a team from Cottbuss, Germany. It was the first field lacrosse I'd played in a long time, so it was good to get out and run around on the field. And then the following weekend was the Lax in the Box tournament in Dresden.
The Lax in the Box tourney was pretty fun, and it's great for a first year event, but it's still nothing compared to the Memorial. However, there were 10 teams in total, so that's a good sign. There were Czech teams, German teams, an Austrian team, and a team made up of German/Polish players. The game format was a little strange,with three 8-minute periods.
It also made for some not-so-typical box lacrosse scores, including a few shutouts. I think the tournament was ok overall, but it had a good venue; the arena was really nice. However, the competition wasn't great, and it seems like German box lacrosse is in its infancy. But the fellas wanted to play, and they were trying. It's good to see the game growing, and I was happy to be a part of it.
From what I understand, German field lacrosse is pretty strong, and the teams I saw in Berlin weren't bad at all. There were some guys out there that could sling it, and maybe once some German field guys start embracing box lacrosse, it'll be well on its way.
I'm all for the game growing outside of Canada. Some of my best lacrosse memories are actually from places outside of Canada! So I'm definitely all for it. I think it'd be good to see some more competitiveness in the world championships, not just Canada/Iroquois/USA, and then everyone else. You guys have got the right idea with your "Grow the Game" slogan.
And just to get a little sappy, I'll finish up my month long European Lacrosse Trip post with my top 5 memories:
1) Beating the Boston Megamen in what was a great North American style game for the fans to watch, a shootout victory for Nova Scotia, and a hat trick for me; I felt like that was my best of the tournament.
2) A 3rd place finish for Nova Scotia Privateers, our best finish at the tournament. Always good to come away with some hardware, and we did it in exciting fashion; another great game for the fans to watch, shootout victory once again!
3) Tournament All-Star award.It was quite an honour to be mentioned with the likes of such great players, and it felt good to get noticed.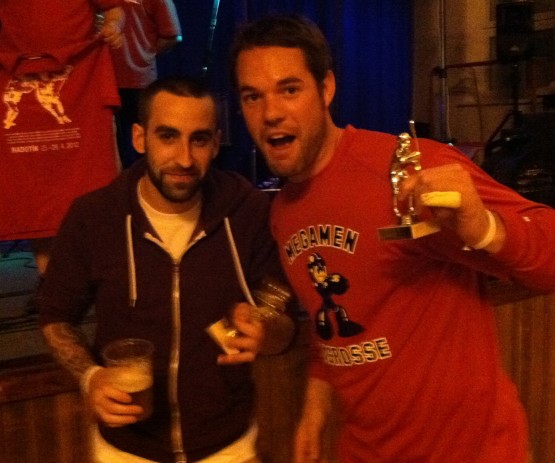 4) Winning a Czech National Championship. Oddly enough, this was my first ever National Championship in anything, and it happened in the Czech Republic. Once again, it was quite an honour to be part of a team that can pull that off.
5) Just hanging out and soaking it all in: Talking to people, meeting new people, watching games, scoring goals, winning games, playing hard, being part of a team, high fiving with kids, signing autographs for kids, drinking beers… thats what it's all about, and nothing makes me happier.
Lacrosse is the love of my life.