The LXM PRO interview series continues with Brett Hughes. Like Kyle, many LAS readers are already familiar with Brett, a former UVa standout and MLL All-Star. Let's check in with him and see what he's been up to lately.
LAS: We've been hearing more and more about LtN. Can you tell all our readers what it is and why did you started it?
Brett Hughes: Yeah, I'd love to share all i can about Lacrosse the Nations. It's going great and growing by the day. Our program in La Chureca, Nicaragua has been growing with more and more kids choosing to be part of lacrosse. Here's a video introducing the program:
Favorite LXM memory so far?
Brett Hughes: Getting to play with Brendan Shook again. We played in high school together at Upper Arlington and he has easily been my favorite player since I started playing. We have been wanting to get back on the field together (on the same team) for a long time. It's funny how we seem to just play well together… mix that in with a big portion of the "OMEGA" Defense which is my favorite defense of all time with Trey Whitty and Ned Bowen… so just getting out with good guys who I respect who really want to play together – that's been my favorite thing.
At close D, who's your favorite matchup? Or who would you love to match up against?
Brett Hughes: My favorite of all time would have to be Mike Powell, we always matched up pretty well and UVA vs. Cuse was always a big game, playing the best player in the biggest game is why I play. It's fun that way. Other players I always love to scrap with would be John Grant Jr, Ryan Powell, Ryan Boyle, and I gotta shoot some love to Dan LaMonica… he always used to bring it when we scrapped.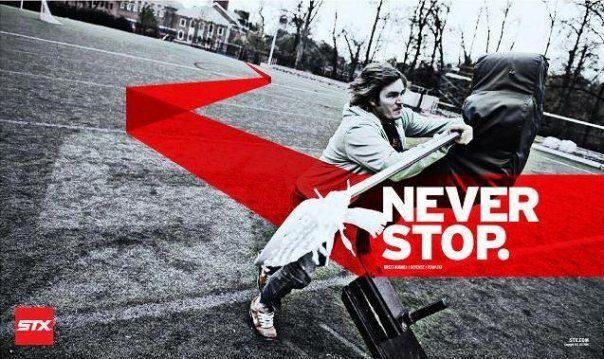 You live in LA right now… What's it going to take to get the skill level there up to what you've seen on the East Coast? More players, better coaching, more time?
Brett Hughes: Better coaching, and more time. I honestly think the coaching at the youth level is most important in growing areas. The high school coaches are pretty good out here, but when players are coming in they are still far behind. But they love the sport, they love the culture. I just want to see youth coaches take the time to teach fundamentals even if it isn't the "coolest" thing to do.
How can D-poles looking to go to big time schools get noticed more?
Brett Hughes: Play multiple sports. I brought the thought process of basketball into lacrosse which helped me understand how plays unfolded and allowed me to see what offensive schemes were trying to get accomplished, and football helped me so much with physically playing defense… staying low, being a different type of athlete, and helping me with my overall aggressiveness. And it kept me fresh. I hear of so many kids burning out and I just don't understand how you can burn yourself out on any sport if you are playing a couple different ones. Lacrosse is my favorite sport, but L absolutely miss football everyday.
LXM is touring across the nation, but is it a pretty flexible event in terms of commitment? Still allowing you to pursue your own things?
Brett Hughes: Yeah, it's great to be able to spend some time on Lacrosse the Nations and a day job, still get out and be part of camps, clinics, and run my own lacrosse endeavors. I miss seeing a team every weekend because I have always been on that type of team, but I wouldn't trade the guys I'm playing with now for any team. That is why I enjoy playing in this league more than anything. Great people on that field.
They say offense wins games, defense wins championships… What's your view on this?
Brett Hughes: Well Defense wins both… hahaha. I think that a strong defense in vital to being the most consistent team. A hot offense is pretty hard to top, but overall a solid defense doesn't get HOT and they don't get COLD. A great consistent defense is why teams win over and over again. It takes pressure off the offense which allows them to play confident and loose – usually making them even more dangerous. It all starts on our end.
Do you have a pregame ritual or playlist that you need to do/listen to every game?
Brett Hughes: I have to tape my ankles and then spat my shoes, and I always put the intials of two friends of mine who have passed away on my ankles along with a couple numbers on my wrist of some of my heros in sports that i like to try and think of. Each number represents a special athlete and each athlete reminds me of a different aspect of the game that I think makes a great competitor.
Since you're an Ohio guy – Do you feel like Lebron deserted Cleveland, or are you looking to see what he can do in Miami?
Brett Hughes: Yeah he did… I think we all thought he had more confidence in himself. MJ, Bird, Magic, even Kobe… the best of the best always had an ego that came off as… "COME HERE IF YOU WANT TO WIN." I remember Jordan saying, "they still have to come through Chicago." I just thought Lebron would have more than that… a "King" doesnt leave his throne to join another army.  Although nobody wants him around if he doesnt want to be here… I'll be cheering against him for sure now, but he made cleveland fun to watch while he was there. I'm just bummed they wont be on TV as much anymore. No Browns, no Cavs…. thank heavens for Ohio State football and UVA Lacrosse so i can see a couple of my teams actually play.
Duke finally won a championship, who do you have slotted for the win next memorial day?
Brett Hughes: With the way Adam Ghitelman was playing at the end of the year and a growing offense at UVA, I think they will be tough to beat. It's just hard to roll like they do at the top the entire year and then pull it out at the end. But yeah, I can honestly say nobody has a "better" chance then my Wahoos. im excited to watch the young pups come in and play as well, couple really talented freshman coming!
Thanks for the interview Brett!
For more on LXM PRO, check out their website and follow them on Twitter. We'll have more LXM player interviews coming your way over the next few weeks!
_______________________________________________________________________________________
Got a hot tip or something that deserves to be seen? Drop us a line at info@lacrosseallstars.com