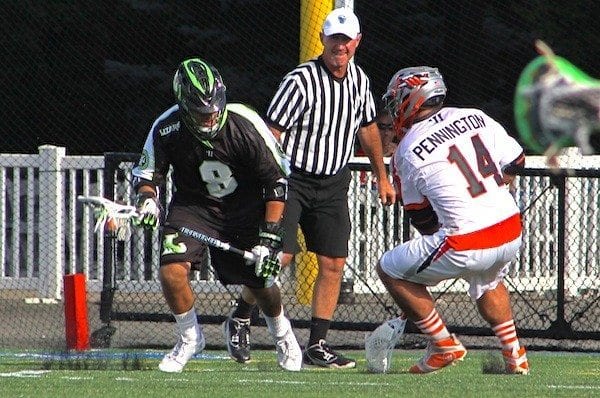 From major trades to a new franchise setting up shop in Florida, there hasn't been much time to not think about Major League Lacrosse as of late, and things are about to get even busier. The 2014 collegiate draft is one month away, but first we are treated to the supplemental draft, which takes place this Wednesday at 2:30 pm ET. Unlike its online-broadcasted collegiate counterpart, this one's far more low-key: just a conference call between the teams. If you want to follow the draft as it happens, the league will live-tweet the first two rounds (there are 12 rounds total) and update their site upon completion of each round.
Will we see the first ever woman to get drafted into Major League Lacrosse? Devon Wils, the US women's team keeper, is part of the draft pool, so it's possible. She's VERY talented. Will anyone take a chance on her?
While some picks will likely be spent on pulling back players who were left unprotected, the Supplemental Draft is the perfect opportunity to fill some cracks in your roster, give some less-heralded players a shot (example: Mike Stone, selected in the 9th round in 2010), or if you can afford it, toss up a hail mary that could pay off in the long run. Just so we're all up to speed, let's take a look at what each team is looking for heading into the draft.
Boston Cannons
Boston picks third overall, then they sit out until the fourth round (thanks to trades with Charlotte and Ohio), so they'd better make their first pick count. The Cannons recently acquired Brodie Merill and Martin Cahill, but they still have work to do at each position (which means they can't really go wrong with their strategy, so there's that). Boston needs to address secondary midfield production (at some point they're really going to miss Cam Flint) and find an attackman to play opposite Will Manny in the future, but Boston's main priority (as unexciting as it may be) should be shoring up their defensive midfield, followed by picking up a defender who wants nothing more than to stay home and play defense.
Charlotte Hounds
From playing seven rookies in a game last season to having five of the first fifteen picks in the collegiate draft, the Hounds roster is well-stocked for years to come, meaning head coach Mike Cerino's going to have some serious decisions to make when training camp comes around next spring. Last year, Charlotte used their second-round pick on Tim Fallon, who became the solution to their highly-publicized 2012 face-off problem; don't be surprised if the front office finds another high-value pick somewhere along the way (most likely a midfielder, since replacing Peet Poillon and his 33 points last season has to be a concern).
Adam Ghitelman is Charlotte's lone protected goalie, so look for the Hounds to grab a backup at some point during the draft. Will Cerino bring back a 2013 goalie like Mark Manos, or give his fellow Limestone employee Remington Steele (currently the assistant women's coach) a shot in net?
Chesapeake Bayhawks
With the exception of Casey Powell, a deck as stacked as Chesapeake's didn't need much help from their supplemental draft picks last season. The Bayhawks traded their first round pick in this year's draft to Florida, but doing so helped them land Joe Walters, so they're probably okay with sitting the first round out. The Bayhawks place a high priority on local players who can show up to practice, so chances are we may see a former Terp, Greyhound or Blue Jay taken at some point. Although a former Tiger, Josh Sims is available and local, and head coach Dave Cottle loved the work he was putting in at practices last season. Sims would make for a reasonable late-round pick, even though there's less room in the Chesapeake midfield today than there was last year.
The Bayhawks are in the same boat as the Hounds regarding goalies on their roster; if TC Dibartolo (appeared in eight games for Chesapeake over the past two seasons), doesn't get picked back up, maybe Hopkins alum Pierce Bassett finally gets the call. And on that note, no more backup goalie selection debate, I promise.
Denver Outlaws
Much like the Bayhawks, there aren't too many glaring weaknesses for the Outlaws to tackle, as winning every game in the regular season tends to do that for you. Denver shipped Brian Megill to Chesapeake and left Roger Ferguson (currently on the LXM tour, but still in the draft pool) unprotected, but picking up Michael Simon in the Mundorf trade (along with the fact that Matt Bocklet exists) should keep their defensive midfield solid next season. While we're talking defense, the Outlaws drafted Ken Clausen 95th overall in last year's supplemental draft; after completing rehab on a torn ACL, will he get another shot in 2014?
Speaking of unprotected Outlaws with previously torn ACLs, it's reasonable to assume Jeremy Boltus will rejoin Denver's attack unit, since it's far more difficult for an East coast franchise to work around his Colorado-based military obligations. Boltus' Army duties are likely the main reason the Outlaws left him unprotected to begin with; they could safely do it, protect someone else and expect him to be there when they're on the clock. Even assuming they pick Boltus back up, look for Denver to select another attackman or two by the end of the draft. If there's one team that understands the importance of depth at the attack position, you'd have to assume it's the Outlaws.
Florida Launch
Also with the exception of Casey Powell, I have no idea who's playing for the Florida Launch. Oh, I know who's on their roster right now, but I have no idea who's actually showing up. You know when a space shuttle heads toward its destination, it loses a bunch of very important-looking components along the way? It's strangely appropriate that the Florida Launch currently seem to be following the same procedure with their roster. Assuming the lineup stays intact (and assuming is all we can do at this point), the defensive side of the ball should be the Launch's main point of focus.
In addition to losing Brodie Merrill (granted, they did pick up P.T. Ricci in the Merrill trade), the Launch left both Sid Smith and MJ Kiekebelt unprotected, meaning now would be a good time to find poles who can help one of the three goalies on their roster, one of whom (Adam Fullerton) they just traded Roy Lang to acquire. Seriously, Launch: why did you just trade a midfielder for a third goalie? Somebody get back to me on that.
Considering they're about a nine-hour drive from their closest opponent, it's definitely in their best interest to grab a few local players (for both marketing and availability's sake). Florida resident Chazz Woodson is only one year removed from leading the Ohio Machine (and setting a career-high) in points, and should be an obvious addition to the team, especially if he's comfortable playing as much midfield as he did last season.
New York Lizards
Say you managed to land Matt Ryan, CJ Spiller, Ray Rice and Roddy White on your fantasy football team this season. Your team looked unstoppable when you put it together, but ultimately it was kind of a disaster, and you definitely missed the playoffs (my condolences), which is kind of the kind of situation the Lizards are dealing with right now. So many big names last season, yet so much went wrong: where do they start in turning things around? They already picked up Ned Crotty and Matt Streibel (without giving up anybody who was part of the picture at the end of the season, by the way) in the offseason, so now it's time to focus on the defense. Jack Reid was one of the more surprising names to see left off the protected list, especially considering the Lizards gave Boston a 2014 collegiate pick for him right after last year's supplemental draft. Will they try to pull him back before someone like Florida comes calling?
Ohio Machine
Now that Ray Megill has retired, several jobs have opened up on the Ohio Machine. Megill could play close or LSM, switch to short-stick defensive midfield, or line up on the wings, and he was one of only two players to record a two-pointer for Ohio last season. You're probably not going to check all of those boxes with one person, but the supplemental draft is a great place to start, and Ohio gets to choose first in almost every round (they traded their fifth round pick to Charlotte).
Aside from bringing in a contender for the face-off position (which should go without saying – Ohio won a league-low 39% of their draws last season), who else could help the Machine? One name to keep in mind is Jovan Miller. Miller played in only five games during a tempestuous 2013 season with the Hounds, but don't forget that he was an All-Star the previous season. He can play both ways, he's handled wing duties in the past, you name it. Any chance the Machine pick him up?
Rochester Rattlers
Rochester selected Mark Millon first overall in last year's draft, so all bets are clearly off as far as predictions go. Both Stephen Boyle and Kevin Leveille were protected, but both saw their scoring totals drop this season as well, meaning the attack position could be a major concern heading into 2014 if the newly acquired Grant Catalino and/or Mark Matthews don't quite pan out. After the attack position, the Rattlers need to roll the dice on a few midfielders who can hopefully make up for the production they lost by sending Matt Striebel to the Lizards. What about a Rattlers homecoming for Dan Hardy? Upstate guy, 2009 Rookie of the Year, a little off the radar right now – that pick has Rochester Rattlers written all over it.
What To Look For…
There are over 500 names in the supplemental draft player pool, and while you see your fair share of MLL All-Stars, NCAA All-Americans, etc, you also see that guy from your summer league, or that guy you played club ball with back in the day. For those players, the supplemental draft is their way to get a foot in the door. For coaches and general managers, its their chance to look like geniuses; combining calculated risks, extensive research and plain ol' dumb-luck hunches to wind up with that future All-Star who happened to slip through the cracks. The Supplemental Draft never disappoints when it comes to big news, so make sure you check back here for more leading up to the season. To those of you in the player pool, good luck. Maybe we'll see you next spring.