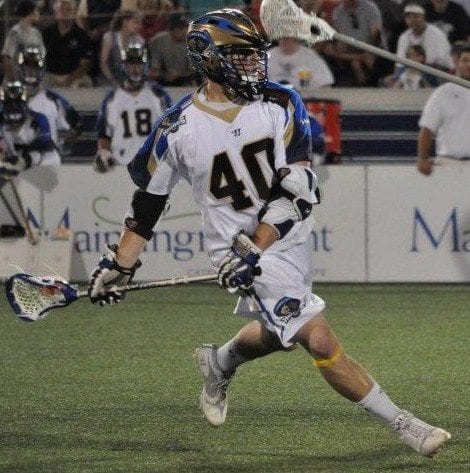 Week 6 of the 2012 Major League Lacrosse season is in the books. I went 3 for 4 on my predictions – only Long Island's 13-10 road win over Boston came as a big surprise. Overall, the MLL looks as competitive as ever, and at least four or five teams have to be considered legitimate contenders right now.
If you want to see two of the most ridiculous goals from the weekend, make sure you check out our post Whose Ridiculous MLL Goal Was Better? Woodson Vs. Hostetler.
Chesapeake Bayhawks 15 – Charlotte Hounds 7
The Bayhawks started out hot, finished the first quarter up 7-1 and never looked back. They got 3 goals from Drew Westervelt during the early run, as well as 2 goals from Matt Mackrides. Westervelt would add another goal and an assist to finish the game with 5 points. Overall, Chesapeake had a very balanced attack with lots of players notching 1-2 points.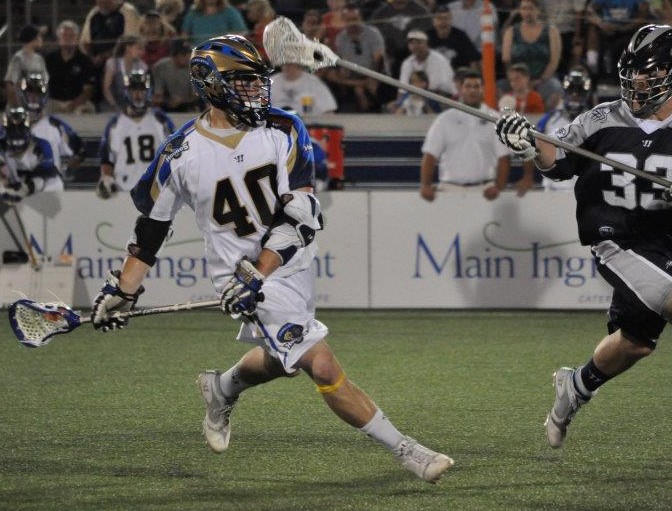 Charlotte got things going a bit later in the game and Matt Danowski finished with a goal and 3 assists, but the Hounds never had the ball enough in the first half to keep it close. When they did get chances, especially on man up (0-5), the Hounds couldn't deliver with enough consistency. The Bayhawks won 19 of 26 face-offs and truly controlled the game from pretty early on to finish. Like I said in the comments section of last week's MLL Preview, Charlotte has 3 holes they still need to fill, and this game was definite evidence of that.
Long Island Lizards 13 – Boston Cannons 10
I hope you watched this game on TV if you were able to; it was just fantastic. The game was physical in every way – sticks were flying, bodies were flying, emotions were running high, and the face-off battle between Chris Eck and Greg Gurenlian was just mean! At one point Eck was just driving his shaft into Gurenlian's shin, and that kind of summed up the whole game for me: both of these teams DESPERATELY wanted to win.
When it came to game planning, both teams came prepared. Boston bumped PT Ricci and Kyle Sweeney into the midfield to deal with the Long Island duo of Max Seibald and Greg Peyser, and the Cannons switched, played mini zones and forced roll backs whenever possible, almost always trying to contain the outside. It was beautiful defense to watch.
Long Island countered by using Matt Gibson, Ryan Young and Brian Langtry as ball carriers and uphill dodgers when they drew the short stick. Long Island really capitalized when these three were on the field, much more so than when Grant Catalino was playing, but if other teams try to double pole the midfield, I think Catalino could be very useful. Against Boston's short sticks however, the three smaller, quicker players really thrived.
Some might point to Chris Passavia's 2-pointer as the back breaker for Boston, but in my opinion it just canceled out the goals scored by Boston's poles, all of which were impressive as well. The fact is, Boston did not produce on offense like I thought they would, and this is Boston's biggest weakness right now… When the Cannon middies don't hit their shots, their offense can become stagnate.  Paul Rabil, Kevin Buchanan, Brad Ross and Owen Smith all got excellent looks at the cage throughout the game, but none of them were on, and Boston suffered for it.
Ryan Boyle distributed well, and lots of good chances were created. Poskay notched a couple of snipes, and Boston looked pretty solid when they were man up, at least earlier in the game. The difference here was that Boston's midfielders couldn't generate the same scoring as they usually do, and Long Island really did a good job of reigning the Cannons in.
Yes, Paul Rabil had a goal and 5 assists, so he certainly produced… but he also took 9 shots, 7 of which were on cage but didn't go in. I'm not putting the load solely on Rabil's shoulders here, but if he had shot 33% instead of 11%, he would have added two goals to Boston's total, and we're talking totally different ball game here. In fact, if any of the Cannons middies had shot better, it would have been a different game. Brad Ross had 2 goals on 9 shots. Kevin Buchanan had 1 goal on 10 shots. As a side note, Brian Farrell had 2 goals on 3 shots. He plays long pole.
Speaking of longpoles… All of the Lizards poles played athletically, and they played tough. Sticks were flying for both teams, and some of the checks thrown were just vicious, but it made for great TV, a fun game, and most importantly, an effective defensive approach. Drew Adams came up huge in net for Long Island a couple of times, and now that I've seen him play twice this season, I don't think that there's a better keeper out there. Adams is seeing beach balls right now.
Hamilton Nationals 17 – Rochester Rattlers 8
I didn't see this game, so it's hard to really break it down at all, but I'll throw some stats at you anyway.
At the end of the first quarter it was 2-2. Two minutes into the 2nd quarter, it was 3-3. At halftime, Hamiton was up 10-4. What? 6 Straight goals. Walters from Crowley. Crowley. Earl from Keough. Earl from Keough again. Cody Jameison, also from Keough. Then Keough from Dolente off the face off. That all happened over the span of 11 minutes and 21 seconds.
The Nationals had 8 players with 2 points or more and every field player but one recorded at least one ground ball. Balance! It's what I expected from this team early on, and Casey Powell didn't even play.
Hamilton killed it on face offs going 19 for 29, and had 59 shots compared to Rochester's 33, almost doubling up the Rattlers. Steven Boyle had 3 goals and an assist, Ned Crotty had two assists, and Jordan MacInosh had 2 goals on 2 shots. Maybe it's time to give MacIntosh a large role, eh? Matt Striebel and Martin Cahill both struggled to find the cage for the Rattlers, who clearly never got going in this game.
Denver Outlaws 16 – Ohio Machine 8
Denver went up 5-0 before Chazz Woodson answered for the Machine. Then the Outlaws went on another run of goals, this time scoring 4 straight, and the game was pretty much out of reach. 9-1 is a hard deficit to crawl back from, even with a two point shot, and against a team like Denver (great goalie), this just won't work unless you have at least one or two phenomenal outside shooters.
If you think I'm being unfair by saying that the game was out of reach when it was 9-1, or 10-2 like it was at the half, then the 3rd quarter should change your mind.  Denver scored 4 goals, and Ohio scored none, making it 14-2 entering the fourth. Ohio was able to generate some offense late in the game, but it was inconsequential at that point.
I definitely thought Ohio's strength this year would good team chemistry, but when the Machine give up multiple goal runs more than once a game, it gives me pause. I expect them to struggle a bit, seeing as they are an expansion team, but a true team can stem a run together, and fight to stay in games, at least for the first half. I hate to say it, but if any team in the league is in crisis mode right now, it's probably Ohio.
The Standings (as of June 10th, 2012)
Chesapeake Bayhawks 5-1 (3 game winning streak)
Boston Cannons 4-2 (2 game losing streak)
Denver Outlaws 4-2
Long Island Lizards 3-2 (3 game winning streak)
Rochester Rattlers 2-3
Hamilton Nationals 2-3
Ohio Machine 1-4 (2 game losing streak)
Charlotte Hounds 1-5 (3 game losing streak)