Editor's note: And we're back with Music Monday sponsored by Maverik Lacrosse! This week we've got a very special guest: DJ Billy Bitter! Billy needs no introduction. You know about his awesome college lacrosse career at UNC, you know he just signed with Maverik, and you know he loves music!

Check out the interview we did with Billy below and listen to his favorite tracks for pre-game, post-game and relaxing. Recommend a good song to him in the comments section, and you could win a brand new Golden Boy Tee from Maverik Lacrosse. Billy will pick the winner next week!
____________________________________________________________________________________
UPDATE: AND THE WINNER OF THE GOLDEN BOY TEE IS…
Parker for his recommendation, "Sleepy Head by Passion Pit"
Nice work, Parker! Email your mailing address to info@lacrosseallstars.com and we'll send out your tee!!!
____________________________________________________________________________________
So, Billy, if you could spend the day with 1 musician, who would it be and why?
I would love to meet Tiesto. He is the greatest DJ of all time. I would really love to learn how he creates some of the best music in the world.
What's the best concert you've ever been to?
The best concert I have ever been to was Dave Mathews Band at Jones Beach Theater in Long Island. My sister got me seats about 10 rows back right along the water. The music was great and the atmosphere was even better.
When you score a goal for the Denver Outlaws, what song should the announcer play?
The song I would love to hear after a goal would be 'Ready 2 Go' feat. Kele by Martin Sloveig. The name of the song says it all and I love the build up.
If Maverik is making a Billy Bitter commercial, what song do you pick as the theme? Why?
If there were a Billy Bitter Maverik commercial I would want 'The Riddle' by Random Rab to be the background song. I heard this song in a TGR ski movie a few years ago. I like its relaxing beat.
What's your favorite Maverik Lacrosse product and why?
I remember seeing the first Maverik product in high school, the Wonderboy. For some reason it stood out to me over all the other shafts at the store. I've always loved the unique designs the Maverik team comes up with every year.
So far, what's your favorite part of being affiliated with Maverik?
The best part about working with Maverik is being around such a wonderful group of people. Everyone that I work with is a pleasure to be with. I am really happy to be given the opportunity to work for this company.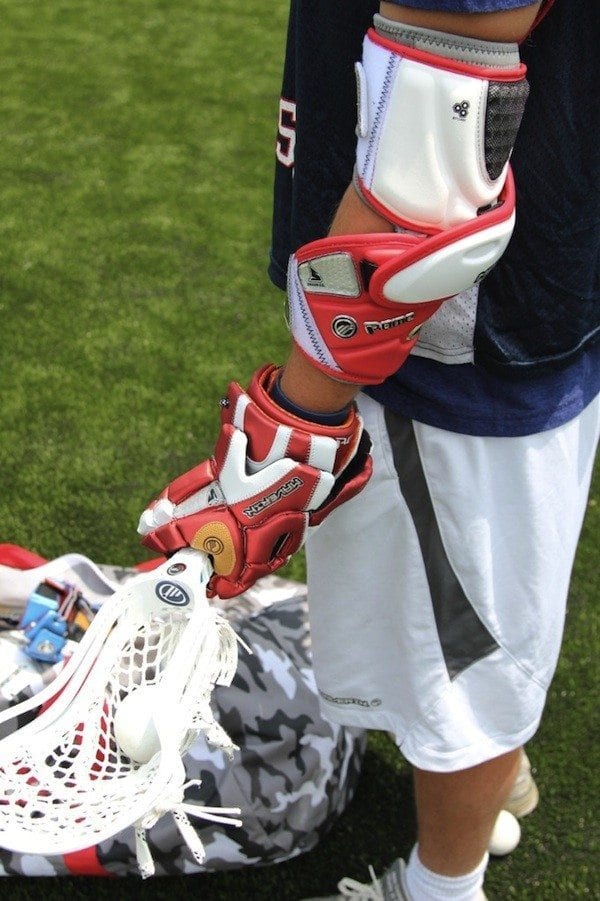 And now, Billy's favorite tunes:
PRE-GAME
"Levels (The Boy From Ipanema Vocal Mix)" by Avicii
This song just gets me fired up every time I hear it. Avicii always comes through with a sick beat and the vocals work perfectly with it.
"Tonight" by Danny Byrd feat. Netsky (Cutline Remix)
This song is really unique. It has a lot of cool sounds in it, and when the beat drops it gets the juices flowing.
POST-GAME
"Never Be Alone (DJ Viduta Mix)" by Deepside Deejays
We listened to this song after every game we won at UNC. I love the sound of the accordion in the background, it reminds me of that hit song 'Stereo Love'.
"Throw Your Hands Up" by Qwote feat. Pitbull
This was another post victory song at UNC. Its a fun song that gets a lot of the guys even more excited after a big win.
RELAX
"Penguin" by Avicii
This is just a feel good song with a cool piano rhythm. I enjoy listening to this song on long car rides. I can't wait until they release the final version with vocals!
"I'm Going Down (iTunes Session)" by Vampire Weekend
I like this band a lot. They have really good songs for the summer time.
LAS READERS: Recommend a song to Billy in the comments section below, and you could win a brand new Golden Boy Tee from Maverik Lacrosse. Billy will pick the winner next week!