Editor's Note: Mike Synek is back with more great Midwest Indoor Lacrosse Association coverage!
________________________________________________________________________________________________
The final game of the 2011 Midwest Indoor Lacrosse Association came to an end for the Chicago Outlaws Saturday night about as quickly as it began.  The stage was set for a first place battle between two very evenly matched teams in the Grand Rapids Dragonfish(4-1) and the Chicago Outlaws (3-2).  After the first quarter it was 4-3 and if you had told me before the game that the score would only be 4-3 after one quarter of play I would have told you that you were out of your mind.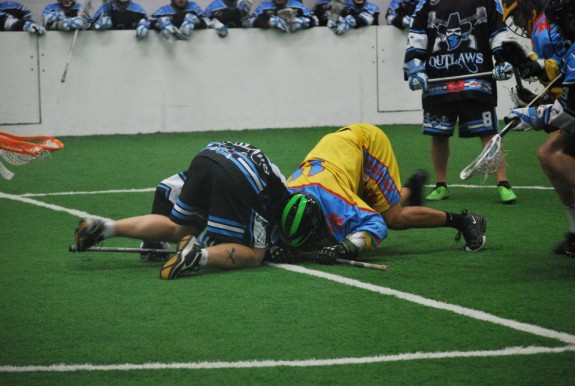 We knew it was going to be a battle because Grand Rapids is a very good team and they had the home field advantage.  It did not help us out that we did not have our full roster travel to this game.  That is not by any means an excuse, but it is very clear that teams just do not travel that well in this league right now.  As the game progressed, the fatigue started to set in and the emotions ran high.  A penalty plagued second half for us allowed Grand Rapids to quietly build up a comfortable lead.  Next thing you knew the score was 18-7 in the fourth quarter.  The final tally for the game was 20-7 and put us back into third place for the playoffs.  It was a very disheartening loss because not only did we get beat on the scoreboard, we also got it handed to us physically.v It is never fun to travel to a game only to have to turn around after the game and drive home, on top of losing by 13 goals.
It is very evident that there are underlying issues with this league, and that changes need to be made.  How does a team go from winning 23-15 to losing the next week 20-7? And I know many of you are going to say, "easy, this is how it can happen…"  But if you delve deeper into the subject you will find the true reason; teams just do not travel well to road games.  So how can this issue be addressed? For any given home game the Outlaws have a roster of at least 20 players (18 runners and 2 goalies), and for anyone who has played a full boxla game, they know that by the third quarter if there is not a good amount of depth on the bench your team is in some serious trouble.
Some could argue that maybe the teams were just more prepared to play in the second contest.  I am not completely sold on that concept and here is why; Chicago Outlaws practice once a week for two hours at the most, and usually without the full roster present for each practice.  It is the same issue that is present in the MLL with the limited amount of practice time for each team per week.  One two hour practice once a week is not going to better prepare a team.  Look at what happened to the us when we traveled to Columbus, we got some serious carnage handed to us in a 32-13 loss, and then the following week Columbus traveled to our place and won 24-21, how does a team go from a 32-13 win to a 24-21 win?
We definitely played a better game when Columbus traveled to us, but we also had our key players at that game and on the flip side Columbus had a very short bench and was missing many of their key players.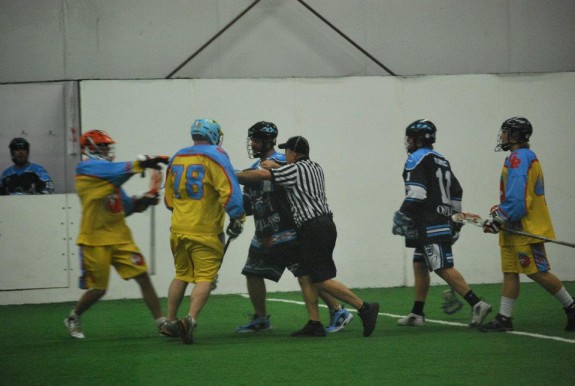 There needs to be a solution for the traveling team issue, and in talking with the Commissioner, Chip Rossetti, there are definitely plans to make travel more manageable for teams.  But what is manageable exactly, and is this the reason players are not traveling?  If the league were to split into two divisions now and move Grand Rapids, Columbus and Pittsburgh into the same division that would leave Milwaukee, Chicago and St. Louis in a division. That "manageable" trip from Milwaukee to St. Louis becomes an 8 hour drive, not so manageable anymore.
I am pretty confident when I say a lot of it comes down to dollars and cents, and while this is not true for all players, it is definitely true for some players.  And it may be a big part of the reason why they do not travel.  Why would a player want to give up their Saturday to travel to play an hour long game and then travel back when they are a) not getting paid b) usually have to pay for the travel out of their own pocket, and c) for most of the players this is one of their few days off, if not their only day off, of the week.  It makes sense if you think about it… I chose not to get caught up in the financial portion of it and I'm just out there because I have a true passion for the game.  But when life, kids, etc get in the way, it's not always that easy.
I think one way to solve this issue is by solidifying sponsors for the league, which is easier said than done. This is a great product that has been created, and now it is just about building it up from here.  If a sponsor were locked down that would help alleviate the costs of traveling for many teams.  The other way that the travel issue could be handled is by upping the cost per player for each team. Then by doing that have part of each player's due money go towards travel.  Each weekend that a player travels, they get a stipend (similar to what they do in the MLL or at least did when I worked with the original Chicago Machine ) on top of travel/lodging be paid for. If a player decides to not travel a certain weekend he is technically still paying for the team to travel. This may give a little more incentive for players to travel!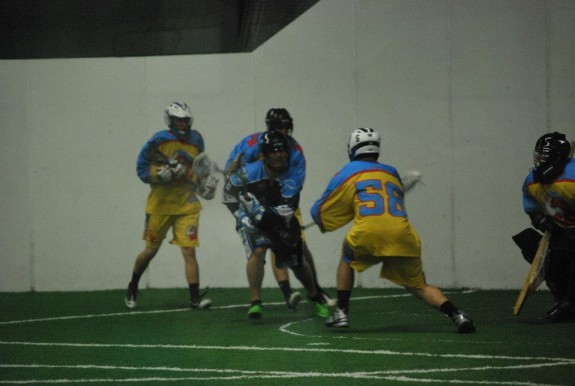 It is just one of many solutions to this very real issue. I am not trying to take away anything from any team in this league because I am grateful we were able to make this league playable this year. Between the top three teams there is some serious talent present and it's a matter of time before the kinks get worked out and the league becomes more unified and level.
The other major way to really make this league work is by having a TV sponsor. You may say that this is a far-fetched idea, but it really is not. Look at the product that the MCLA has put on TV with the DI and DII semi-final games and final games on Fox Sports Net. Being a lacrosse enthusiast I have watched every game on TV that has been broadcasted.  It will take baby steps but games could be broadcasted via the internet to begin with.  Hell, they even have high school football games on TV now, so what's to say that a local station would not want to broadcast a game of the week, just like they did to begin with for the Chicago Machine and probably many other professional teams. That way this league is then promoted through a more viable media channel. I think the product that is in place now is a functional product but the people involved in this league need to really brainstorm the direction they truly want to take this league and the commitment levels of each team. From there all the bells and whistles can be added.
I want to hear from the lacrosse community on your thoughts behind this and any ideas you may have that could help grow this league. The playoffs are this weekend for the Midwest Indoor Lacrosse Association and we have drawn the Grand Rapids Dragonfish, this will be the third game played against them. Columbus will be playing Milwaukee and the championship game will follow. Chicago was given the bid for the playoffs so we have home field advantage in our favor. If anyone is around the area games will be played at the Crystal Lake Regional Sports Complex in Crystal Lake, IL this Saturday games times are still to be determined.