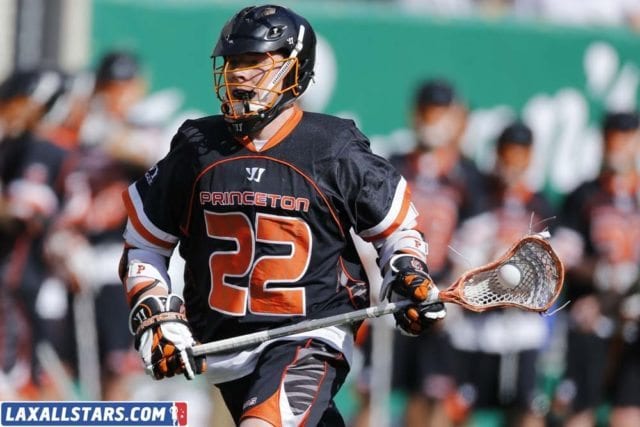 Shortly after the MLL collegiate draft wrapped up, Connor Wilson tossed an interesting suggestion my way, one you pretty much never hear from a website editor: Wait. That's right, instead of posting a wrap-up piece the following day, he wanted me to take some time, check out each team's picks in both drafts, add in their various offseason moves and try to get a better idea of what these teams are working with at this point of the offseason.
Photo Credit: Tommy Gilligan
With LXM players returning to the MLL this Summer we could see some additional big changes, but right now I'm curious to see if when I step back and take a look at everything as a whole, do once-crazy moves make a little more sense? Were the collegiate picks a bunch of yins that countered their supplemental draft yangs?
Call it a late review. Call it an early preview. Whatever it is, it's here right now. Let's take a look!
Boston Cannons
Having given up 202 goals last Summer, no defense was more charitable than that of the Boston Cannons, making their first priority of the offseason a fairly obvious one. Trading for Brodie Merrill back in November was a pretty good place to start, and the Cannons continued the theme by selecting UVA's Scott McWilliams eighth overall in the collegiate draft. Seeing as that it wasn't just the poles' fault, the Cannons picked up Hopkins d-middie Phil Castronova in the sixth round.
Castronova comes with some significant health concerns (he missed part of his junior and all of his sophomore season with Achilles and knee injuries, respectively, and missed last week's game with Towson), but if he can run, he can contribute. And of course since giving up points isn't just about poles and d-middies, the Cannons made Penn State's Austin Kaut the first goalie taken off the board (19th overall), then took Fairfield's Jack Murphy in the eighth round.
When one team picks up 50% of the goalies chosen in the draft (they reclaimed Eric Hagarty in the supplemental draft as well), you have to wonder about their confidence in Jordan Burke's health and ability. Two thumb injuries in two years isn't a good sign for your franchise goalie (nor are a GAA that's gone up and a save percentage that's gone down for each of the past three seasons), but is it overreacting to question Burke's job security?
Let's see here. I'm checking the Cannons' post-draft press release for more insight and… oh, here we are:
Austin Kaut is unquestionably the best goalkeeper in college lacrosse, and he is a guy who can press for a starting position right away. – Head Coach John Tucker
Huh. Well then. Moving on, the Cannons had essentially zero attack depth last year (and Ryan Boyle scored 1.92 points per game; a step down from his career average of 4.06), which explains why they spent three of their first five supplemental picks on attackmen, then traded for Owen Blye prior to the collegiate draft. Boyle definitely won't hang around just to hang around (see this year's Team USA withdrawal), and while one does not simply get a new Ryan Boyle, Boston's hoping a feeder like Nick O'Reilly could help ease the transition if Boyle does go into that dark night of retirement.
Charlotte Hounds
If you won the NCAA championship in 2012 or 2013, there's a solid chance you got drafted by the Hounds. Frankly, it's a strategy that makes sense: with only one practice per week, having a team full of guys who already have chemistry (and have clearly performed well in the past) saves time others may spend learning names, doing trust falls, etc. As a result, Josh Dionne, Brendan Fowler and Henry Lobb get to suit up with their assistant coach Matt Danowski while Pat Laconi and Justin Ward join Charlotte's well-established Loyola alumni club.
With all due respect to Eric Lusby, who was slowed by injury last season, two of Charlotte's attack spots (those belonging to Danowski and Ryan Young) seem fairly locked up heading into the season. That lefty finisher role, however, may be up for grabs once Josh Dionne arrives on the scene. Of course, this is the team that made Mike Sawyer a midfielder without question, added Josh Hawkins to a team that already had Kevin Drew, and saw it all work out nicely; if you can produce, these guys will find playing time for you.
Speaking of playing time, I'm not sure how many lines they plan on rolling out this summer, but the Hounds spent 13 of their 25 supplemental and collegiate picks on midfielders. Of course this number includes those of the defensive and FOGO variety, but still: better come into camp ready to impress, because it's not like their current middies (Sawyer, Haus, Tripucka and White, who were all rookies last season) are going anywhere any time soon.
Chesapeake Bayhawks
Once again it's chess, not checkers, for the back to back champs. The Bayhawks didn't have a pick until the third round of the collegiate draft, but when you've added Brendan Mundorf, Peet Poillon and Joe Walters to your roster in the offseason, you can probably afford to sit back and relax on draft night; it's like they walked into a poker game with pocket aces, put their shoes up on the table, and just kept checking when their turn came up.
Once the first 20 guys were off the board, Chesapeake selected LSM Matt Harris, then addressed the thing they didn't do extremely well last season by drafting Yale FOGO Dylan Levings just three picks later. It's going to be interesting to see where/if/how they can take advantage of Harris' skill set with Jesse Bernhardt running the LSM spot, but after sending Michael Simon to Denver as part of the Mundorf trade, both players should have the opportunity to contribute.
Between drafting Jordan McBride (38 points in 2012, didn't play in 2013) and Jovan Miller (2012 all-star; found his way onto Charlotte's practice squad last season) in the supplemental draft, then trading for Stephen Peyser (103 career goals; hasn't shot higher than 18% since 2011), the Bayhawks hope to see strong rebound performances out of their supporting cast; if there's someone who can format a career revitalization, it's Dave Cottle. Well, it's Quentin Tarantino, but then it's Dave Cottle.
Denver Outlaws
Say you're the Denver Outlaws. You scored 45 more goals than the second-best team in the league, gave up 16 fewer goals than the second-best defense, and went all regular season without losing a single game. What do you do? What do you need to do? The Outlaws spread their picks around three different positions, beginning with the Pick Everyone Saw Coming Jeremy Noble, the University of Denver midfielder who (along with fifth-round pick Jamie Faus) reunites with former Pioneer teammates Cam Flint and Eric Law.
The Outlaws followed the Noble pick by selecting Stevenson's Brent Hiken, who won 70% of his face-offs last season. Anthony Kelly turns 34 this summer and has an MLL-record 2,459 face-offs under his belt (Greg Gurenlian is second among active players with 1,835), including a career-high 354 last season, so bringing in an understudy to challenge Stephen Robarge's claim to the throne only makes sense.
Considering they replaced 29 year old Brendan Mundorf with 39 year old John Grant Jr, it's interesting that the Outlaws didn't use any of their collegiate picks on an attackman. Sure they picked up three in the supplemental draft and traded for Matt Gibson, but it's still odd, right? Why not take a late-round flyer on a quarterback you could see dishing to Bocklet and Law someday? On the other hand, Junior did this mess last weekend, and this mess last summer, so maybe he'll just play until he's 90.
Florida Launch
How many goalies are they going to have on this roster? This is actually kind of rhetorical, because I couldn't see their roster, on account of the team website not being up a couple weeks back. Anyway, by my count, fourth-round pick Niko Amato makes the fourth goalie, meaning somebody (guessing Colorado Mammoth rookie/team Canada hopeful Dillon Ward) has to go, and will probably take someone else with him.
Who really knows? I'd love to give a more detailed paragraph, but aside from trading for PT Ricci and Lee Coppersmith (along with retaining Chris LaPierre's rights), there's still plenty we don't know about the Launch. Here's what I can say for sure: Casey Powell's on board, Steve Panarelli's out of retirement, Kevin Crowley's twitter bio now mentions the Launch, so that's a good sign, and Florida chose their collegiate draft picks (led by Kieran McCardle and Buckeye defenseman Joe Meurer) symmetrically by position (Attack, Defense, Middie, Goalie, Middie, Defense, Attack), which may or may not have been a coincidence. If picking symmetrically is good enough for the SATs (note: it's not, kids), maybe it's good enough for the MLL.
With Joe Walters in Chesapeake, we'll miss Crowley and Walters Stockton-to-Malone-ing all over their hapless opponents, but Powell showed last year that his tank is by no means on E; maybe he (or Chazz Woodson) will even get to play attack again for a while alongside McCardle and Kevin Cunningham. Even if their roster remains intact, 2/3 of their starting attack plays for the Rochester Knighthawks, and those guys tend to play indoors longer than everyone else. Why not add Kyle Harrison? He loves playing in warm weather! Very curious to see how the Launch continue to grow.
New York Lizards
Seriously though, if you're the Lizards, what other position are you drafting? Need some more big-name midfielders? Really? Get out of here. You load up on defense, which was precisely what they did, using seven of their 12 supplemental and collegiate picks on poles. First-round picks Joe Fletcher and Luke Duprey should arrive game-ready (Fletcher's already competing with MLL All-Stars on Team USA), and now that Kyle Hartzell has joined the team, so begins the debate of which LSMs will play close defense (and which poles are getting benched or traded), but these are far better problems to have than the ones they faced last season.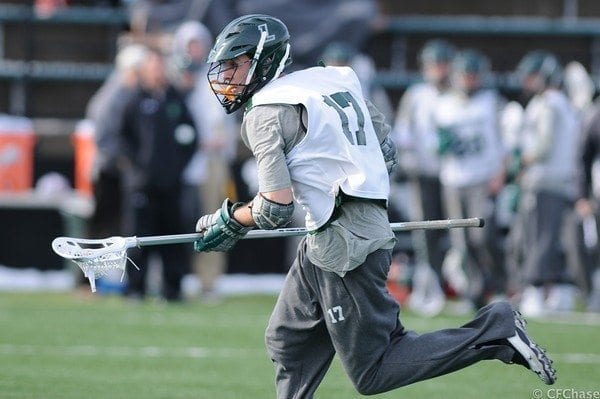 The Lizards only picked up four players in the collegiate draft, but step back to truly appreciate what these have been up to this offseason: sure, they lost draft picks in the process, but New York managed to pick up Hartzell, Ned Crotty, Steve Dinapoli and Matt Streibel without losing a single player who was contributing at the end of last season. That's like selling a stack of scratch-off lottery tickets for five million dollars cash. Of course everyone has to get on the same page and all the other things we said at this time last year about the Lizards, but those are a lot of proven commodities.
Ohio Machine
First of all, congrats to the Princeton Tigers, for not only having a player go first overall for the first time since Ryan Mollett back in 2001, but for having an official press release, complete with positive quotes from Schreiber, all ready to go when the moment took place. Especially when you consider how their top pick panned out last season, how happy do you think Ohio was to see that? Or this, as he tweeted on draft night:
So thankful for the opportunity. Can't wait to get after it this summer!! @MachineMLL @MLL_Lacrosse #oilup

— Tom Schreiber (@SchreiberPU22) January 11, 2014
Ooh whee, team hashtag and everything; got to like that from your top pick. If you're not completely familiar with Schreiber's body of work, here's all you need to know: He's the only Princeton middie in history to record 70 goals & 70 assists, and a typical spring will give him at least 100 & 100, respectively, for his collegiate campaign. How many midfielders do you know who go 100/100? Shoot, how many attackmen? It's not easy.
Once the Schreiber formalities were out of the way, the Machine could essentially do whatever they felt like doing; there's a certain sense of freedom when you head into a draft having scored the fewest goals and allowed the second-most goals in the previous season.
Of course, they did need to address that pesky face-off problem (a league-low 38.9% in 2013), and they did so via three different avenues: trading for All-Star Matt Dolente, picking up former Rattler Bobby Dattilo (28-53 on in 2012) in the supplemental draft, and drafting UNC's RG Keenan (seventh round, 49th overall).
Rochester Rattlers
Head Coach Tim Soudan is a big fan of Mike Manley, Joel White and the rest of the Rattlers defense, which works out well because a) they're young enough to stay together for the rest of the decade, and b) Rochester's sixth-ranked offense lost its two best scorers (Ned Crotty and Matt Streibel) in the offseason.
Heading into draft season, the Rattlers attack line was reeling from a disappointing 2013: Kevin Leveille saw career lows in goals, points and shooting percentage, and Steven Boyle scored 1/3 as many points as he did the previous season. Even when you add Mark Matthews and Grant Catalino (acquired in the DeNapoli & Crotty trades, respectively), you're still looking at a roster without a single attackman who put up 20 points last season.
Cue Jordan Wolf and Miles & Ty Thompson. Time will tell if the Rattlers, by way of saavy trading or losing a whole bunch of games, grab Lyle Thompson to reunite the Great Dane Triforce next summer, but Jordan Wolf is more than capable of holding his own. We'll see how he compares to Crotty on the pro level, but barring injury, Wolf (201 points thus far) should be a lock to pass Ned's point total at Duke with games to spare.
Although successful rookie seasons from Lawson and Ranagan freed up some drafting flexibility for the Rattlers, they're only two guys; where's the rest of the midfield scoring going to come from? Rochester only picked up one offensive midfielder in the collegiate draft (Tom Lacrosse in the 8th round); with Matt Streibel gone, they're leaning mighty heavily on supplemental picks like Dan Hardy and Luke Cometti.
Overall
When you step back and examine the teams as a hole, you see that, for the most part, every squad identified their weaknesses and made an attempt to patch their holes from last season. The first step is admitting you have a problem, MLL teams; I'm proud of each and every one of you. So what now? Now, we listen for trades and free agent signings. We watch the college game and follow draft picks like the stock market. With just over two months until the start of the 2014 MLL season, once again, we wait.