The total time for Wednesday's MLL Expansion Draft was just about under two hours, and a LOT happened in that short amount of time.  I was trying to follow the live feed on my computer and was getting a little lost as everything was happening so fast!  There were a lot of exciting and surprising moves that went down, and they will really shake up the next season of the MLL.  The biggest shocker of them all was Mikey Powell withdrawing his name prior to the draft.  Although when you think about it… maybe it isn't that surprising, but everyone can agree it would have been nice to see MP play in the MLL again.  I'm going to break down team by team the major moves and pick ups, so lets dive right in.
Main photo courtesy Larry French & The Military Times.
Boston Cannons:
Last year's Steinfeld Cup winners only had one pick in the draft and they didn't waste it.  The Cannons chose 7 year veteran Bill McGlone.  He only played in 7 games last year but still amassed 17 points.  A solid pick up for the Cannons.  Not only did Boston pick up McGlone but they were able to pull back Mike Stone and Kyle Sweeney, both were key players in last year's championship run.  The Cannons already have a solid roster so I don't expect them to make too many moves in the Supplemental or Collegiate draft, but they'll add to their existing depth.
Chesapeake Bayhawks:
The Bayhawks selected goalie Kip Turner in the 7th round of the draft.  Turner is a solid pick up for what is an already loaded roster.  Turner was the 2010 MLL Goalie of the Year so you know he has the skill set to excel in the pros.  Chesapeake also pulled back Steve DeNapoli, Dan Hardy and Daniel Hostetler.  The 'Hawks roster has pretty good talent on it, but I'm thinking they might try to trade around and pcik up some key acquistions in the Supplemental draft.
Denver Outlaws:
The Outlaws nabbed Greg Downing (who recently moved to CO) and Curtis Dickson in the 3rd and 6th rounds respectively, and also managed to pull back Sean DeLaney, Steven Holmes and Terry Kimener.  Downing and Dickson are both key players to add to the Denver roster.  Downing will be a tremendous asset all over and could see even more time on the offensive end of the field than he did in Boston.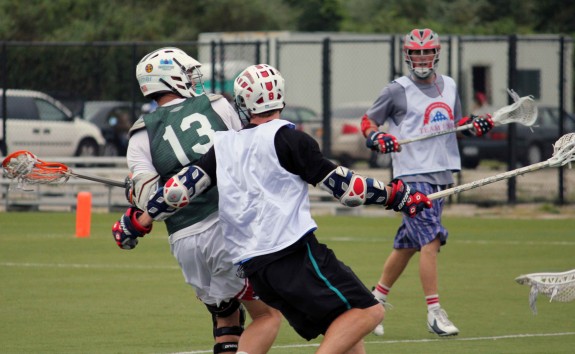 Hamilton Nationals:
The Nationals only had one pick in the draft, which they acquired from Charlotte, and the Nats used it to pick up midfielder Donny Moss.  It is a good addition to an already stacked Hamilton roster.  I thought the Nationals were one of my favorite teams to watch.  They have a lot of talented players on both ends of the field, but I thought they lacked depth at the midfield position.  I think they wanted a good two-way midfielder who will be able to play both ends and can play good solid defense against an attackman, which is important because the Nats run two poles up top at times.  Hamilton pulling back Keogh and Dolente were great moves.  Dolente is coming off a major season as a rookie and Keogh is obviously going to become an elite scorer down the road.
Long Island Lizards:
The Lizards seemed to have made the most noise in this draft, and not just with their picks but rather with their trade.  Long Island shipped off both Matt Danowski and Stephen Berger as well as two drafts picks to the Charlotte Hounds in exchange for the No. 1 Collegiate draft pick and recently acquired Max Quinzani.  There is a lot of talent in the Collegiate draft and I'm guessing that the Lizards have plans to pick up Rob Pannell or Steele Stanwick to replace the scoring machine that Danowski is.  You don't build a team around a Quinzani, but he is a great asset and a definite must on any team.  Let's be honest, he got it done in Boston.  And at Duke.  And at Duxbury.  In my opinion he is the best third attack man in the league.  You lose Danowski and Berger as great players, but the No. 1 Collegiate Draft pick has a lot of potential, and it will be interesting to see where the Lizards go from here.
Rochester Rattlers:
I will always have a special place in my heart for any upstate team.  Last year's team struggled through the season but you saw it was a building year and they have a ton of young talent and they are looking to build off that talent.  The Rattlers used their overall No. 1 pick to draft Dan Burns, then they shipped him up to Hamilton along with two other draft picks, and in return Rochester received Kevin Leveille and a 2nd round pick.  I like this move because you have Leveille, Crotty, and Catalino at attack… and this lineup has the potential to be pretty deadly.  However, you have to keep in mind that Leveille didn't play last season, which is a factor you always have to consider, but this trade going down leads me to believe we might see Leveille in at least few games next year.
Ohio Machine:
Now that were down to it, I'm excited that Ohio and Charlotte are finally each getting a franchise.  Ohio picked up the always exciting Connor Martin.  A solid player without a doubt, but the move here might also be to fill seats with a new franchise. I believe Connor Martin will be a role player out in Ohio, and I expect them to build their roster around the players they pick up in the Collegiate and Supplemental Drafts.  Kevin Ridgway is a great 2nd round pick; a young guy that has a lot of time left in the league and will develop into a great player.  Both Dan Groot and Jim Connolly are solid 3rd and 4th round picks.  These players will help the younger draft picks adjust to the pro level game.  The next pick was Jordan Levine in the 8th round.  Levine is a solid pick up with a good amount of pro level experience.  The team may look to go to him early on while the younger players are still getting adjusted.  In the 9th and 10th rounds, goalie Brian Phipps and Brett Hughes were scooped up.  Phipps is a great net minder that will no doubt compete for playing time right away.  The Machine also picked up Brian Spallina in the final round of the draft, then shipped him and a 26th round pick in the Collegiate draft over to the Bayhawks in return for a 21st round pick in the Collegiate draft.  Look for Ohio to make big moves in both the Supplemental and Collegiate drafts.
Charlotte Hounds:
Jeremy Boltus in the first round is a huge pick up for the Hounds.  As a player, his collegiate career and his rookie campaign last year speaks for itself.  He is an outstanding player that you can build a franchise around.  The only downside with Boltus is his commitment to protecting our county and how it could keep him away from games.   It is simply hard to say where he will be stationed next year and that is a big question mark as to whether he will be able to play or not.  Middie Brian Carroll going in the 5th round is a pretty decent pick up for the Hounds.  Faceoff specialist Andrew Hennessey in the 7th round will be a helpful asset, assuming he gets hot at the X.  Seven year vetran midfielder Justin Smith is a decent addition assuming he can play a full season.  He is a good player to have with all his experience.
Attackman Ryan Hurley is a good player but I want to see him play in more games to see what he is really capable of.  I think this kid has got what it takes though.  I'd also throw midfield Mikey Thompson into the same boat as Hurley.  I really want to see what they can do, and I think they will get the opportunity in Charlotte.  Midfielder Josh Amidon is an interesting selection because he didn't play last season.  I don't know if Amidon has moved to the greater Charlotte area so he is going to try to play this season.  It's simple with him, if he plays he'll be good if he doesn't get to play Charlotte wastes a draft pick.  Adam Ghitelman in the final round is a decent choice.  He has limited pro level experience and didn't put up record numbers when he did play, but on the other hand, he has shown flashes of brilliance both in college and for the Outlaws.
Wow… that was a lot more work than I thought.  I didn't want to get too in depth and bore all the readers but it is a quick overview.  I will look to go more in depth in the upcoming Supplemental Draft on December 14th and the Collegiate Draft on January 13th.  It should be an exciting year for the MLL so stay tuned.  Once again feel free to comment and don't forget to follow me on twitter @connors36 so I can hear all your voices and opinions!

//