Picking the US Men's National team is a difficult task, and one that I don't pretend to have all the answers to. These are the 95 best American players, and virtually every one of them could have a good argument of why they were snubbed if they don't make the team. My notes for this article are ridiculous, as names have been scratched out, rewritten, with asterisks all over the place…it's a mess, and I'm glad I don't have to make the real decision about who makes the team because it's nearly impossible to do so. Coach Meade and his staff have a long few days ahead of them, when they will have the roster cut to 46 players on Tuesday.
Now I wasn't able to attend any of the tryout in person, so I'm basing my prediction on three things: my existing knowledge of each player's game, twitter-ramblings of those who did watch the tryout, and most importantly, how I think players will fit together as a team. Remember, this isn't about building an All-Star "Team" – this is about putting together a TEAM. Team USA.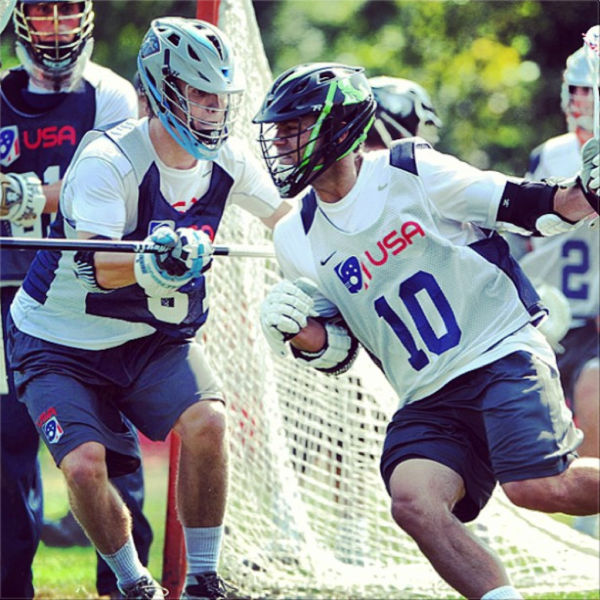 The Locks
Let's start with the players I think are locks for making the roster. The names of those players are Rob Pannell, Paul Rabil, Matt Abbott, and Lee Zink. Pannell is the best dual-threat attackman out there, and regardless of his youth, I believe he can be the quarterback of the offense and a leader for this squad. Rabil is Rabil. He has the experience and despite his injury he is still a beast. Abbott is the best SSDM in the world. No one else can cover your top middie, run a full-field clear by himself, invert his defenseman and score from X. Zink is the answer to John Grant, Jr., if one really exists. But if there is one other guy that I think might be called upon to neutralize Junior, it's…
The Likely
Tucker Durkin. Yes, he's also young and inexperienced for this level, but tell me someone checks harder than he does and look at his play against elite attackman all season long this year in the MLL. You don't get All-MLL honors as a rookie for nothing. Drew Snider is my next very likely to be on the roster. He's a great dodger, and I think he has something about him that makes him that sneaky wild card factor on a middie line that can be the difference. Reports also seem to indicate that he had a good tryout.
Now that we have those six players on my team, there are 17 roster spots left. Let's break it down position by position.
The Attack
Growing up, Casey Powell (who took his name out of consideration for the national team) was my favorite player, but Ben Rubeor was the first player I knew by name and watched on TV. He's a sneaky lefty who can finish inside and rip the ball, which is why I have him here, but Rubeor is one of TEN attackmen I think are vying for the four spots after Pannell. I'm sad to say it, but I think that Rubeor won't have a place on the team, especially after lefty gunner Garret Thul and finishing wizard Kevin Leveille supposedly had spectacular tryouts.
With Thul and Leveille joining Pannell, now there are only two attack spots left. Here are my contenders for those two spots: Brendan Mundorf, Steele Stanwick, Drew Westervelt, Marcus Holman, Mike Sawyer, Eric Law, Chris Bocklet. At his peak, Mundy might be the best attackman in the world, but he's hurt and didn't participate in tryouts. Meade says that this won't affect his chances, but with SO many incredible attackman, I'm not sure how it can't hurt his bid. After Rubeor (and then Danny Glading), Steele stole my heart for favorite college player (did I mention I'm a UVA Lacrosse fan?) and he obviously is an amazing player, plus he had a great tryout. However, for the last week I've been really struggling with how Pannell and Stanwick coexist on the same line. I REALLY want that to work. Westervelt is a righty slinger who can also be an inside finisher, and you can't ignore Law's shooting percentage as a rookie in the MLL. Holman is also a great overall player who can pass or dodge, and Sawyer could play both attack or midfield. Oh, and Bocklet is an incredible finish who can also shoot from the outside and he led the MLL in goals during the regular season. So who do I pick?
In the interest of building the best TEAM, I first select Mundorf because he can mentor Pannell and I think they could play well together on the same line if they tweaked their games to work with each other. I'm a HUGE fan of Westervelt, Mundorf's former partner in crime, but I think Thul basically fulfills the same spot from the left side. I literally had Westy on my team when I was writing this, but at the last second I replaced him with Marcus Holman. Holman adds that electric burst and can also rip from the right side, so he gets my last attack spot. Please don't ask me who is starting. (Maybe Pannell behind, Leveille on the crease, Holman out wide, with Thul coming in as an offensive mid? Or Pannell and Mundorf playing two-man behind with Holman on the crease? Oy vey, nevermind.)
You're probably wondering why I didn't even mention Matt Danowksi or Ned Crotty. Both are great players, and Crotty played in the last world championships, but he missed this tryout with an illness. Also, who do you bump off my list for him? The problem with Dino is that he is another quarterback type, and I just see too many cooks in the kitchen for that.
The Midfield
So wasn't picking the attack fun? Now it's time to do the same for the midfield. After Rabil and Snider, my next middie is Matt Striebel. You need experience, and Striebel definitely has it, and he had a solid tryout. Ben Hunt is another guy that had a good tryout, and I think he is just a great fundamental player that is a key piece of a team. I expected Jeremy Sieverts to be on this team because I think he is a Rabil-type player that could run on the second line, but reports show he had a shaky tryout. Bumping Sieverts is Sam Bradman, who was a dominant Division III player and is an electric LXM shooter. Down the alley, time and room, or on the crease, Bradman will deliver.
The last spot is between JoJo Marasco, Max Seibald, and Kyle Harrison. JoJo, a late addition, seemed to to have turned a great tryout, and he can be a deadly midfield passer. Seibald and K18 both provide experience. While Seibald apparently showed no signs of injury, his recent injury history worries me. Harrison, however, is also battling injury, though to my understanding to a lesser degree. This is another tough pick, but I'm going with Kyle Harrison because I think he can be a leader for the second line, he has great chemistry with Bradman, and he can take it to the cage himself if need be. These seem like two strong lines to me: Rabil, Striebel, and Snider on line one; Harrison, Hunt, and Bradman on line two.
The FOGOs
Not that picking the attack or midfield was easy, but I think the FOGO position might be the hardest to predict because it is so wide open. Anyone can be the best at the face-off X on any given day. My gut picks were Greg Gurenlian and Brendan Fowler. The Beast just broke the MLL face-off percentage record, and Fowler led Duke to the title this past college season. Anthony Kelly is another great option, and reports say he had a few solid showings at tryouts, but reports said the same about basically all of the FOGOs at one point or another. Since A-Train and the Beast are both power guys, I don't see them being on the team together, as you need to have a different look if you're not winning draws. I'm going to go with my gut on Gurenlian, but I'm also picking Mike Poppleton, mainly based on the fact that he apparently not only had good showing facing off, but also in a couple offensive situations. Versatility is key here.
The Defense
Zink and Durkin are already in, and I'm putting Kyle Sweeney and Mike Simon on the team with them. Sweeney is a smart, veteran defender who can play transition offense, and Tree (Simon) is a guy who I think could get some time at LSM or close. For short sticks, Abbott will be joined by John Ranagan. Ranagan is a beast and can rip the ball on offense. A versatile player like that is key in forming a team. So now we're left with the long stick middies. Kyle Hartzell has to have a spot in my opinion, and I really wanted Matt Bocklet to be on the team as well. I think Bocklet is one of the most underrated LSMs in the MLL, but word is that he didn't have a spectacular tryout. Because of this, I'm giving the second LSM spot to a younger pole, Jesse Bernhardt.
The Goalies
I originally had this as a three man battle for two spots between Kip Turner, Adam Ghitelman, and Jesse Schwartzman. Reports seem to say that John Galloway had a good tryout as well, and he along with Schwartzman are probably the best outlet passers in the group, so I'll keep him in the discussion. Schwartzman turned in the best season long performance this Summer, earning MLL Goalie of the Year, but had a pretty terrible start to the semifinal game that saw his then-undefeated Outlaws fall in the playoffs. He responded well and gave his team a chance in the second half, but it wasn't enough. Everyone has bad games, though, and you can't ignore his two full-field assists this summer, which were good enough to compete with Galloway's clearing prowess. So what about the UVA goalies? Turner is definitely the most consistent, but Ghitelman has that edge that can be a game-changer, such as when he comes out of the cage and pops attackmen. Another goalie like Jordan Burke could sneak in here as well, but I'm going to go with Ghitelman and Schwartzman.
The TEAM
Attack – Rob Pannell
Attack – Kevin Leveille
Attack – Garret Thul
Attack – Brendan Mundorf
Attack – Marcus Holman
Middie – Paul Rabil
Middie – Drew Snider
Middie – Matt Striebel
Middie – Ben Hunt
Middie – Sam Bradman
Middie – Kyle Harrison
FOGO – Greg Gurenlian
FOGO – Mike Poppleton
SSDM – Matt Abbott
SSDM – John Ranagan
LSM – Kyle Hartzell
LSM – Jesse Bernhardt
Defense – Lee Zink
Defense – Tucker Durkin
Defense – Kyle Sweeney
Defense – Mike Simon
Goalie – Jesse Schwartzman
Goalie – Adam Ghitelman
I invite everyone to sound off in the comments about how you agree or disagree with the selections I've made or the arguments I've presented. In fact, I HOPE that you let your opinion be heard and that we can have a great discussion over the next few days. There are so many good players, and I went back and forth for days on some of my picks, so I look forward to seeing others' perspectives in the comments below!
[Images borrowed from US Lacrosse Instagram and Twitter]