Welcome to the day of days in D3 lacrosse! Today, Tufts and Salisbury face off for the third time ever in the NCAA D3 Lacrosse Championship game. Each team has a historic win over the other, but that's in the past! Today, we get to see what 2014 has in store for us, and it promises to be excellent.
Tufts goalies tried to jump the timer and start warming up goalies early. Escorted off field by NCAA rep. Both teams on the field now.

— Jac Coyne (@Jac_Coyne) May 25, 2014
The game kicks off at 1pm, and there is a LIVE Webcast HERE, via NCAA.com. Can Tufts run and gun their way to a ton of goals? Will Salisbury slow it down or try to outgun the Jumbos? Will we see some pretty transition goals? I can only answer the last one, but that is an emphatic yes.
In Game Photos Via Tommy Gilligan
We're tied at 5 at halftime. Now Tufts has taken an early lead in the third, at 7-6.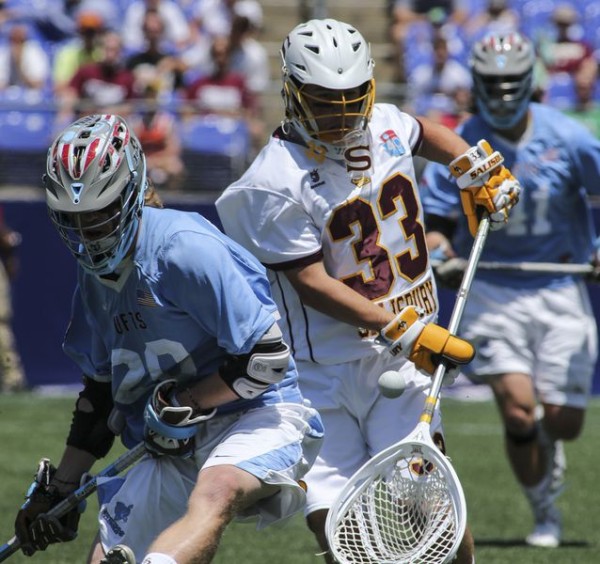 Older Stuff
Congrats to Team South for taking home the win! pic.twitter.com/83B36mklNG

— NCAA Lacrosse (@NCAA_Lax) May 25, 2014
@pocketboats44 rocking the two eight in the D3 north vs south all star game pic.twitter.com/j2xfxWNz5X

— Jesse Lawrence (@JesseLawrence28) May 25, 2014
Timmy Christ with 1g 1a 4gbs 2cts Charlie Dullea with 3cts and 4 gbs. Way to represent the Dirty Birds boys! pic.twitter.com/OAJtwufzIl

— SUNY Plattsburgh Lax (@Platts_Lax) May 25, 2014
We will have game photos as the game progresses, as well as updates, good tweets, instagram posts, and more. Enjoy the D3 Lacrosse!