In the spirit of "Is this D1 lacrosse poll serious?" I'll be taking a look at the NCAA D1 Lacrosse Tournament teams and asking whether or not they were ranked correctly. Was Duke really deserving of the #1 seed? Should a non-AQ Ivy team really have made it in to the tourney over Hofstra? Let's take a look and see if this selection group is serious!
The selection process is heavily numbers driven nowadays. You can "like" a team all you want, but at the end of the day, these seeds are really determined by punching a bunch of numbers into a spreadsheet. Are there problems with this methodology? You betcha! All you need to do is look at who got ranked where, and you'll see what I'm talking about.
#1 Duke (13-3) – Plays winner of Air Force/Richmond
Duke sits atop the Laxpower computer rankings. They sit in 4th place of the April 28th USILA poll. They have losses to Maryland, Loyola, and Syracuse. They lost to Syracuse on April 25th 16-15. They played BU on Sunday and won 16-11. Duke had a high rank when it comes to quality wins, and their SOS was as good as anyone's. That being said, to have them above Loyola in the NCAA tourney is the definition of insanity.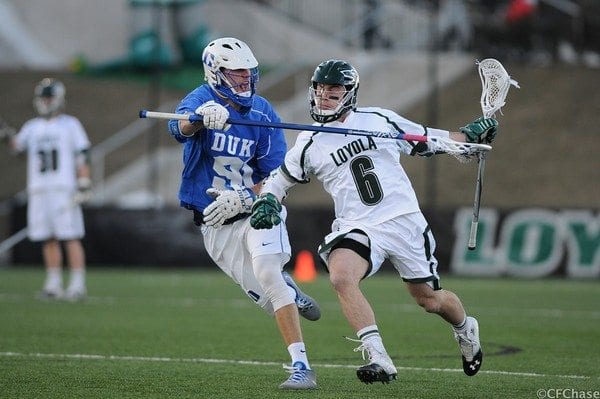 Loyola beat Duke, and lost one game all year (the first one of the season to tourney team UVA in OT). They JUST beat a Top 10 Hopkins squad. They won their conference tourney. They have 15 straight wins. There may be a formula for ranking teams, but if it rewards Duke for losing to Loyola head to head, AND gives them a 2 loss cushion just because they play in the ACC, something is wrong. If Loyola goes 13-3, this is a non-issue, but they didn't. The Hounds should be the #1 seed. Period.
If we only reward teams from good conferences, then all of the top teams will flock to 2-3 conferences (ACC/Big Ten… it's already happening!), and newer teams will never be able to make much headway in the sport. It's a system where the already-wealthy dominate, and if we want the game to grow, we need to get rid of this nonsense immediately. Tough conferences are great, but it can't be the end-all be-all of lacrosse. Let's leave the SEC style stuff to D1 football.
#2 Syracuse (11-4) – Plays winner of Bryant/Siena
So let me get this straight… Syracuse lost to Virginia by 5 (Loyola lost in OT), and lost three more games, but they are ranked ahead of Loyola for the tourney. Cuse is ranked 3rd in the last poll, 9th on Laxpower, but has excellent RPI, SOS, and other scores. To me, this is clearly a huge problem. Conferences with tons of talent should certainly be rewarded for it, but giving the top 2 seeds to teams in this conference seems to go overboard. Cuse went 3-4 in ACC games, and Loyola went 1-1. How is Cuse above Loyola? This is as crazy as the Duke pick for the #1 seed.
#3 Loyola (15-1) – Plays Albany
Personally, I think Loyola tops Albany, but this is why I'm so heated right now… playing Albany is a much bigger match up than Bryant, Siena, Richmond, or Air Force, and neither Duke nor Cuse has done that much to deserve easier games. I understand rewarding tough conferences, but one OT loss shouldn't kill a team that plays outside of the top conference in the land. It just means those ACC teams can do no wrong, and it's sad to see seeding decided this early. What could Loyola have done to garner the #1 seed? Not lose to Virginia in game 1? Is that really the albatross around their neck?
I get that RPI and SOS are key factors in making these calls, but when I look at the 2014 D1 season, it's clear that those two marks play way too much importance in seeding. Results matter too! Don't they? Quint says they were penalized by playing in the Patriot against teams like BU. Didn't #1 Duke play BU and only win 16-11 on Sunday? Oh yeah, they did. This makes no sense.
#4 Penn (11-3) – Plays Drexel
Ouch. The #4 seed plays Drexel. That's a tough match up, but it speaks to parity, which we like! Penn is solid, won the Ivy, and is ranked 10th by both LaxPower and the Coaches Poll. So how did they bump up to #4 in the seedings? They have a number of great wins, but also some lower losses. With no wins over ACC teams, how can they be this high? Did the Denver win pull them way up, or was it all those Ivy wins? The Ivy was good, but was it that much better than the Big East? Ok, the Ivy went 9-0 against the Big East, so yes. Maybe this Penn pick is actually pretty fair… what do you know?
#5 Denver (14-2) – Plays North Carolina
What a reward! You finished 5th, now you play UNC. Denver is another one of those teams that was penalized by a single loss, and playing in a weaker conference than the ACC or Ivy. A loss to Duke puts them at the #3 seed in my mind (behind Loyola then Duke), but their loss to Penn seems to be weighing awfully hard on the Pioneers. Personally, I'll take a two goal loss to Penn and Duke over losses to Cornell (by 8 goals!), Princeton and Duke. I know Penn won the head to head, but Denver should still be higher. Penn has more quality wins, but also more questionable losses. I'd prefer Denver above Penn, but I can see why I'd be wrong here.
It's interesting to note that the selection committee deemed UNC to be lower than Harvard, Hopkins, or Cornell. It's also worth noting that UNC beat Harvard and Hopkins in the regular season.
#6 Notre Dame (9-5) – Plays Harvard
It makes sense that Notre Dame is only 6th after winning the ACC. They lost some big games, played a tough schedule, and won big games at the end to raise their stock. That being said, I don't see how Notre Dame is really ranked above a team like UNC if we're looking at "total bodies of work," as the selection committee so often says. Neither team looked great, but neither looked awful. If the data says that Notre Dame is six, and UNC is 12, I can't argue that numbers don't add up. I can question how the math is being applied.
Also, this means Harvard is ranked above UNC. UNC won the head to head game, has two less losses, and played in the ACC. If the ACC bumps Cuse above Loyola, how does it not bump UNC above Harvard? Maybe this math isn't quite as clean as some thought…
#7 Maryland (11-3) – Plays Cornell
If we're looking at total bodies of work, how is Maryland below Notre Dame? Maryland has fewer losses, and they played ND twice, and hold a larger margin of victory in those two games where both teams went 1-1. Maryland lost to worse ACC teams, but beat better ACC teams. Also, they didn't lose to unranked Penn State. Did the math just forget this loss, or does it not matter as long as you play good teams? What makes Maryland worse than Duke or Cuse (similar records) when they beat those teams head to head? I feel like I'm taking crazy pills here. Just a few, but they are clearly working.
#8 Virginia (10-5) – Plays Johns Hopkins
Hopkins is ranked higher than Virginia in the polls and on Laxpower. UVA won the game over Hop in OT about a month ago. Hopkins has four losses, all to Top 9 teams. UVA has five losses, all to Top 11 teams. The difference maker here, and it works for me, is that UVA has a number of really good wins, while Hop only has two. Of all the teams in the NCAA tourney, I think Virginia was seeded the closest to correct, not because of their ACC losses, but because of their quality OOC wins against Loyola, Drexel, and Hopkins.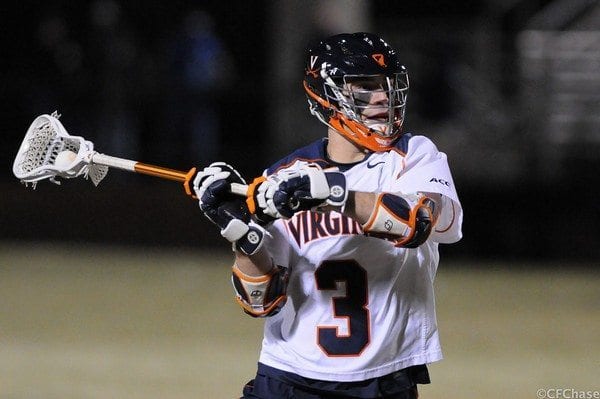 Biggest snubs:
Hofstra was the closest call according to the team's resumes. I liked the Pride's 11-5 record, and wins over Fairfield, Cornell, and Drexel spoke to their potential. Losses to Marquette, Princeton, St. John's, Penn State, and Drexel (in 3 OT periods in the CAA final) didn't help their case. Win the Drexel game and the AQ is yours. Beat any of the other four teams and they probably make it over Harvard. Going 3-1 in Top 20 games is great, but going 8-4 the rest of the way won't get it done.
Yale was another team that I liked. The Bulldogs went 9-5, and all five losses were to Top 20 teams, and none came by more than 2 goals. Their two losses to Harvard at the end of the year meant there was no way they could take the Crimson's final spot, but their overall resume was strong, and their wins over Bryant and Lehigh out of conference spoke to their talent.
Fairfield was an interesting squad as well. Their lack of tough games hurt them, and a loss to Providence meant they pretty much had to win their conference AQ. 14-4 is great, but with only two top 20 games, it's hard to make an argument for the Stags. A win over Yale was a definite bright spot, but Fairfield needed Yale to win the Ivy for that to make a bigger difference.