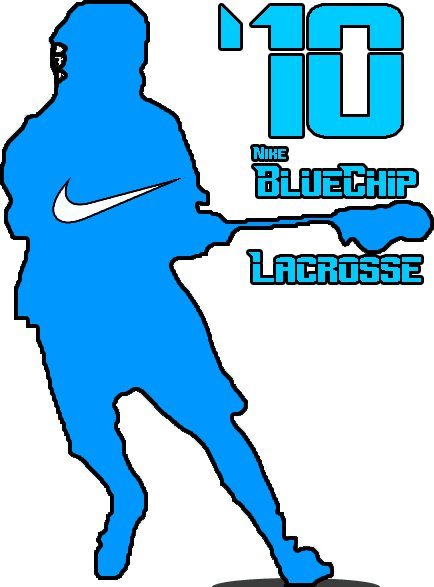 Yesterday, it was announced that Nike Blue Chip Lacrosse is now going to accept highlight reels from potential campers.
The camp costs nearly $700 to attend and every above-average high school lacrosse player marks the date on their calendar, hoping for a spot. The problem, however, is that up until now campers have been hand-picked and predominantly from hotbeds. Deserving players from emerging areas and unknown schools have not necessarily had the opportunity to show their stuff. The goal of the highlight reel process is to fix that problem and provide a buffer for kids on the bubble of being selected for the camp.
The cost to get Blue Chip Lacrosse Director Jake Reed to check out your skills onscreen? $75. Players can submit their reels via LacrosseRecruits.com, which handles the process for Blue Chip.
Now, if you're wondering why Blue Chip Lacrosse would want to do this, wonder no more. Simply consider this example…
Johnny from Montana is a stud lacrosse player. According to his friends and family, that is. Aside from them saying it, he really has no clue how good he is because never has he ever ventured past state lines to test out his skills. It's not that he doesn't want to, it's that he can't afford it. Besides, his summers are usually spent chopping wood for a nickel a log.
His sophomore year, something very unexpected happens. Johnny's consistently-sloppy team wins the Montana State Championship. How, you ask? Johnny scored 9 goals, tossed 5 dimes and won 85% of his faceoffs. Did we mention Johnny is also his high school's starting running back? He was 1st team all-state as a sophomore on varsity this fall. Montana football is serious.
Alright, so you're getting the picture. Johnny is a really good athlete with solid lacrosse skills. He has the potential to be a Blue Chip, but truthfully he's an unknown. Kind of like Neon in the movie Blue Chips.
After Johnny wins the State Title, an old man walks up to him and tells him he needs to get out of Montana to test his game. The old man happens to be a former Army all-american who retired to the Montana rivers 10 years ago due to his 2nd passion, fly-fishing. Needless to say, Johnny takes his advice and starts doing research.
He finds the Nike Blue Chip camp and shares it with his parents. At this point, his parents aren't questioning Johnny's passion and they're on the edge of paying his way to any camp, but Johnny desperately wants to go to the Blue Chip camp. Then they see the press release below. Johnny's dad gets his Capital One credit card out of his wallet, crosses his fingers that this isn't a scam, and buys Johnny's way into Jake Reed's office. A blue collar guy, Johnny's father reminds Johnny that he'll need to pay him back within the next year. Johnny does the math in his head – just 1,500 logs.
Fast forward 3 weeks later. Johnny gets a phone call. It's Mr. Jake Reed himself. He's inviting Johnny to the Rising Juniors camp, June 25-27. That $75? It goes toward the $659.
Now Johnny only has to chop 13,180 more logs this summer to pay back his dad for the registration fee. Now he gets a chance.
See? It's a smart, thoughtful move on Jake Reed's account. Luckily he and Nike also have a smart, skilled crew in LacrosseRecruits.com to help him facilitate such a process.
It will be interesting to follow this initiative and see how much of an impact it has on the diversity at the Blue Chip camps. How much will the number of players from emerging areas increase? Better yet, out of all the videos submitted through LacrosseRecruits.com, how many of those players will be Blue Chip worthy?
Time and YouTube will only tell.
_________________________________________________________________________________________
Full press release:
Jake Reed Nike Blue Chip Lacrosse Announces 2011 Summer Camp Dates and New Highlight Reel Submission Process
Baltimore MD September 24th, 2010 – Nike Blue Chip Lacrosse, announced three camps for the upcoming summer; Rising Seniors, June 23rd – 25th, Rising Juniors, June 25th – 27th and Rising Sophomores, June 28th – 30th, as well as a new process for players to gain admission to the camp.
Nike Blue Chip Lacrosse has routinely brought the best players from across the country to its camps. However, the growth of the game has created a need for an alternate way for players to find their way onto a roster at Nike Blue Chip. As a result, Director of the Camp, Jake Reed has left a limited amount of spots available for players who submit highlight reels. Each highlight reel will be reviewed by Blue Chip Lacrosse Director, Jake Reed, for a fee of $75 and will be eligible for invitation to the camp.
LacrosseRecruits.com, the Official Recruiting Tool of US Lacrosse, will facilitate the highlight reel submission process for Nike Blue Chip Lacrosse as well as offer professional highlight reel packages that include submission of the reel for Jake Reed's review.  To get started, please visit http://lacrosserecruits.com/jakereedbluechipsubmissions.php.
"Because of the growth of the game, we felt that it was time to use the highlight reel admission process to supplement our traditional invitation system.  We have the best players competing at the highest level year after year. This new procedure ensures we don't let any players slip through the cracks," said Jake Reed, Director of Nike Blue Chip Lacrosse.
Chris Meade, Co-Founder of LacrosseRecruits.com, commented on their involvement. "We have so much interest from parents from all over the country about Jake's camps that submitting highlight reels was a natural extension to give players a chance to be considered for an invitation. For players in need of a high quality highlight reel, our editing team will create great highlight reels for them."
About LacrosseRecruits.com
LacrosseRecruits.com, the Official Recruiting Tool of US Lacrosse, is a recruiting tool that increases the exposure a player receives throughout the recruiting process by making it convenient for a college coach to view a player's profile and video online. Players create a profile, upload video and distribute their profile and video to college coaches using a integrated messaging system. LacrosseRecruits.com was built by former college lacrosse players with the help of current and former college lacrosse coaches. Visit LacrosseRecruits.com to learn more.
About Blue Chip Lacrosse
Headquartered in Baltimore, Nike Blue Chip Lacrosse's camps are the premier recruiting venues for boy's lacrosse. With an established reputation in the lacrosse world, Blue Chip is shaping how the best players are being evaluated and recruited by coaches.