A big second half from Ohio State helped them break a 6-6 halftime tie, and roll past Detroit in the Woody Hayes Athletic Center on Saturday, 14-8. The Buckeyes hold Detroit to just 2 points in the second half after allowing a half dozen in the first.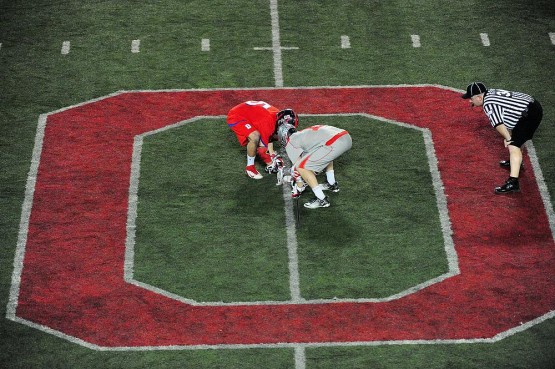 The Buckeye defense came together and picked it up in the second half, and junior defenseman Joe Meurer made his start at close pole, after having an excellent year in 2012 playing LSM. He showed promise with a pair of caused turnovers and groundballs. The Buckeyes also chose to go with freshman Robby Haus who made his first career start down low.
The Buckeyes will be relying on junior Dom Imbordino and his experienced play to anchor the defense as the newer guys settle in over the next couple games. The midfield defense was excellent all game, and junior LSM Darius Bowling is the clear #1 guy right now. He had a huge game with 3 caused turnover and 5 groundballs. SSDM Kevin Mack was excellent on the wings picking up 7 groundballs. Senior fogo Trey Wilkes was strong at the face-off X going 14-22.
Offensively, the big story was senior attackman, Logan Schuss, who had a career day. Schuss put up 10 points, on 7 goals and 3 assists, and showed why he was named ECAC pre-season offensive player of the year. His leadership on offense and ability to score will be key to the Buckeyes' success this season, but  it seems to be rubbing off on freshmen attack man Carter Brown who had 6 points (2g,4a) and freshman attackmen Tyler Pfister, who added 2 goals.
Ohio State is 5-0 all time versus Detroit and 11-0 all time when they play indoor at the Woody Hayes Athletic Center. Coach Myers also improves to 5-0 in season openers. The Buckeyes are on the road next week playing Jacksonville in the Moe's Southwest Grill Classic.