To celebrate the completion of the first ever GROW THE GAME Invitational, we've got 10 Limited Edition GTG Invitational shorts up for grabs for LAS Readers.
We're very excited about these shorts because all proceeds will benefit the Thailand Lacrosse Association. And since we're doing this as a fundraiser, we're going to try something a little new and different here. (Editor's note: If you have serious feedback about the process, please email it to us at info@lacrosseallstars.com. We want to do this kind of thing more often!)
First, the shorts: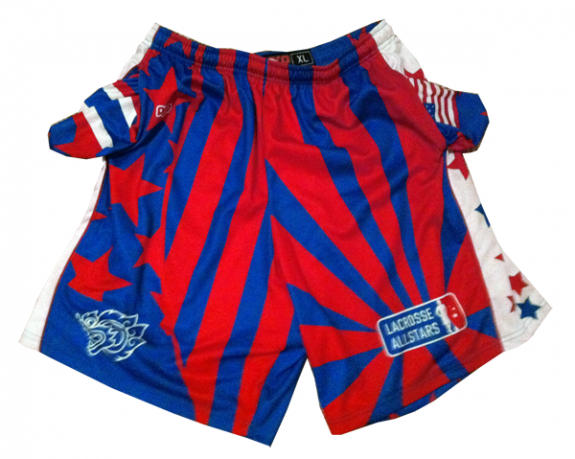 The price for these shorts? You name it.
The 10 highest bidders by Tuesday, June 21, will receive these shorts. No bids may be below $40. All shorts are size XL.
To place your bid, email us at info@lacrosseallstars.com using subject line "GTG SHORTS."
But wait, there's more!
A winning bid of $45 or more gets a free pair of the NEW LAS Dress Socks by Adrenaline (never seen before!). You would be a gentleman if you placed a bid of $50 or more, and gentlemen deserve nice things.
A winning bid of $55 or more gets LAS Dress Socks AND matching Red Glow Bro's by Man-Bro Bro-Man Sunglasses. Because every gentleman is a bro deep down, and that bro deserves to look ridiculously awesome at highlighter parties.
A winning bid of $70 or more gets the LAS Dress Socks AND Red Glow Bro's AND a free Grow The Game t-shirt. After all, if you're bidding this high, you truly are a Certified Game Grower.
All proceeds help fuel the mission of the Thailand Lacrosse Association!
But wait, there's even more!!
As a token of our appreciation for your support in this auction-style sale, the 5 highest bidders will receive a unique Thai flag themed bracelet we purchased while visiting Thailand. These handmade bracelets were found at a street vendor's cart near The Standing Buddha landmark, and they are made of what looks A LOT like shooting string. We'd show you a photo, but that woud be boring. You can spot it in one of these photo albums: LAS in Thailand #1, LAS in Thailand #2.
Grow The Game,
– The LAS Team