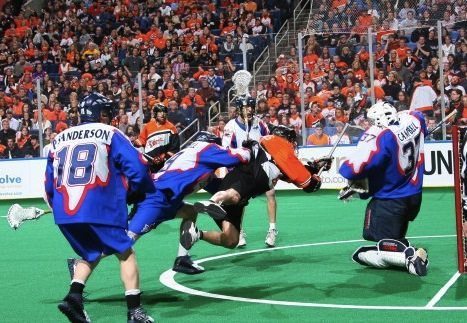 Pat Campbell, back up goalie for the Toronto Rock, gives some tips on the basics of box lacrosse goal-tending. For anyone out there who has considered playing goalie in box, these are tips to know for sure. For anyone who plays box on offense, these are also good tips to know – so that you can somehow score on these heavily padded mad men.
This winter, I've seen 4 or 5 different field goalies play box lacrosse for the first time. Almost ALL struggled with keeping the stick in one hand, between their legs, initially, but the majority have really seemed to pick up some of the concepts… and in only a couple of games! I bet watching this video would have helped.
My one question: Why hasn't some washed up American hockey goalie decided to play box lacrosse? The US team could really use a new keeper (as Miller is getting older each year) and the guy would have to have a shot in the NLL. Philly would take him. He'd be American!  Ok, maybe not, but someone might take the guy.  But seriously, hockey washouts, get cracking.
(Main photo credit: TorontoRock.com)