The LaxAllStars.com Photo of the Week is back!
Each week we're looking for a superb lacrosse photo from one of our readers. If your photo is selected as Photo Of The Week, you win something awesome from LAS! This week's prize? Grow The Game Laces/Shooters. You gotta look good to play good, right?
This week's winner is Al Dollman!  I'll let Al explain the photo:
Here is a sequence of photos that ended with a solid check!  The LAX player that got the worst of this was TYLA player (my son) Spencer Dollman in the green jersey at STX LAXFest in Greensboro NC in the summer of 2011. When he was hit, his glasses flew up to his forehead, his helmet twisted sideways on his head. This hit took him out of the tournament, with stretched ligaments in his knee. This check resulted in a turn over and awarded the TYLA Allstars team possession of the ball. Nice ride, Spence!
That is some SERIOUS commitment, Spencer, and we LOVE IT!  I get the feeling you might be getting hooked up with some swag for this photo!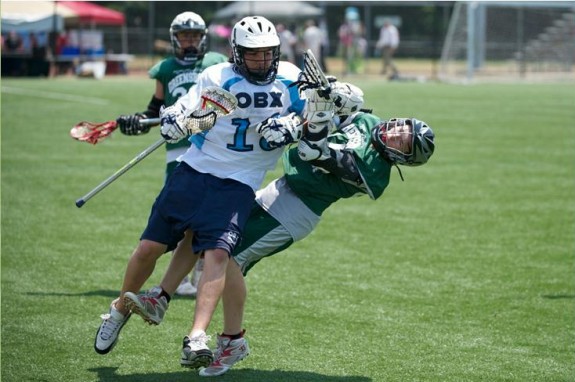 (Editor's note: Al and Spencer – you just won yourselves a pair of GTG Laces! Email us your mailing address!)
Got a GREAT Lacrosse Photo?  Send it in to Info@Lacrosseallstars.com and you could be next week's Winner!