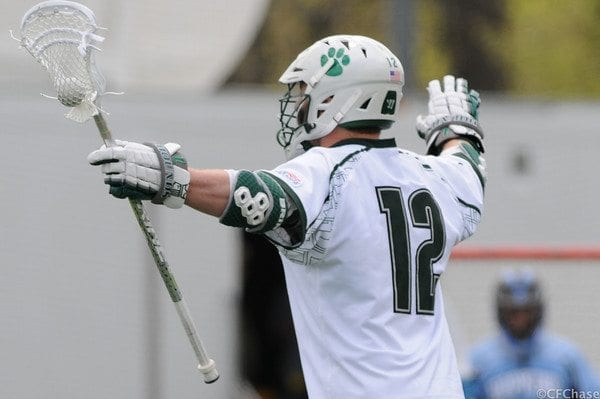 The Loyola vs Johns Hopkins rivalry game can no longer be called the "Charles Street Massacre" by anyone in good conscience… it's simply the "Battle of Charles Street" now, and this battle for Baltimore dominance is only getting better!
Photo Credit: Craig Chase
Loyola hosted the 2014 rivalry game at the Ridley Athletic Complex, and the house was packed for a highly anticipated Top 10 D1 match up. Hopkins brought the heat early, and went up by a couple goals in the first quarter. The Loyola faithful held strong though, and the Hounds came back to take control, and win the game 13-10, cementing their spot as a top seed for the rapidly approaching NCAA tournament.
Loyola held solid edges in ground balls and face offs, and used these extra possessions efficiently, while still applying a ton of pressure on the Hop defense. With the game tied at 6 in the second quarter, Loyola tied an NCAA record by scoring two goals only 4 seconds apart. After a Hounds goal, Graham Savio won a face off, took it down the middle, and scored his first collegiate goal. This marker tied an NCAA record set n 2012 by VMI, and put Loyola up 8-6, a lead they would carry into halftime, and never give up.
Loyola had a lot of guys get involved offensively, as Justin Ward had 4 assists, Nikko Pontrello had 3 goal, Brian Schultz had 3 goals, Brian Sherlock had 2 goals, Jeff Chase had two goals, and Matt Sawyer had 1 and 1 for 2 points. Pat Laconi also added a goal, and he had a monster day playing short stick D for the Hounds.
Loyola, as the #3 seed, will host Albany in the first round of the NCAA tournament this weekend on Saturday at noon. Hopkins travels to the 8th seeded Virginia to take on the Cavaliers on Sunday at 1pm.
How is Loyola NOT a #1 seed? Does anyone else find that crazy?