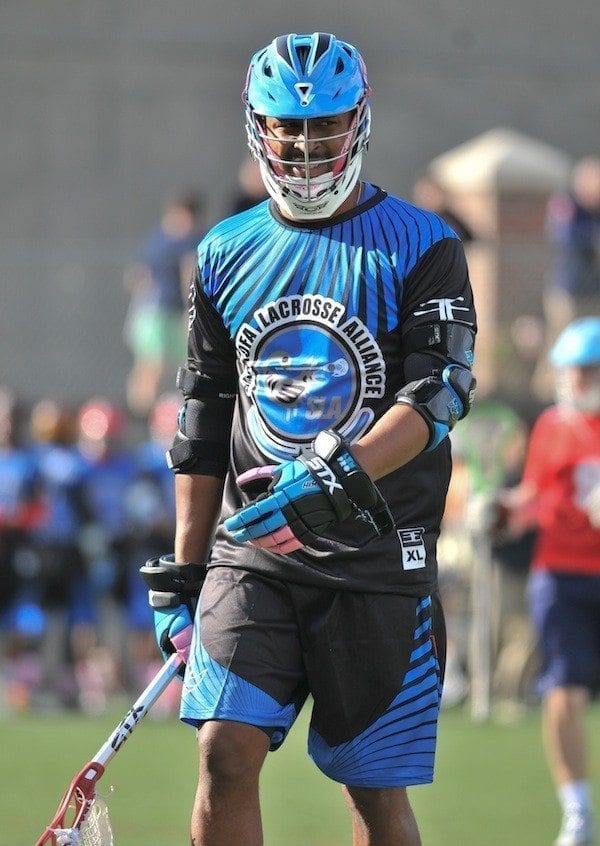 Photographer Greg Vasil took in the Sankofa Lacrosse Alliance scrimmages on Friday afternoon for us in Providence, RI. Brown hosted both the Sankofa Lacrosse Alliance "Ambassadors" team, as well as a team of English National squad hopefuls for three one hour scrimmages. See the excellent photos below from Greg, and expect much more on this interesting event early next week.
This was an historic event, not because it brought an NCAA, International, and Men's Club team together (although that was interesting in and of itself), but because it marks the first time that a lacrosse team, comprised entirely of black men's elite players*, has competed together. (*Even Morgan State had white players on their roster back in the 70s and early 80s.)
In the future, Sankofa teams will be filled with guys of all races and skin colors. The big factor in deciding involvement will be that they are dedicated to serving the game the right way. This first team will be the only "all black" team they put together, and was done this way to honor the many black players who had come before today's players, who may not get the recognition they deserve. Billy Daye stepping in goal was a perfect example of this living connection to the past.
I had some great conversations this weekend in Philly about the Sankofa team with guys from NYC and Philly, and I'm excited to connect with Chazz Woodson again to get his thoughts on the event. For now, enjoy the photos above, and a little video below.
A tad heavy on the sock promotion for my tastes, but I'll take it: