Below you can find the 52 men who made their way onto the next round of Team USA try outs.  If this were the NFL, every man on the US training roster would be breathing a sigh of relief, knowing they had made the final cut. Thankfully, this isn't football, and that means we still have a lot more cutting to do.
Photo Credit: John Strohsacker/LaxPhotos.com, Courtesy US Lacrosse
No it's time to discuss some of the big cuts and story lines. You should also check out Kevin Rowen's Team USA predictions. By my count, he only missed three guys. Not bad at all! By Kevin's count, he missed three as well. IMPRESSIVE!
Attack
Matt Danowski (Charlotte Hounds, Duke), Marcus Holman (Ohio Machine, North Carolina), Eric Law (Denver Outlaws, Denver), Kevin Leveille (Rochester Rattlers, Massachusetts) Brendan Mundorf (Denver Outlaws/Philadelphia Wings, UMBC), Rob Pannell (New York Lizards, Cornell), Steele Stanwick (Ohio Machine, Virginia), Garrett Thul (Hamilton Nationals, Army), Drew Westervelt (Chesapeake Bayhawks/Philadelphia Wings, UMBC), Ryan Young (Charlotte Hounds, Maryland)
Midfield
Steven Brooks (Chesapeake Bayhawks, Syracuse), Kevin Buchanan (Boston Cannons, Ohio State), Ned Crotty (Rochester Rattlers/Philadelphia Wings, Duke), Kyle Harrison (LXM PRO, Johns Hopkins), Ben Hunt (Chesapeake Bayhawks, North Carolina), David Lawson (Rochester Rattlers, Duke), JoJo Marasco (New York Lizards, Syracuse), Matt Mackrides (Chesapeake Bayhawks, Penn State), Paul Rabil (Boston Cannons/Philadelphia Wings, Johns Hopkins), Max Seibald (New York Lizards/Philadelphia Wings, Cornell) Jeremy Sieverts (Denver Outlaws, Maryland), Drew Snider (Denver Outlaws/Washington Stealth, Maryland), Matt Striebel (Rochester Rattlers, Princeton), Matt Abbott (Chesapeake Bayhawks, Syracuse), Dan Burns (Chesapeake Bayhawks, Maryland), Kevin Drew (Charlotte Hounds, Syracuse), Stephen Peyser (New York Lizards, Johns Hopkins), Jeff Reynolds (Chesapeake Bayhawks, Maryland), Chris Schiller (Charlotte Hounds, Penn State), Kevin Unterstein (New York Lizards, Hofstra), Chris Eck (Boston Cannons, Colgate), Greg Gurenlian (New York Lizards, Penn State), Anthony Kelly (Denver Outlaws, Ohio State), Mike Poppleton (Hamilton Nationals, Johns Hopkins)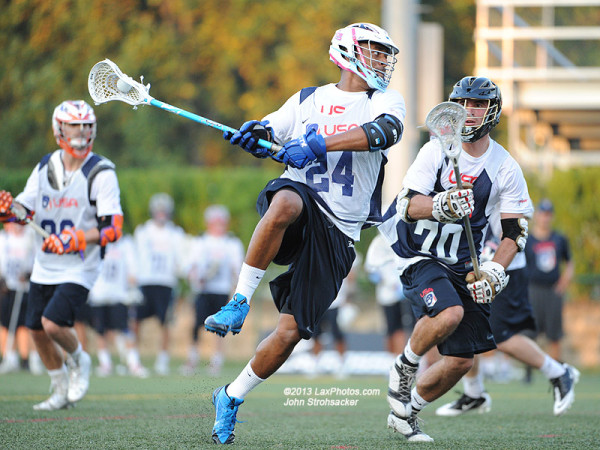 Defense
Mitch Belisle (Boston Cannons/Minnesota Swarm, Cornell), Jesse Bernhardt (Chesapeake Bayhawks, Maryland), Brendan Buckley (Boston Cannons, Army), Tucker Durkin (Hamilton Nationals, Johns Hopkins), Michael Evans (Chesapeake Bayhawks, Johns Hopkins), Joe Fletcher (Loyola), Brian Karalunas (New York Lizards, Villanova), Dillon Roy (Denver Outlaws, Denver), Brett Schmidt (Charlotte Hounds, Maryland), Lee Zink (Denver Outlaws, Maryland), Brian Farrell (Boston Cannons, Maryland), Kyle Hartzell (Ohio Machine/Philadelphia Wings, Salisbury), Kyle Sweeney (Boston Cannons/Philadelphia Wings, Georgetown), Michael Simon (Chesapeake Bayhawks, Stevenson)
Goalie
Drew Adams (New York Lizards, Penn State), John Galloway (Rochester Rattlers, Syracuse), Jesse Schwartzman (Denver Outlaws, Johns Hopkins), Kip Turner (Chesapeake Bayhawks, Virginia)
Overall Impressions
– Big Cuts – Where is Sam Bradman? I'm not second guessing the coaches at all, I just wanted to see him play at the international level. He's still young. I am shocked Grahamn Gill didn't make it, even if he had the worst tryout ever. He is just a baller. I like John Ranagan too. He is super athletic, but like Bradman, he's young and has time. I also thought Ben Rubeor was a stud this MLL season, but the attack position is pretty deep.
Chazz Woodson and Ryan Boyle were too veteran attackman who were passed over. Mike Sawyer, Casey Powell, both Lao-Gosney brothers, Mike Stone, Brendan Fowler, and Michael Kimmel were some of the notable middies left off the list. I was most shocked that Mike Manley and Nicky Polanco didn't move on defensively.
– The Team's Shape – It's hard to truly judge a team by who got cut and who made the next round, but when you look at the attack, it's clear this team wants dodgers, passers, and shooters. Every man in that group can pretty much dodge, pass, or shoot (or finish inside) like few others. Leveille and Holman may be more specialized, but the rest of the group possesses a great diversity of skill and ability.
The midfield is a little different, and while there are obviously some very dynamic players in the mix, it's really about two things: size and/or speed. With the exception of about three guys, each midfielder is either a monster or a speedster. A couple of guys are both. Anyone will have a hard time with this group's athleticism. Pair it with a ball handling attack, and you have a good mix for solid offensive production.
Defensively, you have a very athletic group, and I think they are all well suited to the international game. You will need bruisers for John Grant Junior, or Cody Jamieson, but you also need the majority of your guys to be runners, and this group meets the bill in that regard. International defense is much less slash happy, and players like Zink and Buckley deliver there. Guys like Evans or Durkin will provide toughness and a lock down cover guy. It's a great group for FIL lacrosse. In goal? Who knows. Save the ball. I like Schwartzmann, because of his passion, but I don't know if you can go wrong with the four that are left. My real favorite is Galloway, because of his outlets. Just so aggressive, and I love transition! Plus he tends to stop a lot of shots. That helps too. Like I said, goalie is tough.
– The Next Round – If my guy serves me right, the next round will be less about players who fit a mold, and more about the guys who can fit in a giant mold with lots of other guys. It's time to see who plays well together, who makes other guys better, and who has what it takes to put team and country first, to represent the USA. No big deal or anything.