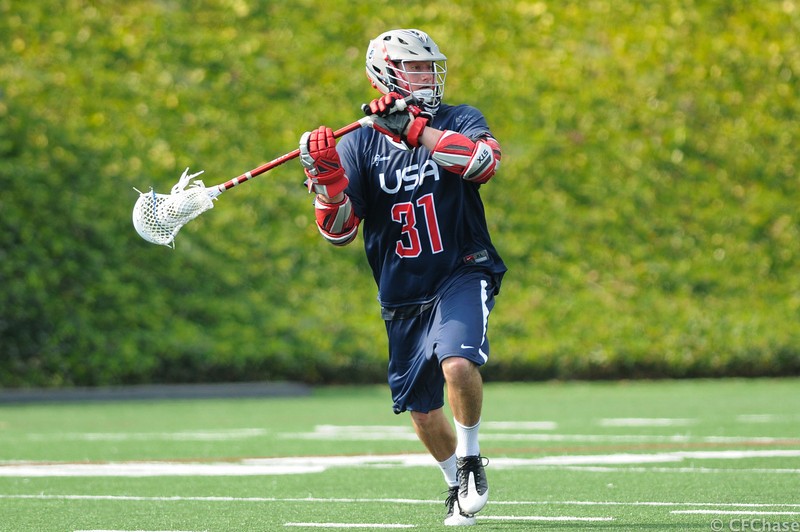 We were all blessed to see the Blue-White Team USA scrimmages on Sunday via Watch ESPN (live) and ESPNU (tape delay). The worldwide leader in sports even brought out the big guns for the event, and Quint Kessenich, Paul Carcaterra, and Eamon McAnaney pontificated the day away as the roster battle played out in front of us.
Main Photo Credit: Craig Chase
After watching the scrimmage a couple of times now, I'm starting to overanalyze the 23-man selections I made before the weekend, so here is my updated team, based SOLELY on the action we saw on Sunday. It's definitely a different list than what I came up with on Thursday!
I'll run through my "new" team, position by position, and then explain my changes.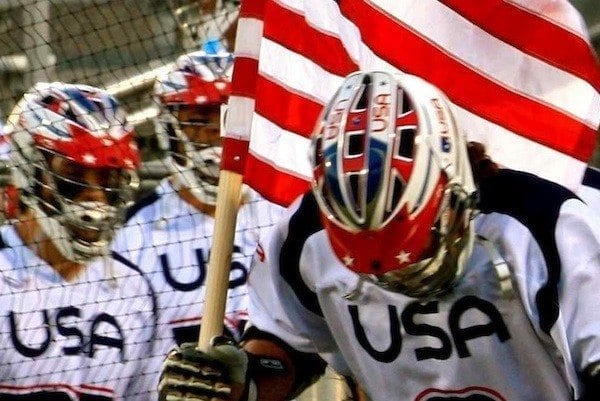 Old Attack: Kevin Leveille, Eric Law, Rob Pannell, Ryan Young, Drew Westervelt
New Attack: Garrett Thul, Rob Pannell, Steele Stanwick, Kevin Leveille, Marcus Holman
Thul was a monster, and with his improvement in the NLL he should only gain in confidence and ability. He played with both on Sunday, and now I'm a fan and a total believer. I still like Pannell as my QB, and seeing as he loves the ball in his stick, Leveille and Holman are good compliments to him. Stanwick showed an ability to be the glue that holds it all together, and I really like how made such a diverse set of plays. I still like Westy and Law, but think Thul and Holman had better days on Sunday.
Old Midfield: Kyle Harrison, Max Seibald, Paul Rabil, Matt Abbott, Jeremy Sieverts, Stephen Peyser, Jeff Reynolds, Drew Snider, Matt Striebel, Greg Gurenlian
New Midfield: Matt Abbot, Max Seibald, Jeremy Sieverts, Ned Crotty, Stephen Brooks, Matt Mackrides, Matt Striebel, Kyle Harrison, Stephen Peyser, Chris Eck.
This is probably the hardest group to choose from. A bunch of guys played well, but Crotty proved to too dangerous and diverse to leave out, and I really liked Brooks' game between the lines. I know about his lefty cannon, and it was nice to see some additional skill sets on display. Mackrides was also dangerous, and created well with speed in the offensive zone. Rabil looked a little out of sync, and didn't make my cut from the day's play, but it was great to see him running around at full speed. I wouldn't be shocked to see him stay on the 30 man squad though!
I have Seibald and Harrison on as do-it-all mids. Neither excelled on offense, but both did great work between the lines and have speed to burn. They can create transition (like Abbott), and I think that will be a key for Team USA in Denver this Summer. I like Peyser and Harrison to potentially help on face off work, and Chris Eck looked good on Sunday. Gurenlian has withdrawn, so he is out.
Old Defense: Lee Zink, Joe Fletcher, Kyle Sweeney, Brendan Buckley, Michael Simon, Mitch Belisle
New Defense: Mitch Belisle, Brian Farrell, Kyle Sweeney, Lee Zink, Brian Karalunas, Brendan Buckley
My defense is pretty similar, and Zink and Belisle are still my low lock down guys. I think Buckley, Karalunas, and Sweeney could all see time down there too depending on match ups. Farrell was a stand out in my opinion and while he is an excellent defender, his offensive skill puts him at the top of the list. Karalunas can play LSM or close, and has a motor perfect for the international game. Buckley is similar, and Sweeney is a precise takeaway guy who still has that 5th gear. Overall, I really like the group of poles on the 51-man rosters.
Old Goalie: Drew Adams, John Galloway
New Goalie: Any of them. Seriously, all four guys played really well. I'd have a hard time picking guys from just this game as all of them had moments of greatness. I'd probably say Kip Turner played the best, but it's a total matter of subjective opinion here. For that reason, I'm sticking with Adams and Galloway for now!
Old Alternates: Ned Crotty, Tucker Durkin, Michael Evans
New Alternates: Tucker Durkin, Michael Evans, Anthony Kelly – these three are my top guys, but who knows. Since I need to have a 30-man roster for the next cut down, I would add Brendan Mundorf, Paul Rabil, Drew Snider, and David Lawson.
It's a tough group to pick from, because they're all so darn good. Who would you change out from my group? Drop your ideas in the comments below!