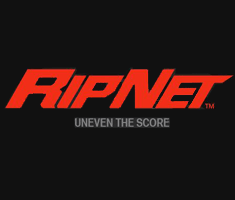 RipNet is making some waves in the lacrosse world with their new app. Released earlier this month, the app is available on the iOS and Android mobile platforms for the low, low price of $0. I went over to iTunes and downloaded the app right away so I could check it out myself. If they have partnered with the MLL, it must be pretty good, right?
The app is touted as a player development tool to develop the skills of the next generation of MLL players and facilitate and encourage the growth of the game of lacrosse. With the app, not only will you be able to track and analyze your own data, you'll be able to follow your favorite pros and see what is working for them as well.
RipNet already has a slew of pros using the app, including Billy Bitter, Grant Catalino, Joel White, Jovan Miller, Jordan Macintosh, and Ned Crotty, not to mention the ones listed in the press release below. That's a pretty great cast of ambassadors for their product and it'll definitely be something to follow as each pro's season kicks off and stats begin to come in.
Set-up
As soon as I downloaded the app, I jumped right into it. The initial set-up is a little time consuming depending on how in depth you go on your lacrosse past. Initially I input my college team and both Men's club teams I play on to get the full feel for it. It asks you for all the details on who, what, when, and where about your team and has you input past goals and assists.
It may be a lot of information to upload into their system, but I felt it was all necessary information and things that will help in the long haul.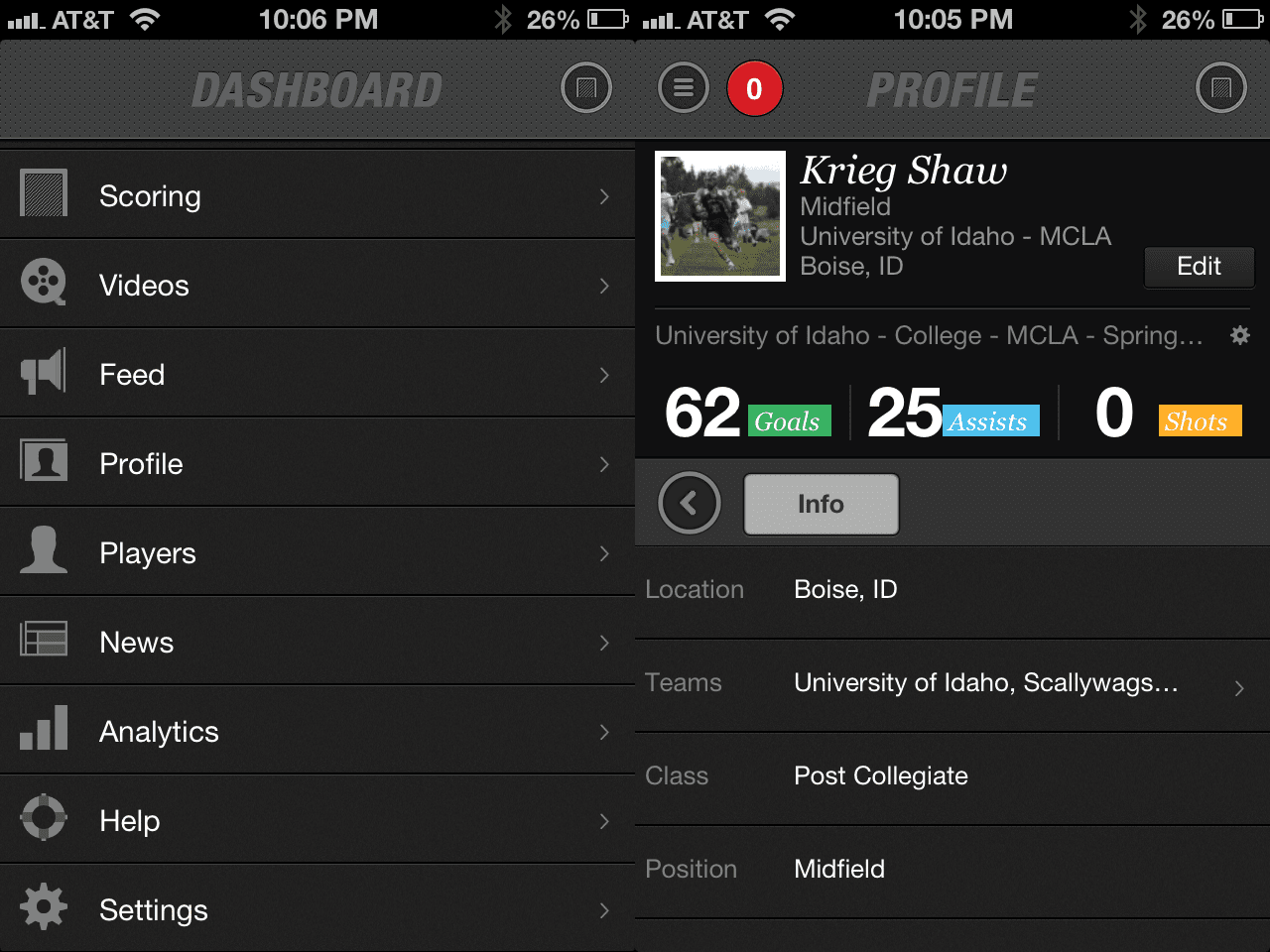 Statistics and Analytics
Now it's time to play! This is the meat and potatoes of the app. Once you get all set-up, all you have to do is enter in some information about your statistics from each game. The app is very organized and easy to navigate. You can switch around between scoring, analytics, videos, your social feed, a news feed, your profile, and other players.
The analytics is really neat. After entering in the specifics of each goal, it collects all your data and presents it to you in a very nice package. I took a quick screen shot after entering two goals I had from a game during Lax Vegas. Obviously light on the actual data side, you can still get a good idea of what it's capable of.
The analytics portion goes much deeper though. Check out the screen shot below, you are able to break down your playing into several very specific categories. Where do I have the highest shot percentage? What's the best type of shot to take? (EN: Overhand!) What shot situation to I score most in? All of these and more can be answered through their analytics page.
Extras
RipNet also has several other features to it, including videos, news and a social media side of things. You can post your own status, see what your friends are up to, and check on different news stories from around the lacrosse world. RipNet also offers training videos on different aspects of shooting and dodging. There are three (Disguising Your Stick, Cross Crease Finishing, & Driving from Behind) that are available to watch for free, but you can also purchase several more for a small cost.
Final Thoughts
This is a great new app that could definitely help someone to analyze their own game. The biggest thing to note is that this is definitely an offensive player's app for now. While being more difficult to track or even just remember, I could see them adding a goalie side to this eventually. If you are heavily committed to improving your own game and taking the necessary steps to see what you can do to improve your offensive playing, this could definitely be an app that could help you out.
Check out the full press release below for more on the new RipNet app, as well as one released last week on MajorLeagueLacrosse.com.
________________________________________________________________________________
Pennington, NJ (Jan. 15, 2013) — RipNet's free goal-scoring technology and social network for lacrosse is now available on the iOS and Android mobile platforms.  Designed to complement RipNet's web platform, the iPhone and Android mobile apps put RipNet's player development tools into the hands of more players, closer to their field of play.
RipNet's innovative technology continues to receive rave reviews from many of the game's greatest players and coaches:
"RipNet's technology is game changing" – Katrina Dowd , all-time NCAA tournament scoring leader
"A great way to develop the mental part of your game" – Ned Crotty , Tewaraaton Trophy Winner
"Shows you how to become the complete player every college coach wants" – Billy Bitter, three-time NCAA All-American
"A game changer for shooters" – Grant Catalino , Major League Lacrosse record holder for most goals in a game
"Even the best players are looking to get better.  RipNet is a new and innovative way of doing it." – Matt Danowski , all-time NCAA scoring leader
Designed for boys and girls of all ages and skill levels, RipNet apps combine an innovative video platform with on-field performance analytics that visualize a player's strengths, weaknesses, and improvement opportunities.  Players simply input how they are playing on the field into their mobile phone or computer, and RipNet takes care of the rest.
RipNet enables players to get more out of the game off the field as well. Players can friend and follow other players, share their scoring with the community, take their place on the leaderboard, get competitive with their friends,  enjoy "players only" forums, and stay connected with all things lacrosse. Youth players under 13 years of age are restricted from RipNet's social features but will have full access to all player development tools.
RipNet's apps are available for free at Rip.Net, iTunes, and Google Play.
About RipNet
RipNet performance technology is a player development app and social network for men and women lacrosse players of all ages and skill levels. RipNet's free applications are available at http://www.rip.net, iTunes, and Google play.