Editor's Note: Chris Rosenthal has written with LAS a little bit in the past but will be contributing more this year.  To start 2012 off he's providing his top seven story lines to follow in 2012.  Take a look at Rosie's list and let us know what else should be on it!
_________________________________________________________________________________________________
Now that it's 2012, the new lacrosse seasons are almost here.  College ball starts up next month and pro indoor leagues get started as soon as this upcoming weekend (or months from now, or never at all, but we'll get to that).  Every year has its share of stories and subplots, but this one definitely has potential to be one of the biggest we've seen in a long time. In no particular order, here are seven things to look forward to in 2012.
Steele Stanwick's Senior Year
It's fair to say that last season was pretty impressive for Steele Stanwick: 1st team All-American honors, the Tewaaraton Trophy and an NCAA title will do that for you.  This year, his Cavaliers are the preseason #1, and Steele needs 60 points (he scored 70 last season) to become the leading scorer in UVA history. Can we get an encore for his final year in Charlottesville?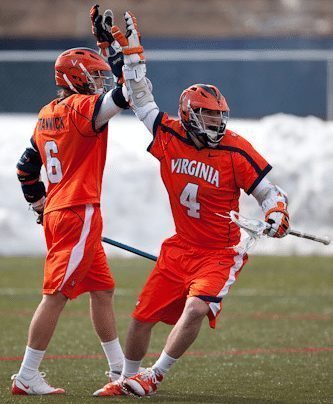 The Inside Lacrosse Powerball Tourney
Aside from stealing the name from the lottery (or maybe American Gladiators), July's Powerball tournament has to be one of the most unique ideas in recent memory. Pro-level players (probably), club teams, and anybody else (except players who want to stay eligible for college) who wants a piece all roll up to Atlantic City for a weekend Kumite with $25,000 on the line. What's not to like? Think you can beat the guys you've seen on tv and trash talked on message boards? Put your money where your mouth is, rally your troops and throw down with the big boys.
Maryland's Uniforms
Despite their 2-10 record, the University of Maryland football team stayed nationally relevant in 2011 thanks to their Under Armour uniforms. Each week they showed up in something new and unusual; they were like the Oregon Ducks of the mid-Atlantic, you know, without all that winning. Under Armour clearly isn't afraid to take chances, so you have to wonder how much of the football influence will leak onto the lacrosse field in 2012. The Terps already drew looks with their yellow unis last year, so what's next?  Maryland flags on the shoulders? Turtle shell print on the backs of the jerseys? Or did
Under Armour show all their cards during football season?
The MLL Expansion
The Ohio Machine and Charlotte Hounds begin play this summer, and they've already made news with their roster additions. The Machine picked up Connor Martin and brought Chazz Woodson back to the league while Billy Bitter, Matt Danowski and Stephen Berger all joined the Hounds. It's crazy to think that in 2012, Charlotte will add both professional outdoor and indoor lacrosse franchises. Or then again, maybe they won't. Which brings us to…
The North American Lacrosse League
The past few days have been insane for the NALL. First, they postpone their supplemental draft right before it's slated to begin. Then a rumor leaks that their opening day has been moved from January to September. Then the opening day rumor gets squashed, but some of the teams may have been booted from the league, and well, now it's a big ol' mess. If they can get this all sorted out, the NALL has a great opportunity to spread box lacrosse throughout the country. Lacrosse fans want to see if the non- traditional markets like Jacksonville and Louisville can fill arenas. They want to see if the outdoor guys can adjust their games to the box style. They want to see the games period – can we get a tv deal lined up? And speaking of which…
Increased National Television Coverage
In the past, pro lacrosse television coverage has been spotty at best. Depending on where you lived, you might have gotten some regional MLL coverage combined with a couple games on ESPN2. Better than nothing, but certainly not great. This year, we get 14 live regular season games (along with 18 episodes of "Inside the MLL") on CBS Sports Network, along with six more on ESPN2. And while you were probably huddled in front of a laptop to see a game last year, the CBS Sports Network is giving us eight NLL games in 2012 as well, live and in HD.
Michigan joins the NCAA
As soon as the Michigan Wolverines announced their move to the NCAA, you just knew they had to play Ohio State on April 14, the day of their spring football game.  It's going to be interesting to see how their entire season plays out, but this particular game should be circled on lacrosse fans' calendars. When schools have lacrosse games during spring football weekends, they can bring in huge crowds. Ohio State brought an NCAA record 31,000 fans to their football weekend lacrosse game last year, and that was against Fairfield. How many fans can Michigan bring against Ohio State? If the students
embrace their new NCAA lacrosse program, and if Michigan fans hate the Buckeyes half as much as it seems, they might shatter that number.
These seven things point to a potentially huge year in the lacrosse world, and it's never too early to make your predictions for story of the year. What else needs to be on this list?
EN: Well, we can think of a few!  How about the European Championships?  Salisbury's possible return to DIII dominance?  Rob Pannell?  Hopkins surging?  Can the Toronto Rock repeat?  Will the game keep growing so quickly internationally? Will CLax work out better than the NALL? Will there really be lax tourneys in Mexico, Colombia, Amsterdam and Bangkok this year? Man… they just keep coming!
So what do you guys think?  What are the big story lines for 2012?