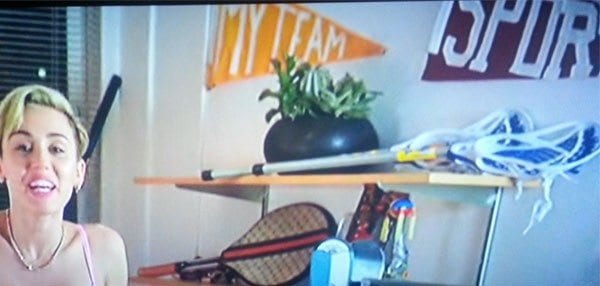 Editor's note: Welcome to another great installment of "Spotted". With your help, we hope to shine a light on lacrosse spotted in unexpected places, whether it be on TV or in real life. If you find any aspect of lacrosse in a place you didn't expect it, we would love to hear from you. Take a quick photo or video and email it to info@lacrosseallstars.com.
Miley Cyrus and Lacrosse. Together. In one sentence that doesn't read "Miley Cyrus and lacrosse are in no way related whatsoever." We have our own Mark Donahue to thank for this week's glorious spotting!
Here we have Miley on Saturday Night Live awhile back with a couple of STX fiddle stix (a bionic and a proton, we think) in the background. Think whatever you want about Miley Cyrus, but "Party in the USA" and "We Can't Stop" are both great pop songs. Oh, and also now she's minutely related to lacrosse. There's that too.
Check out all our past spottings here!
Spot lacrosse somewhere unexpected? Email your spottings to info@lacrosseallstars.com!