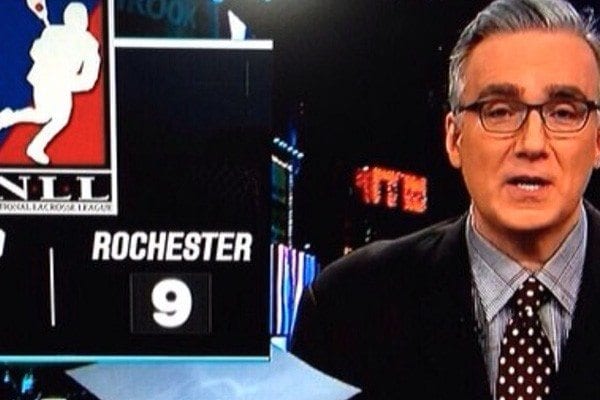 Editor's note: Welcome to another great installment of "Spotted". With your help, we hope to shine a light on lacrosse spotted in unexpected places, whether it be on TV or in real life. If you find any aspect of lacrosse in a place you didn't expect it, we would love to hear from you. Take a quick photo or video and submit it at LaxAllStars.com/Contribute!
Earlier this week we were tipped off by reader Travis that Keith Olbermann brought up an NLL game during his show on ESPN. A little bit after that, the Rochester Knighthawks posted this photo on Instagram:
Olbermann is a late-night sports show, and he is known for calling things like he sees them, which is often avoided in mainstream media. Perhaps that is why his self-titled show, Olbermann, airs on ESPN2 during late-night hours. Either way, he is a well known sports commentator, and even this small shoutout to the Rochester vs. Buffalo NLL game and to lacrosse in general is good for growing the game!
Check out all our past spottings!
Spot lacrosse somewhere unexpected? Email your spottings to info@lacrosseallstars.com!