Editor's Note: Stylin' Strings is back with another killer dye job to show off.  Talk about a wood grain exterior!  I love a good brown dye, and this one is certainly special.  In the meantime, don't forget to vote for your favorite LAS/Stylin Strings dye contest entry!  These guys all did a great job and deserve some attention too!
______________________________________________________________________________________________
Wood or Plastic?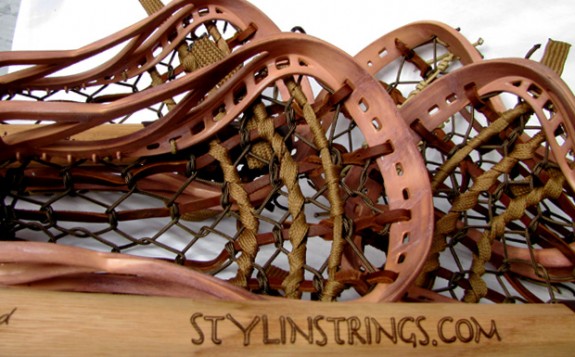 This one Stylin Strings pulled out of the archives, as they are working on some crazy new dye jobs.  Over the last year Stylin Strings and their Lax County Chopper vibe sticks have thrown together a ton of their wood replica dye jobs.  Below you can see a solid compilation of some of those dyes, and it certainly begs the above question!
Here are a few examples of some Gait Torques and a Harrow P7 girl's stick they threw their creative wood spin on.  You can see them pictured with an old Talon Legend shaft. Talon customized for it SS before they were bought by Easton. Most of these dyes were custom ordered and matched to wood shafts. Except for the P7, that was done for the guys' friend, Paul, over at Bamshaft.
Look close at the detail and you will see that the guys removed all the shiny finish off of the heads first, and THEN dipped them a light tan.   Wood isn't usually shiny. Smart.  Then the darker brown was applied to get the grain feel. After the sticks were dyed, they were strung with traditional pockets (duh!) with brown leathers and all natural colors to match.
This is a unique concept to hold you over until SS starts bringing out some big, shiny, new guns.   Think you could pull one of these off?  Be a lot cooler if you did!  Check out Stylin Strings Lax, and their facebook page!