In the spirit of the Holiday Season the TBLA, in partnership with Lacrosse4All, will be holding a raffle at the First Annual Jingle Brawl Box Lacrosse Tournament to help two Houston area youth lacrosse programs in underprivileged areas. The tournament runs on December 15th at Houston Indoor Sports, where the event will play host to eight teams, and the majority of players will all hail from Texas, with some imports here and there.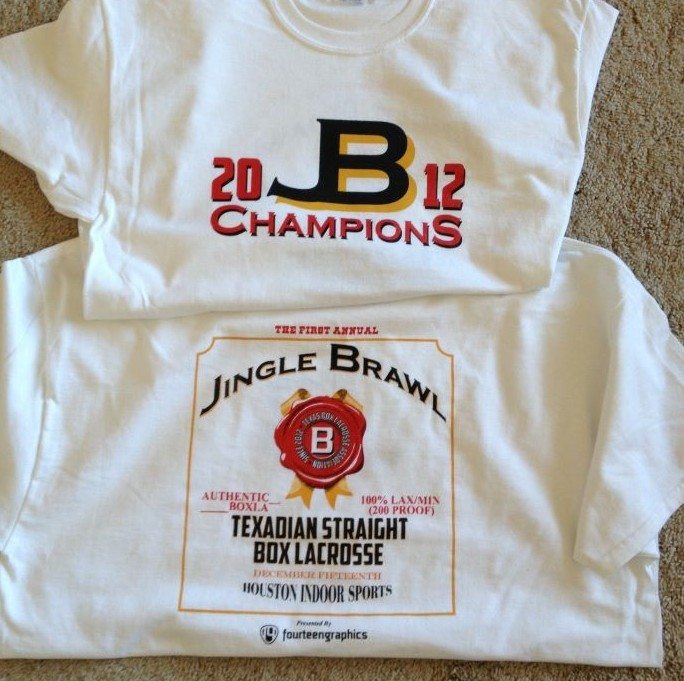 Bracket A will see Tony's Tavern, PBR, Lone State Light, and Dirty Birds/San Antonio vie for two spots in the playoffs. In Bracket B, Black Tails, Top Cheddar, H-Town, and PBR Light will all fight to make the four team playoff. The games run for 30 minutes, and start at 10am, with the championship being decided at 2pm. It's a fast-paced day, full of box lacrosse, and it looks like fun!
Both Frank Black Middle School and YES Prep Middle School (Brays Campus) are the programs that will benefit from the tournament's raffle proceeds. These two schools both have kids just getting introduced to the great sport of lacrosse and are in urgent need of help in funding for their upcoming seasons.
Rumor has it there will even be some well known players in attendance… a couple of Sabretooth guys, some Jacksonville Bullies, a former Washington Power player, some guys from the MABLL in DC, a guy that played Sr B CanAm, and a slew of current and former college players.
The following items will be raffled off:
CUSTOM STICK Retail value $300
STX HAMMER U HEAD (new item this year) Retail value $110
BRINE LOPRO SUPERLIGHT SHOULDER PAD (new item this year) Retail value $100
WARRIOR RABIL TEES Retail value $25 each
G22 ARM GUARDS Retail value $25
SOCK GUY ARGYLE SOCKS (1 pair red.1 pair blue) Retail value $10 each
Tickets will be available at the tournament at Houston Indoor Sports on Saturday, December 15, 2012 from 10:00am – 2:00pm and the drawing will occur after the Championship game at approximately 2:45pm.
1 Ticket – $1
10 Tickets – $5
All proceeds will go directly to these programs and help get more kids playing lacrosse. So if you're planning on heading out, make sure to bring a few dollars in cash to the tournament and help the TBLA help these kids. Thanks to Joe Ernst for the information above. Grow the Game!