Editor's Note: Kelly Curtis and her husbanded co-founded the Northeast Classic – Face off Against Cancer in 2008 and now currently run Curtis Lacrosse Camps here in Vermont. Her husband Ryan is also the head lacrosse coach at the University of Vermont. Before she and Ryan moved to Vermont in 2005, she worked at the Dana-Farber Cancer Institute as an Infusion Room Facilitator and later a Administrative Assistant for Dr. Mary-Ellen Taplin in Genitourinary Oncology in Boston, Massachusetts. She has seen the miracles the Dana-Farber Oncologist create on a daily basis and knows that the money donated to GU Oncology and Women's Cancers is spent wisely.
Today, she stops by to showcase the 2013 Northeast Classic that is set to go down October 12th and 13th. Check out our introduction piece on the Northeast Classic from April – it definitely is more than just a game.
_______________________________________________________________________________________________________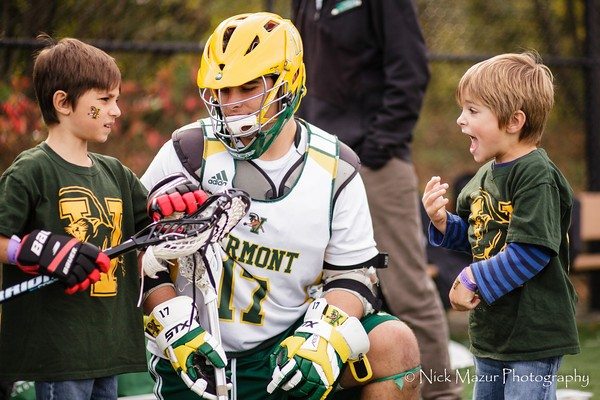 The 2013 Northeast Classic – Face Off Against Cancer (formally the Catamount Classic) is scheduled for Saturday, October 12th and 13th at Thayer Academy's off-campus turf fields in Braintree, Massachusetts.
This year we are combining four tournaments into one – Saturday, October 12th will be a D2/D3 men's college lacrosse tournament as well as an adult club tournament. Sunday, October 13th will be the D1 men's college lacrosse tournament followed by a U13 youth lacrosse tournament in the afternoon. The event gates open at 7:00 am on Saturday and 8:00 am on Sunday. 100% of the proceeds from the event are donated to cancer research at the Dana-Farber Cancer Institute.
This years college teams include: Bentley University, Boston University, Endicott College, Hartford, Holy Cross, Lasell College, LIU – Post, Mercy College, Mouth Ida, New England College, Post University, Providence, Quinnipiac, Sacred Heart, Southern New Hampshire University, St. Michael's College, UMASS – Boston, University of Vermont and Wentworth Institute of Technology.
The Classic has two adult club team spots available on Saturday and five U13 boy's youth lacrosse club team spots available for Sunday. If your team is interested in competing please contact Kelly.Curtis@northeastclassic.org for more information. The adult club teams will play full-length scrimmages and the boy's youth teams will play at least three games with 20 minute running halves. All of our games have professional officials courtesy of ZLax Referees and scissor lifts on each field for film courtesy of TJM Rental and Supply, Inc.
This year our vendors include: Adrenaline, Core Power, Curtis Lacrosse, Evolution 101.7, Global Players, Harrow, Jam'n 94.5, Kiss 108, Muscle Milk, STX and Tennessee's Real BBQ. The Classic will also run a silent auction both days with over $10,000 worth of donated prizes including Patriots tickets with a VIP pre-game tailgate in the Dana-Farber Field House, vacation packages, spa gift certificates, golf greens fees and more! Last years 50/50 ticket winners went home with over $600 in cash!
Head over to our online site to buy tickets in advance and get VIP parking onsite visit.
Make sure to 'Like' us on Facebook for event updates.
Come out and enjoy an amazing day of lacrosse for a great cause!!!
[Photo Credit to Nick Mazur Photography and Thom Kendall Photography]