A little bit of magic from the UMD – UVA game that was on ESPNU today.
____________________________________________________________________________________________________
Shamel Bratton was suspended for the 2nd time this season, his Senior year.  What is up with that?  Once I can forgive.  Note, I didn't even have anything to say about that.  These college players are still young men and still learning.  And everyone makes mistakes. But a second time in one's SENIOR season?  Doesn't look like we're learning our lessons here.  Shamel still can't shoot efficiently (2 for 11 against Hop) and while 102 mph and about 3 points per game is great, it's not so great when a bunch of shots go right into the goalie's stick or you constantly visit pipe city.  Never seen someone hit so many pipes in my life.  Shamel could be dominant.  No question about it.  But, for the most part, he really hasn't been yet.
Rhamel has been called (by some) one of the best 2 or 3 two-way middies in college lacrosse.  Not a chance that's true.  Chris LaPierre and Colin Briggs are better two way middies than Rhamel and they are on UVA.  Jeremy Thompson and Jovan Miller at Cuse are MUCH better two-way middies.  Dan Burns at UMD is better.  Hell, LSMs Brian Farrell and Joel White are better two-way middies than Rhamel.  This really struck me last week when a couple of Hop goals were pretty clearly on him… just missed assignments.  On one he was the low post in something of a hybrid zone D, and seemingly had no idea what he was doing.  Rhamel is also not a punishing dodger on offense, and he doesn't distribute that well.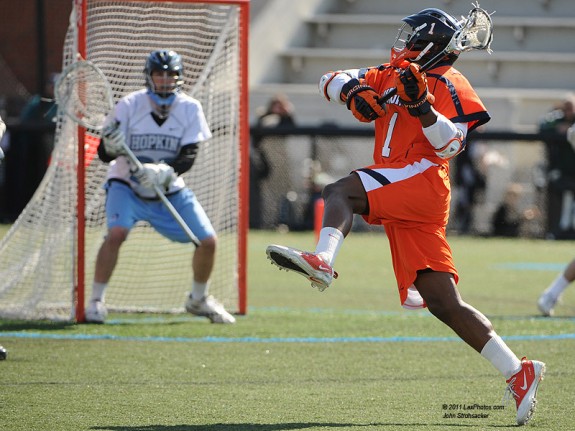 Photo courtesy Lax.com
Both of these guys are 100000x better than I could ever be.  I know this, and I'm NOT criticizing them.  I still think they're exciting players to watch and that they play the game with flair and passion.  However, I just keep hearing them get mentioned as the type of players that are going to change lacrosse.  Honestly, I don't see it.
Some will point to UVA's loss today, and the fact that they only scored 7 goals, and say that Shamel was sorely missed.  Nonsense.  UVA's problems would not have been solved by one more fast middie with a rocket shot.  They actually have a couple of those already in Briggs, Rhamel and Haldy.  UVA lost because they had to rely on that type of offense and while Shamel may have made the game closer, I don't think he was going to be a difference maker.
And did Rhamel drop a couple Gs today?  He sure did.  But for the most part, they were created by other people, and Rhamel just scored from 10 yards with time and room.  Honestly, I can actually do that.  Seriously.  So if that's what they're bringing to the table, color me blasé.  Now when these guys get to the MLL, where defenders are given free reign to mug you in public?  I have a feeling they'll do ok for a couple years, use their speed while they're playing and then disappear as the newer classes of super athletes enter the league.
I'm sure some of you will think I'm crazy.  I'm down to discuss it and be persuaded otherwise.
__________________________________________________________________________________________________________
UMD players were seen rocking K18s like crazy. Some still had the Assault gloves on though, including their goalie. Why do teams seem to drop the Assault gloves so much? Ok, sure, it's really just Hop but I seriously don't get it. Let me be honest here, I find it SHOCKING that STX could have made a high-end glove that wasn't protective enough. Shocking. It's just not their game. Their gloves have always been pretty solid. Why would a rash of broken and injured fingers suddenly emerge in 2011, as the rumors go, with the Assaults?
Photo courtesy Lax.com
Maybe the K18s are just the Packard (automobile) of lacrosse gloves: they're so good that players won't move on from them to something new and the tried and true design works. I don't know, but it's possible. We're working on a comment from STX on this matter.
___________________________________________________________________________________________________________
Maryland Defender, Max Schmidt, hits Colin Briggs with his head and gloves, and the impact is to Thompson's head.  It was not an intentionally or severely vicious hit, and #9 got just a minute in the sin bin for it. Schmidt certainly led with his hands, but went right to the face and upper chest of Thompson… but then the announcers question penalty (around 12 min left in 2nd).
Yes, it wasn't "head to head", but Schmidt hit Thompson in the head, so what exactly is so hard to understand here?  And I agree, a couple of years ago, that wouldn't have been called a penalty.  Now it is.  The refs have started to get it, now it's time for the rest of us to catch up.
In the third quarter, when Rhamel Bratton was laid out, the announcers decided it was a late hit.  But it looked like a lot of head contact to me.  Sure, it was a little late, but it was definitely high.  The point is, if that hit isn't high, it probably isn't a penalty.  We're calling head shots for a reason.  And need to keep it in the discussion when it happens.  I don't think the announcers were intentionally minimizing it at all, and they certainly could have missed it, but headshots are an unnecessary part of the game, so I believe the announcers should actively talk about them.
Feel free to disagree in the comments!