Well, the NJCAA lacrosse season is officially over. As many thought would happen earlier in the year, Onondaga CC won out, and took home their fifth straight national title. They finished up at 18-0, and currently hold the all-time record in all of college lacrosse for consecutive wins with 70.
If 2014 is anything like 2013, we can expect the Lazers to add to that already impressive total.
First up in this final JuCo Report…
Interview with OCC's Chuck Wilbur
I'm sure you hate to "rank" your past teams against one another, so instead of asking where this team stacks up, I'd love to hear about what made this team different, and successful in their own way?
We were injured all season. Rodd Squire (one of our top mids) didnt play until the last few weeks, and even then he was only playing on one foot. We lost a starter at attack (all world) Seth Oakes. We lost the best face off guy in JuCo, and one of our better offensive mids, in Vaughn Harris. It never fazed these guys, the next guy in line stepped up, and we played on without losing a beat.
We never had our best team out on the field all season, but these guys kept things rolling. If healthy all season, this team could have been up there as one of our all-time elite teams.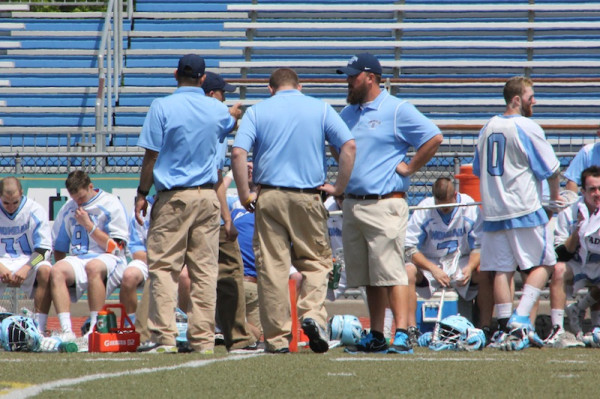 You have kids on your team that will be on Division 1 rosters next year who did not step on the field much in the NJCAA title game. Does that say anything about the quality of play in the NJCAA?
We have several back ups who will go on to play at Division 1 and 2 schools. There are several guys who were back ups last season for us, that are starting at top D2 schools currently, and some are leading scorers for their teams. JuCo lacrosse is overlooked a lot when you consider how much talent is actually here, and with the teams we play against. We have also scrimmaged several D2 and D3 schools over the years… and the top teams in Juco have more talent on their rosters than many of the 4 year schools that we see on the field.
Herkimer won 5 straight titles (but you know all about that!), and now OCC has won 5 straight. Are you starting to look ahead to next year at all? Does that next goal of "six straight" change anything for you?
You always start looking ahead as a coach to the next season. We are just trying to reload to keep this thing rolling.
Define simple success for OCC. Is it about titles, moving players on to NCAA schools, or something else? Underneath it all, what is the driving force behind OCC lacrosse?
Team success will bring individuals those individual accomplishments. That is what we live by here. Our kids go on to very good 4 year schools because of our team success. The kids come here to help get a door open for them at the 4 year level, and it is my job to assist them in getting there.
For more on OCC's title win in 2013, check out the highlight video we made, game photos, and the full game broadcast online
NJCAA 2013 Hall Of Fame Class – Lacrosse
The following people have been inducted into the NJCAA Hall of Fame. According to the NJCAA website, "the selections below were made by the NJCAA Men's Lacrosse Coaches Association hall of fame selection committee, made up current inductees, past coaches association presidents, and administrators.
Charles Hardy – Two-time AA at Nassau where he led the team in scoring, Hardy was also a member of the first ever official NJCAA championship team in 1970. Nassau went 31-1 in his time there with 28 consecutive wins. Hardy scored 174 points, with 117 of those being assists. He went on to UMass where he led the team in scoring twice, amassing 146 points, and 60 assists in his Sr. year. Hardy also started the HS program in Reading MA and was named the Massachusetts HS Coach of the Year a few years back.
Terry Wallace – Wallace was on the same team as Hardy, and where Hardy was the set up man, Wallace was the finished. He scored 60 goals his first year, and 57 his second from the crease attack position, but what makes Wallace special is not only what he did on the field. It's also what he did before Nassau. Wallace fought in Vietnam for three years before enrolling at NCC. He won three purple hearts and Cross of Gallantry during his service. Bullet wounds in his legs did not stop him becoming a dominant force at NCC, and he went on to be a 2-time AA again when he went to Adelphi.
Arthur Seekamp – Seekamp is yet another NCC guy, and he played for the team the two years after Wallace and Hardy had departed. Seekamp was a dominant defenseman who went on to play at Maryland, where he was an AA in 1974 after being a two time NJCAA AA.
Harold McVey – McVey played one year with Seekamp, and then had another at Nassau before transferring to UMass and then Adelphi, where he was an All-American at each school. McVey still referees lacrosse in Suffolk County, NY.
Dave Klarman – Another NCC guy. What a shocker! Klarman was a beast at NCC, won two titles as a defender, and then went to UNC where he was an AA in 1975. He coached UNC from 1991 to 2000 and won a D1 title in 1991, his first year with the program.
Mickey Menna – Menna is another NCC guy, who also went to UMass where he was an All-American. Menna also coached at Suffolk CC in the NJCAA ranks.
Kevin Cook – In 1982, Kevin Cook led NCC to yet another title. He then went on to Cornell where he was a two time AA in 1983 and 1984. Cook stuck with the game in a major way and represented Team USA in 1990, and 1994.
Tom Rotantz – Rotantz was a two time All-American at Suffolk in 1978 and 1979, and he helped lead Suffolk to a NJCAA title in 1979 as a defenseman. Rotantz was also an All-American at Adelphi, where won another title in 1981.
2013 NJCAA All Americans
First Team
Warren Hill – OCC – Goalie – Fr
Calvin Bollar – Nassau – Defense – So
Logan Tousaw – OCC – Defense – So
Ryan Vella – OCC – Defense – So
Matthew Ward – Harford – Defense – Fr
Brandon Goodwin – ASA – Midfield – So
Tony Rossie – Essex – Midfield – So
Vaughn Harris – OCC – Midfield – Fr
Michael Iacono – Nassau – Midfield – So
Casey Jackson – ASA – Attack – So
Richard DeMicco – Harford – Attack – So
Jordan Saunderson – OCC – Attack – So
Randy Staats – OCC – Attack – So
Second Team
Brady Lawrence – Genessee – Goalie – So
Thomas Yancheski – Harfford – Goalie – So
Jordan Carlock – Suffolk – Defense – So
Josh Rufolo – Essex – Defense – So
Joe Balestrieri – Essex – Midfield – Fr
Tim Barber – OCC – Midfield – Fr
Brett Williams – OCC – Midfield – So
Nicholas Manning – OCC – Midfield – So
Kenneth Meinsen – Suffolk – Midfield – So
Marcus Palvino – Genessee – Midfield – So
Christian Reiller – Genessee – Attack – So
John Brandofine – Nassau – Attack – So
Kevin Teresky – Nassau – Attack – Fr
I have thoroughly enjoyed covering the NJCAA Men's Lacrosse action this year. I have TWO more big JuCo stories to drop in June, so stay tuned for that. Should be some BIG stuff. Thanks for reading, and for allowing me to cover this wonderful corner of the college game. Next year will be bigger, brighter, and better. I can feel it already.