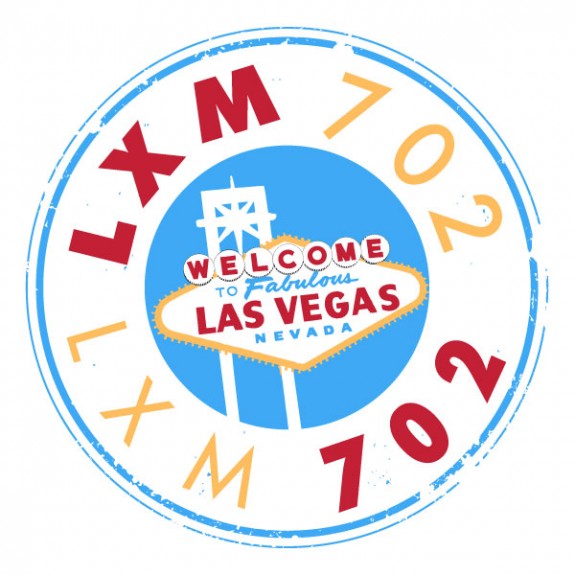 On the weekend of December 1st-4th, I was in Las Vegas at LXM PRO 702. I, Jonny Vegas, decided to drive to Las Vegas a day early, on the 1st, to have an extra day in Sin City.  About 3 months ago, my friends at LXM PRO, asked me to assemble a Men's club team to play against UNLV at the LXM pro 702 event.  Being from Southern California, I decided to form a team called the, SoCal LaxStarz.  Many of the players on the team are also teammates of mine on the Conejo Valley Bombers Men's club team.
The night before LXM PRO 702, the LXM held their first ever Open Run (basically an open try-out), and I tried out along with several of my SoCal LaxStarz teammates, my friend Joe allen from HeadWrapz, and several other players.  The way the try-out was set up was that the LXM invited the UNLV lax team to play a game against a team consisting of everybody trying out, plus the following Lxm pros: Mikey Powell (still the G.O.A.T in my opinion), Kyle Harrison, Chazz Woodson, Brett Hughes, Brett Moyer, Max Ritz, Maxx Davis, Shamel Bratton, Rhamel Bratton, Sean Morris, and Andrew Casimir!  That game was followed by a couple of drills.  Playing on the same team as all of the Pros/Lacrosse greats that I listed above was by far the Highlight of my Lacrosse Career!
I took several face-offs, I delivered some big hits, played some solid defense, and I played well on offense as well!  The LXM ended up choosing goalie, Curt Boshnack to make his Lxm Pro debut the next day at LXM 702!  My LaxStarz teammate, Curt Boshnack is not only a Marine but he is an incredible goalie!  I did not get chosen to play the next day at 702, but I will be trying out at the next LXM event that is close to home (either in southern California, or Nevada).  702 was a great event, and there were a lot of fans of all ages in attendance.  Team STX took on Team HeadWrapz, with Team STX taking the win by a score of 10-8! The Rosters for both teams were stacked with talent!
Team Stx had (G) Matt Russell, (D) Tom Cecere, (D) Chris Passavia, (D) Brett Hughes, (D) Casey Connor, (D) Trey Whitty, (D) Nick Gradinger, (M) Mike Von Kamecke, (M) Kyle Wimer, (M) Ben Defelice, (M) Maxx Davis, (M) Shamel Bratton, (M) Rhamel Bratton, (M) Kyle Harrison, (A) Chazz Woodson, (A) Max Ritz, (A/M) Brandon Corp, and (G) Curt Boshnack(Chosen from open try-out). Team HeadWrapz had (G) Alex Hewitt, (D) Brian Kelly, (D) Ryan Flannigan, (D) Matt Drenan, (D) Andrew Casimir, (D) Brett Moyer, (M) DJ Andrzejewski, (M) JR Oreskovich, (A/M) Thomas Muldoon, (M) Chris Ajemian, (F/O) Jamison Koesterer, (M) Sean Lindsay, (M) Brendan Porter, (M) Greg Peyser, (A/M) John Christmas, (A) Mikey Powell, (A) Zack Greer, and (A) Sean Morris.
To all of the Laxallstars readers: Attend the next LXM PRO event that is near you! You will have a great time watching an action packed lacrosse game, and if you are over the age of 18, you could even test your skills in the Open Run.  Even if you don't think you'll make the LXM roster, you will still have the opportunity of a lifetime to play with the pros! Below you will see an interview with the guys that run LXM pro, and below that is an interview with Curt Boshnack (the open-run winner!).
Interview with LXM Pro:
Jonny Vegas: How did the first ever Lxm Pro Open Run go?
LXM PRO: It went very well. We were thrilled with the turnout and overall energy of the first ever LXM Open Run. The guys who showed up were ready to compete and had clearly been preparing for this opportunity. While there was clearly a very competitive tone to the event, it was clear everyone there had a real passion for the sport and being part of its growth. I thought having one of the LXM pros address the group after the session and talk about the fraternity and brotherhood of lacrosse, regardless of where you played in high school, college, or currently play was a very perfect end to a great night of lacrosse.
Will LXM pro have an open run (open try-out) at every event from now on?
Our plan is to include the Open Run at all LXM pro events moving forward. It's a great way for us to connect with the post-collegiate players and get a feel for the talent all over the country.
LXM pro has a very bright future, and I'm looking forward to playing in many more open runs! What advice can you give to the Laxallstars fans/readers that have dreams of being professional lacrosse players?
I'm glad you're so excited about coming out to future Open Runs and LXM pro Events! Your question is a tough one… There are a lot of things players can do to differentiate themselves and stand out. I think the best thing you can do is to know what you do very well and try to showcase that skill set. If you're an inside finisher, don't step out to the perimeter and try to dodge. If you're a great athletic defensive midfielder, don't try to be a playmaker on offense. At the end of the day, you have a short window(one evening) to show that you belong on the same field as some of the legends of our sport. That's a tall order but as we saw in Vegas, the open run guys really stepped up to the challenge. I think we saw the tip of the iceberg of what these sessions will become.
Interview with Curt Boshnack, the goalie that made his pro lacrosse debut after going through the Open Run:
Jonny Vegas: Curt, how long have you been playing lacrosse and where did you play in college?
Curt Boshnack: I've been playing lacrosse for 11 years now. I played at a couple of different colleges: 2005-2006 season I was at Herkimer County Community College, 2006-2007 season I was at Monroe Community College, and then I transferred to SUNY Brockport for the 2007-2008 season. I played fall ball and then left for the Marines in 2009. The last year I was home in 2008-2009, I was an assistant coach for the Greece Thunder Varsity team at my old High School. That year I got assistant coach of the year for Monroe County in upstate New York. That was a great accomplishment for me in my lacrosse career because 1) It was a good way to give back and teach kids who were just as passionate about the game as i was, and 2) I wasn't sure if I would play or coach lacrosse again after leaving for the Marines, so I felt it was a good way to leave the game of lacrosse.
You played in the first ever LXM PRO Open Run and you were selected to play for Team STX at 702. How did it feel to get that call saying you made the team?
I was very surprised to get the call. I thought I played well but I'm always hard on myself so it was a great feeling to know I was going to play in LXM PRO 702.  Thank you to the LXM Pro players and Xander Ritz for selecting me.
What advice can you give to the next group of players that play in the next LXM PRO Open Run?
I'm always in great shape because of the Marines so that helped, but you know what?  I actually didn't train too much before.  I had a few practices and scrimmages with the Camp Pendleton Lacrosse team in California.  I actually heard about the tryout last minute.  My advice is to not over-think playing with higher caliber lacrosse players, just go out and play your game, just like you would in any other normal lacrosse situation.
I want to say thank you for serving our country! Matt Russell is an LXM PRO, and was your teammate on Team STX.. Matt Russell played for the Naval Academy in his college career, how was your experience playing on the same team as Matt Russell?
Thank you for your support!  It was an amazing experience to play on Team STX and especially meeting a decorated keeper like Matt Russell.  He is definitely a goalie I look up to.  He actually warmed me up before I got shots from Kyle Harrison and the Bratton Brothers.  I had the opportunity to meet Matt Russell's parents and they were very nice as well. They actually emailed me some pictures they took at the event.  All in all, I'm truly blessed to have had the opportunity to play with some of the lacrosse greats and I couldn't have asked for a better first experience in Las Vegas!  Thanks again for asking me to play, LXM!  Talk to you soon!
Enjoy the pictures below from LXM Pro 702!
'til next time Lax All Stars…
– Jonny Vegas