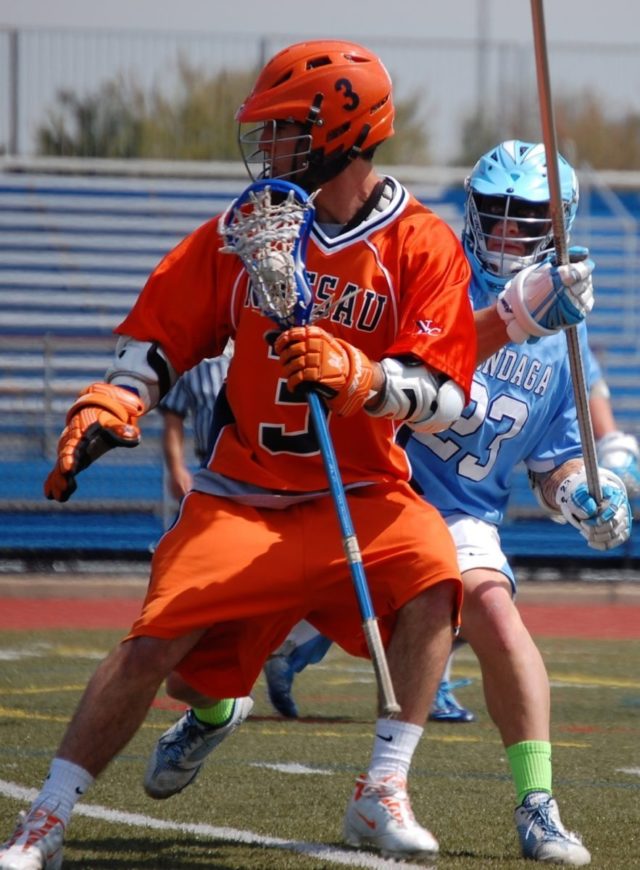 If you haven't been paying attention to NJCAA lacrosse, and want to catch up, check last week's Report to get up to speed.
If you'd like to see your team featured in the next JuCo Report, send us an email with video, photos, insider information, or tips. Help us power the machine! Just place "JUCO" in the subject line!
Painting A Playoff Picture
Even though it's only April 3rd, the JuCo playoff scene is really starting to develop in earnest. Six teams get invited to the NJCAA National Playoffs this year, and with 5 automatic qualifiers handed out to the five different regions of JuCo lacrosse, the one at-large is a hotly desired and contested spot.
As things currently stand, it is hard to see anyone outside of Onondaga CC winning the Eastern New York bid. It would also be a surprise to see someone other than Genessee take the Western New York bid. Maryland isn't as set in stone, but Essex looks like an extremely strong contender to take that slot. New Jersey is very much up in the air still, and Region 15 is coming down to Nassau CC, Suffolk CC, and ASA College.
If the above scenario plays out as it looks like it will, then two of the Region 15 teams, Harford, AACC, Monroe, and Delhi will be some of the front runners to take the at-large. I'll be back next week with more on the precise tournament criteria (it differs from that of the NCAA), but from what I can tell so far, it looks like Delhi may have the inside track, barring any upset losses.
NJCAA Top Ten
Onondaga Community College (Syracuse, NY)
CCBC-Essex (Baltimore, MD)
Genesee Community College (Batavia, NY)
Nassau County Community College (Garden City, NY)
SUNY Delhi (Delhi, NY)
Suffolk County Community College (Selden, NY)
Monroe (Rochester, NY)
Harford Community College (Bel Air, MD)
Howard Community College (Columbia, MD)
Brookdale Community College (Lincroft, NJ)
Also receiving votes:
Anne Arundel Community College (Arnold, MD)
Delhi Tops Monroe
Then #7 SUNY Delhi took on then #5 Monroe at NCAA D3 Hartwick College last week, and Delhi emerged with a 13-11 win to move to 5-2 on the season. David Fernandes and Devlin Clarke led Delhi with 4 goals and 4 assists, respectively. Jake Guy and Jordan Owen each had 2 goals and an assist. Matt Sialiano made 10 saves for the win in cage.
Monroe was led by Kori Halftown and LeRoy Halftown, who each had five points on the day. Kori had 4 assists and a goal, while LeRoy had 4 goals and a helper. Alex Howell made 12 saves to take the loss for Monroe. Delhi outshot Monroe 60-35, and picked up more GBs, 44-27. Delhi also held a slight edge in face offs, winning 13 of 24 in the game.
Finger Lakes Tops Tompkins Cortland
The FLCC men's lacrosse team defeated Tompkins Cortland Community College today by a score of 19-5. FLCC improves to 5-6. Tompkins Cortland falls to 1-5. FLCC plays next on Wednesday April 3rd versus Alfred State. The game is at Alfred State and faceoff is slated for 4pm.
Jack Timerson and Robert Pelkey each finished the game with 5 goals apiece. Timerson also added 4 assists to finish with 9 points on the day. Pelkey had two helpers to finish with seven. You can see much more from the game on Finger Lakes' website.
Nassau Vs Suffolk Video
It's a Long Island county rivalry thing, and it's awesome.
NVCC's FIRST EVER WIN!
Congratulations go out to Head Coach Anthony LePore and the entire Northern Virginia CC men's lacrosse team on their first ever full fledged NJCAA win. After two closes games against Union (15-14 loss) and Morris (14-9 loss), NVCC put it all together and beat Delaware Tech 15-14 for their first program win.
OCC Vs Essex Highlights
Good to see IL covering the NJCAA a bit.
Poll: Who Will Win Region 15?