In an age where government is often lamented as being "too big and invasive", two members of the Maryland General Assembly are taking things a step further, as they are actually trying to legislate protective headwear into the sport of women's lacrosse, through a bill in the Maryland General Assembly. Soft head gear is already allowed in girls' lacrosse, but this bill would make some sort of helmet a requirement in the state of Maryland, for players under 19 years of age.
My immediate reaction is one of surprise, as I didn't know that lacrosse was something that a state assembly would be regulating! I'm glad they're paying attention to the sport, but aren't there regulatory bodies from inside the game itself that should be handling this sort of thing? Is it really the place of a State's governing body to step in and create a law about head protection in lacrosse? Or has US Lacrosse dragged their feet on this issue for too long? And did change have to come from the outside? Was change even needed?
I have so many questions…
Let's start out with a little background on the bill, and why it is so contentious:
John Cardin and Dana Stein, the two representatives who are sponsoring the bill (Maryland House Bill 1123), seem to think that no, this is not outside of their purview, and that yes, it is the place of the state to get involved. It's clear not everyone agrees.
Steve Stenerson, President and CEO of US Lacrosse, had this to say in a statement:
US Lacrosse appreciates the Delegates' concern about athlete safety, but we don't understand why they chose not to contact the sport's Maryland-based national governing body, and the respected physicians and researchers who comprise our Sports Science and Safety Committee, to learn what is being done to address this important player safety issue before introducing short-sighted and confusing legislation.

Prevention of head injuries in both men's and women's lacrosse continues to be a priority of US Lacrosse. We are actively engaged in numerous interventions focused on reducing the risk of head injury in both men's and women's lacrosse, and we have been recognized among the national sports medicine community for our collaboration and proactivity in this regard.
However, from Delagate Cardin's point of view, it's clear that enough was simply not being done:
I'm well aware that there are legit arguments on both sides on this. I think we need to push the conversation before more people get hurt. There's an argument to be made that if you have more protection, it gives ground for referees to allow for rougher and more damaging play. Just because you have protection doesn't mean you have to player rougher. I don't buy that argument.
Cardin played lacrosse at Tufts, and also sponsored the 2004 bill that made lacrosse the official team sport of Maryland, so it's not like he has no experience with the game, at least on the men's side as a player. At the same time, it does seem like the Delegates believe they simply know best, as they seem to be legislating on not "buy(ing) that argument", even thought it has been deemed "legit". At the very least, that seems like a risky approach.
In the end, it seems like this move was really made to push US Lacrosse to action, and a joint statement from Cardin and Stein says a much:
…because US Lacrosse has no timeline for recommendations and no requirement for those recommendations to develop into actual rules, Stein and Cardin hope the legislation will expedite movement towards a safer playing environment.
Basically, Stein and Cardin were fed up with the perceived inaction of US Lacrosse regarding concussions and head gear in the women's game, so they introduced a bill that could force US Lacrosse to act.
While I can appreciate their concern for the participants in women's lacrosse, I'm a little surprised that these two delegates immediately went with legislation as their first major move. According to the first quote above, from Steve Stenerson of US Lacrosse, the Delegates didn't utilize or contact US Lacrosse, and that seems like a major oversight, which turns this move into a political play. Cardin and Stein's statement directly above reinforces that it was a political play.
Where the Cardin & Stein/US Lacrosse argument is falling short:
I'd love to know if these two Delegates got any data from Massachusetts, when high schools made helmets mandatory for women's lacrosse for a couple of years back in the 1980s and 1990s. They wore hockey helmets back then. I'd love to know if US Lacrosse has those numbers as well. If no one has looked at those numbers then no one is doing their research. I'd also like to know if anyone has talked to the Bullis School, since their girls started to wear helmets in 2012. Neither the Delegates or US Lacrosse made any of that info available, nor did they base their statements on recent studies.
In the end, it's a little sad that both US Lacrosse and the Maryland General Assembly are playing politics with lacrosse, and playing off of "beliefs" instead of truly working together to find the right answer. Both sides talk about "arguments" but neither has really presented us with the actual research, or any useful numbers, to back up their point of view, in this most recent flare up.
So since Stein, Cardin, and US Lacrosse all seem unwilling to truly address this issue head on, and in an open and honest way, I thought it would be helpful to get some perspective from some women who play and coach the game:
Nicole Dyrdahl – LAS Writer, Women's Coach:
I think that as the sport increases in popularity, becomes more competitive, and girls become bigger, faster and stronger, the sport needs to adapt. As a player who didn't see many concussions, and now as a coach who does see many, I think Maryland is paving the way for what will be a mandatory rule for teams and players across the nation in the next 5 years. Although the first rule of lacrosse is to honor the Creator's game, right along with that is the idea that we need to honor the Creator by playing the game safely.
Cat Conway – LAS Writer, Women's College Coach:
It is my opinion that this piece of legislation is short-sighted and inflammatory to an already hotly debated issue. There is a lack of evidence that links helmets with decreased incidences of concussions. A helmet is meant to prevent blunt force trauma – fractures or breaks to the skull/face. Helmets do not prevent the CAUSE of concussions – the brain hitting the inside of the skull and swelling.

Players wear helmets in the NFL, but how many of them suffer from CTE (Chronic traumatic encephalopathy) now? Soft skull caps are meant to protect existing soft tissue contusions, not prevent concussions. This is like the soccer head gear craze of the early 2000's. If the Delegates from Maryland have figured out how to keep the brain in place on impact to actually prevent concussions, I'm all ears.
NCAA stance on soft head gear in non-helmeted sports:
The NCAA does not view the use of soft headgear products as equipment for the prevention of  concussion in non-helmeted sports. As explained below, soft headgear products may be worn in non-helmeted sports whose rules allow for such optional equipment, but the purpose of that equipment should be for reasons other than concussion prevention.
NCAA clarification of concussion/headgear:
Michael Oliver, the executive director and legal counsel for the National Operating Committee on Standards for Athletics Equipment (NOCSAE), said soft headgear can't stop that whipping type of impact. He said the soft padding in the headgear – the most popular of which are the size of a large headband – doesn't distribute the energy of a collision over a wide enough area to stop the direct impact, nor can it prevent the head from rotating.  "It can't address it from a physics standpoint," Oliver said. "We have a good understanding of what we're trying to protect against. And when you know that, you understand that soft headgear does not address those forces that are likely to cause a concussion.
Tweets from Liz Robertshaw, Coach at BU, and President of the IWLCA, the governing body of collegiate women's lacrosse: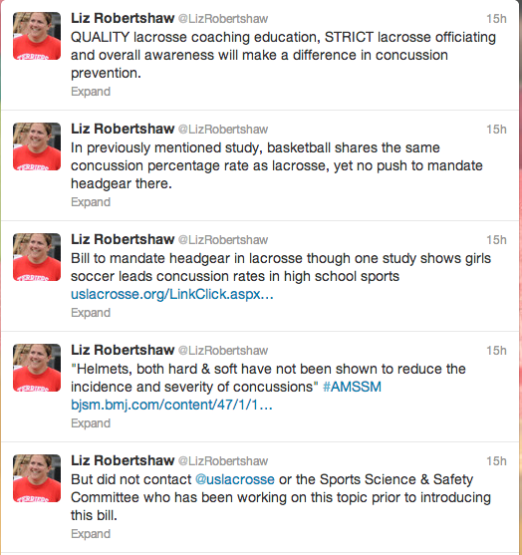 So far, it seems like the only people citing studies on concussion reduction are in the anti-helmet crew. It seems like soft helmets do not reduce concussions, and even hard helmets (like the ones the men use) are not designed to prevent concussions either.
We'll keep you updated on how this story continues to develop, and will be looking for the most accurate studies we can find. Both sides clearly feel strongly about their argument. Now it's time to settle this with science and math.
Dog in a hat "Simon does not agree" photo credit: Mike Mason