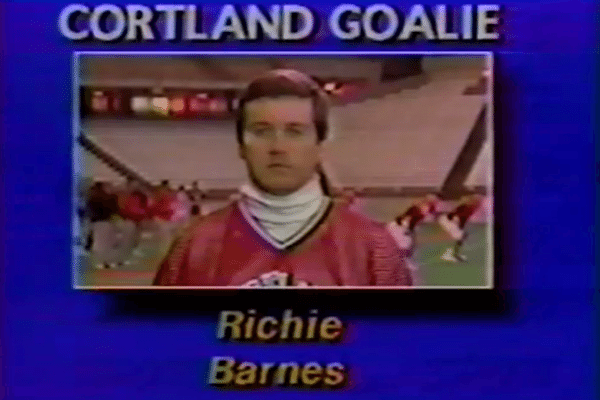 Welcome to Throwback Thursday! This week we're showing off a great full game video from 1989 featuring Cortland State (NCAA D3) and Syracuse, the defending NCAA D1 champions! Back in the 70s, 80s, and even 90s, it was relatively common for D1 teams to play D3 teams, and even club teams, as the number of lacrosse playing colleges was much smaller.
Once the number of teams grew, these D1 vs D3 games began to die out. Some, like W&L vs VMI, continued on through the 2000s, but most of the teams began to only play against others teams in their division. Cortland State remained in D3 while another small school in Upstate New York, Hobart, decided to move up to the D1 level permanently in 1995 to keep the rivalry games going with D1 schools.
While the D1 vs D3 game is interesting by itself, this Cuse team was absolutely loaded with talent, and had both Gait brothers, Tom Marachek, John Zulberti, Rodney Dumpson, Matt Palumb, and Pat McCabe on the roster. Cortland was ranked 4th in D3 at the time, and had put up 10 goals on Cuse the year before… the idea was to play the best team they could find early on, and then all of the other games would be easy, at least by relative standards.
While this didn't quite work out (Hobart was the top team in D3 that year), it's a great mentality. Cuse ended up winning this game comfortably, but there is no question it helped make Cortland better. After all, there is nothing like playing against the best! And to put things in perspective, this Cuse team put up 27 goals on Rutgers later in the season, beat Penn 22-1, and took down Hopkins 13-12 to win the D1 title.
Cortland Vs Syracuse 1989
The Cortland Red Dragons were pretty stacked up with talent in '89! Jeff Klodzen was a beast of a defender, especially for D3, and who was in net for Cortland? Rich Barnes! You know Rich Barnes, he's a lacrosse photographer AND he coached Cortland to a national title in 2006. Joe Buffalini is another recognizable name for many, and he was Cortland's top face off threat.
Subscribe to LaxAllStars and Lax School on YouTube for more great lacrosse video!