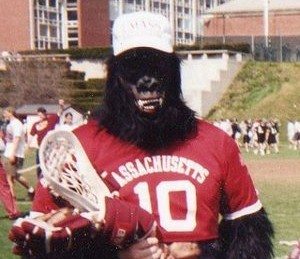 Welcome to the new and improved world of Old School, now called Throwback Thursdays!
Four weeks ago we featured an epic spread on Chazz Woodson, three weeks ago the crew from Trilogy Lacrosse answered with vigor, and then Neal Powless went even further into the past. Last week, the Powells made it a family affair. It's been an EPIC month of Throwbacks!
And this week's photo is no different! It comes to us from Jim Kennedy, who played at UMass in the 90s, back when the famous Garber Field was still grass.
Garber is now a turf field, but it still brings out the ZooMass faithful on a nice, sunny day, and the hill, seen in the background is a great place from which to take in a game. UMass' official mascot is the Minutemen, but the lacrosse team has long been known as "Garber's Gorillas", at least in an unofficial capacity.
For more on the Garber Gorillas, check out this UMass Magazine Online post, and for more Lacrosse Throwback posts, check out the Archive!
If you want some Old School style shorts, kind of like what the Gorilla is rocking, look no further than here.