Thursday!
Wednesday!
Tuesday!
Monday!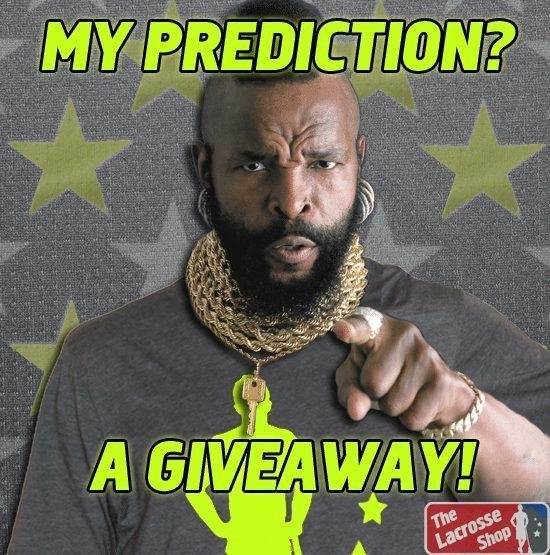 If you haven't figured out yet, we are all about giveaways and finding new, creative ways to give our supporters free stuff. With the immense amount of popularity surrounding the new Clubber line of gear, we wanted to give a few lucky supporters one of the official jerseys from the 2012 Team LAS squad that recently played in the Brawl in McCall!
The Lacrosse Shop is excited to announce our Clubber Tee 5-Day Giveaway!
The giveaway will start on Monday, August 13th at a time that will be announced then. Each day, we will announce the giveaway at a random time. It could be 11:07 am, it could be 5:29 pm, or any other moment throughout the 1,440 minutes there are in a day.
Here's how it works. As soon as we announce the giveaway, the FIRST person to make an order from The Lacrosse Shop, wins a Clubber tee. Pretty simple right?
Don't worry though, we will be doing this ALL WEEK LONG! As there are five days in a week, you will have five chances to win.
Clubber Lang wants to make sure you understand a couple things first.
Each person can only win

once

, we wouldn't want to give all five tees away to the same person. Spread the love!
The order has to go completely through, each order is time-stamped in our store, allowing us to see who was first after the announcement.
Equipment items in The Lacrosse Shop are excluded from the giveaway, as those are through our good friends over at Lacrosse Panda (minus the LAS America Shaft and TLA Lacrosse Shaft).
I pity the fool who isn't prepared! Search around the store for your favorite LAS items so you can be ready to go when the announcement is made.
Are you excited? We certainly are! Head on over to The Lacrosse Shop and start filling your cart so you can be ready to check out come Monday.