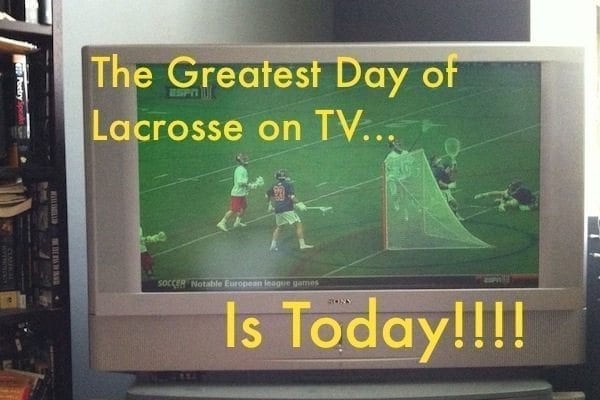 There is more high quality lacrosse on TV (and online) today, than there is on any other day of the year. That is a pretty tough augment to make in general, but I think that May 10th lives up the hype in more ways than one! Below I'll run down the full slate of games going down today, and how you can watch as many of them as possible!
NCAA D1
If you're looking for D1 lacrosse, look no further than ESPNU on your TV, and ESPN3 online. Every single D1 men's game today will be on TV, and the games kick off at Noon with Loyola hosting Albany. Then, at 2:30 we get Harvard Vs. Notre Dame, also on ESPNU. We stick with the U at 5pm when we are treated to Cornell Vs. Maryland. The D1 college scene caps off with a promising thriller that has Denver hosting UNC at 7:30 ET. ESPNU has you covered, and I'm sure they'll take the extra step to greatness this weekend.
National Lacrosse League
The Lacrosse Network will live stream both NLL semifinal games tonight. at 7:30pm, Rochester heads to Buffalo for Game 1 of their series. TLN has the broadcast. A little later, at 9pm, you can watch the visiting Edmonton Rush take on the Calgary Roughnecks in their series opener. These are short (two game, with a deciding mini game if needed) series, so tune in early. It's not going to seven games… we'll be lucky if it goes to 2.25 games! Get on this early. It's the playoffs, baby! That is also on TLN.
Major League Lacrosse
There are three MLL games on tap this Saturday, and all three will be on CBS Sports, MSG+, or The Lacrosse Network. The action kicks off at 3:30pm, with Chesapeake at Charlotte. This game is on CBS Sports (on TV!). At 6pm, the Denver Outlaws take on the Boston Cannons in Boston, and this game will be broadcast by TLN. The night game, which features the Ohio Machine at the Florida Launch, will be broadcast on ESPN3, MSG+, or DirectTV Channel 63 at 7pm. Not a national game, but still cool if you can watch it!
NJCAA National Semifinals
At 1pm, Onondaga CC takes on Anne Arundel in the first NJCAA semifinal. The game will be played at Nassau CC's Mitchell Field, the game will be broadcast live online through NJCAA TV. This is a JuCo game to watch to be sure! The second game is at 3:30pm, and it has Nassau CC taking on CCBC Essex, in another exciting matchup. You can catch that game on NJCAA TV as well.
NCAA D3 – Webcasts
Salisbury hosts York at noon. The live webcast can be found here. RIT hosts Ithaca at 1pm. The game can be found online by following the LIVE HOME GAME link, found here. Tufts plays host to Endicott at 1pm, and the game will be Jumbocast, here. Union hosts Amherst, also at 1pm, and the game can be found here. WAC hosts Lynchburg at 1pm as well, and that game be watched here. Denison will host upstart Aurora at 2pm, and there will be live stats, but you should also be able to find video here. Cortland hosts Springfield at 5pm. The game should be webcast on Cortland's Athletics site, here. Stevenson hosts Cabrini at 7pm, and the game can be watched here. It's quality!
NCAA D2 Quarterfinals
Le Moyne hosts LIU Post at 1pm. The game be found here. Tampa also plays at 1pm, when they host Mercyhurst. That game be seen here. Limestone hosts Queens University of Charlotte at 3:30pm. You can find a link to that game here. the last game of the day had Adelphi playing host to Dowling at 4pm. The game be viewed here.
PHEW! Like I said, that's a LOT of lacrosse to take in! Good luck staying on top of it, and I hope this guide helps you pick the games you want to watch, and then find them! Good luck, it's going to be a long day on your eyeballs. I recommend wall ball breaks every 30-45 minutes. God speed, my friends.