The game of lacrosse has seen expansion at almost every level over the last decade.  Youth lacrosse, high school lax, and even college lacrosse have all seen bumps in participation, but in certain areas, our sport is still lagging behind.  NCAA D3 and the MCLA have seen a lot of growth recently, and while there are more Division 1 NCAA teams now than there were 10 years ago, the biggest lag is still at big-time D1 sports schools.  The most concrete example can be found when one looks at the AP Top 25 Poll for football, and then talks about each school's lax program.
And just so you know, I'm not going to touch on Title IX much at all.  Sure it gets in the way of growth for men's sports, but when a school wants to add a new sport, they will simply find a way to make it happen.  Michigan added men's lacrosse this year. FAU added football in 2001.  It CAN happen!
We should add lax! Photo courtesy Saturdaydownsouth.com
1 LSU – bottom 10 (according to laxpower) MCLA Division 1 team.  LAS' own Knox Hutchinson is an assistant there, and we'd know if they were going D1 soon.  They're not.  At the same time, the sport is BOOMING in Louisiana, and Centenary College has added a team.  LSU with a men's lax team is still probably 10 years away though realistically.  And if we want to see that happen, the MCLA team will probably have to prove to the school that it would be worthwhile, much like Michigan did.
2 Oklahoma – bottom 10 (according to laxpower) MCAL Division 1 team.  Oklahoma is just like LSU, except Knox doesn't coach there, and the state hasn't seen the same lax boom that LA has.  So they're actually really different.  Unless a number of other big-time schools add lax and rub it in Oklahoma's face, I can't see them adding a program without a lot more growth at the youth and high school levels within the state.  I'd love to see it happen, as Oklahoma does sports right, but it doesn't seem likely.
3 Alabama – middle of the road MCLA Division 1 team.  There is some growth down in football obsessed Alabama, but the team, school and state have a long way to go before a D1 NCAA team is a reality.
4 Boise State – yet another middle of the road MCLA Division 1 team.  There is something weird about Boise State, isn't there?  The blue turf, being good at football even though they're in Idaho (I don't mean that as a slight, but come on…), a relatively liberal tone on campus; this is a school that could come out of nowhere and add lacrosse.  I'm almost sure of it.  They just seem to have a different approach to athletics at BSU.  If they up and announced a men's NCAA lacrosse team would begin operations in 2013, I wouldn't be the least bit surprised.  I'm not saying it's going to happen.  Not at all.  But it could, we'll just never know when.
5 Oklahoma State – the lowest ranked MCLA team according laxpower.  Is Oklahoma adding lax? No?  Then don't hold your breath for OSU.
6 Stanford – Top 25 MCLA program. This is a definite opportunity for lacrosse.  The women already have a D1 team at the school, it's a highly rated academic institution, and it's in the perfect place to draw in lots of top notch West Coast talent.  Stanford adding men's lacrosse seems to be a matter of when, not if, but things like funding and Title IX will get in the way for a while.  Eventually, schools will feel the need to add lacrosse for men, and when that day comes, they will find a way to do it.  Stanford has potential, but who knows when we'll see it?
7 Wisconsin – Competitive MCLA Division 1 team.  There is a lot of lacrosse being played at Wisconsin.  They ran 3-4 teams at the school long before they entered the MCLA, and the lax culture is alive and well at Wiscy.  With other schools in their region, like Marquette and Michigan, adding lacrosse it gives me hope for the Badgers.  It could take some time, but this is a relatively realistic possibility.
8 Nebraska – Lower third MCLA D1 team according to laxpower.  Nebraska, like Oklahoma, is still lagging a little with overall lacrosse development.  There has been some movement, and the guys at work in the state now are laying the foundation for a bright future, but D1 lax has to be years away for the Cornhuskers.  MANY, many years away.
9 Oregon – Top 20 MCLA program.  I think I will call this the "Nike Decision".  When Nike decides they really want to enter lacrosse, and take it over, they will force Oregon to add a Men's Lacrosse program.  And all will rejoice.  Oregon lacrosse is growing like gangbusters (thanks to homegrown guys and transplants like Ryan Powell alike) and people out there just love their sports.  Nike has been in the lax game in a serious way for just over 2 college seasons now.  When they decided to ramp thing up again in a major way, we'll know… because the Ducks will have lax.  The MCLA team has done really well without much school or Nike support, so just imagine what would happen if they were the swaggiest team in the country at the D1 level.  Can you say transfer city?  I can.
10 South Carolina – Top 25 MCLA program.  Someone in the SEC has to emerge as a leader and add men's lacrosse.  Could it be the Gamecocks?  Maybe.  But my gut says it will be a school like Florida that pulls the trigger first.  The more the MCLA team can succeed at USC, and be a positive force on campus, the faster this will happen.
11 Virginia Tech – Top 20 MCLA program.  VT is a good school with a decent amount of in-place rivalries with current lacrosse schools with Duke, UNC, UVA and Maryland.  VT would also be the sixth ACC school with lacrosse, now that Syracuse is moving from the Big East to the ACC in 2014-15.  VTech is also located close enough to lax hotbeds, and has a lot of draw with its name, to attract recruits.  And just imagine what bold uniforms you could come up with!!  Those colors are aggressive!  Orange helmet city.  This should be a D1 NCAA team we all pray for.
12 Florida – Solid MCLA program.  Florida added women's lacrosse.  Florida saw instant success with women's lacrosse.  If there is a MAJOR state sports school that is ripe to add lax, it's UF.  Jacksonville has a D1 team, and I could see FAU (in Boca Raton) adding lax some day as well.  But Florida would be a different story, and an instant player.  The talent pool in-state is big and getting bigger, and the draw of playing in the Swamp can not be overlooked.
13 Clemson – Rising MCLA program.  This is another one of the Southern schools with a lot of potential.  It's a good academic institution, and they love their sports.  I think it will take another SEC school adding lacrosse first, but if the MCLA team at Clemson can continue to improve, build support, and help Grow The Game on campus, the future could be bright for Clemson.
14 Texas A&M – lower third MCLA team according to laxpower.  There is definitely talent in Texas.  And Texas A&M could certainly draw in the recruits with their academic programs.  The guys from 1Lacrosse played there, so there is some industry support available right away.  But A&M doesn't seem ready to move on lax just yet.  I think this will take some serious time.  If they don't add it as they switch conferences, I think we're still a good number of years away.
15 Baylor – a bottom 10 MCLA D1 team.  Great school!  But football and bball are King.  Baylor could run a good program I'm sure, but this one is far off from coming to fruition I fear.  Where is the push going to come from?  Right now, I don't see an answer to that question.
16 South Florida – lower third MCAL D1 program.  Maybe.  But really, who knows?  If they want to capitalize on the growth of Fla lax, then maybe, but like Baylor, I'm not sure where the push would come from.  Or that the school has the lacrosse culture.  I fear the MCLA team has a lot of work to do before this will happen.
17 Texas – top 20 MCLA program.  Texas has a lot of potential for lacrosse.  Good in-state talent, Austin is a huge draw to college students, and the school loves it sports teams.  I don't think Texas is all that close to adding lax, but if they ever do, watch out!  I feel like there are probably a lot of great UT football alumni with kids playing lax right now in Texas.  Now imagine if all those kids went to play for the Longhorns.  Possibly a far way off, but intriguing!
18 Arkansas – the second lowest rated team according to laxpower.  I haven't seen much movement in the state, or from the MCLA team at Arkansas.  They could be one of the furthest away from adding lacrosse in the entire Top 25 of football.
19 Michigan– Finally!  An existing NCAA D1 lax team.  And by existing, I mean they won a ton of MCLA championships and are offering D1 NCAA lax for the first time this Spring.  2012 is a great year for D1 lax!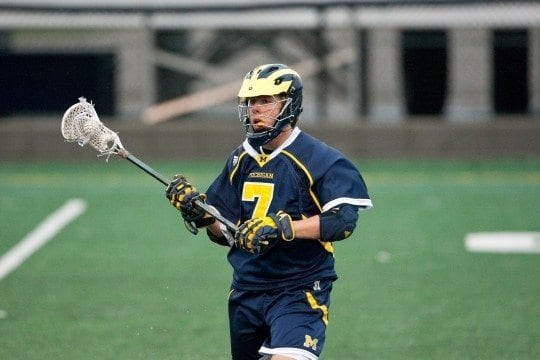 20 TCU – lower third MCLA D1 team.  I've talked about TCU adding lax before, but I think it's more of a wish than anything else.  They could support a team there, but why would they add it?  Where would the push come from?  It's tough to see a scenario where this could happen.  It's kind of like Baylor or Rice, in my opinion.
21 Georgia Tech – middle of the road MCLA D1 team.  There is potential for GTech, especially if other schools in their conference start to add lacrosse.  Syracuse moving to the ACC helps, and I think that if one more school (like Vtech) were to add lax, GT might follow suit.  I don't know if they'll be the "next" team to move up though.  The program needs more support to make that happen.
22 West Virginia – middle of the road MCLA D1 team.  The state of West Virginia isn't seeing the same lax boom that Virginia is, but it's still close enough to draw recruits from hot bed areas.  And now that Cuse is leaving the Big East, there is more opportunity for teams there.  Marquette will give the conference enough teams to still get the AQ, but WVU could be spurred along as more Big East schools offer lacrosse.
23 Florida State – Top 20 MCLA program.  It seems like we've been talking about FSU going D1 for years now, yet it never happens.  But you know what?  People said the same thing about Michigan, and then BOOM! That happened.  So I'm willing to wait a little while longer.  If Florida adds lax, FSU has to.  If FSU adds lax, UF will probably do the same.  ONE of these programs needs to make it happen soon!
24 Illinois – Top 40 MCLA program.  The state of Illinois has seen a lot of growth at every level.  Northwestern has been dominant on the women's side.  Both the NLL and MLL have tried the city out for teams (although both failed).  HS, post collegiate and college club is huge.  It's time.  If the program keeps improving, they just might get there.  The in-state student talent levels will make this an easier move, but the movement needs a champion still.
24 Arizona State – Top 10 MCLA program.  They could be the next Michigan.  Their football team is still good, but not what it was.  Lax could be their future.  ASU could dominate at lacrosse.  It's an easy school to recruit to, sees great weather all year round, and is perfectly positioned to reap the benefits of all this West Coast growth.  If ASU is looking for a new way to promote their college, they should look no further.  Lacrosse is the answer!  Could be a ways off, but it shouldn't be.  ASU needs D1 lax!
So what do you guys think?  Know something I don't?  Think one of these schools is the "Next" D1 lax powerhouse?  Let's hear it!