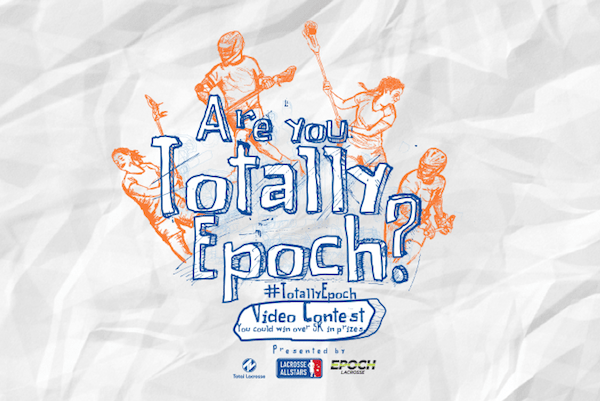 Updated Wednesday, May 28, 2014
Once again we've discovered multiple users attempting to "game the system." Please be advised that fake accounts are now being deleted on an ongoing basis and all will be removed prior to a final tally.
Updated Sunday, May 25, 2014
Around 6:00PM EST today we discovered a number of users had somehow been able to vote twice, or in some odd cases, hundreds of time. We have since removed ALL duplicate votes and enhanced the security of the poll.
A note to all finalists, friends, and members of the lacrosse community rooting them on — we encourage you to spread the word to your teammates, friends, and family by emailing the link to this page and using the social share buttons here:
[fbshare] [twitter] [fblike] 
[google_plusone]
Thanks!
We've received all FIVE Finalist's videos for the #TotallyEpoch Contest, and man oh man, they are good!!!!! The Grand Prize is still up for grabs and one of these five final contestants will be taking it home. (Full Contest Rules here) We've checked each submission out ourselves, but now it's time to share them with the rest of the world!
The Grand Prize is essentially 25 complete sticks from our friends at Epoch and Total Lacrosse PLUS a $500 gift card to use in store, so there's a lot on the line.
Help us determine the overall winner by checking out each video and then casting your vote below!
Here are the FIVE Finalist videos, in no particular order:
Dylan Smolla
Evan Herschl
Michael Fygetakis Madell
Katelyn Murphy
Daniel Kelly
VOTE BELOW, and help the best video win!